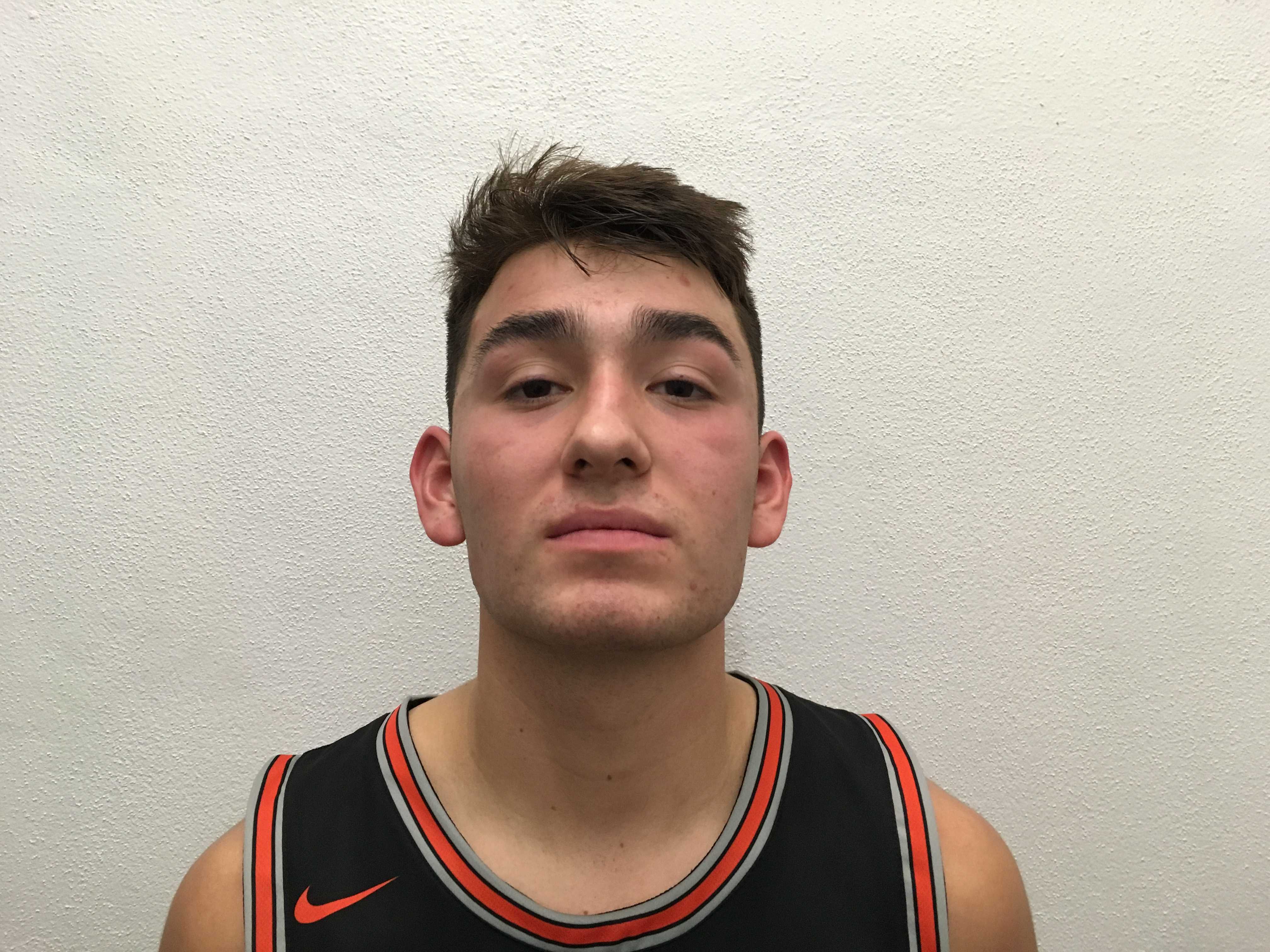 MILWAUKIE -- Many Silverton players will have to grow into new roles this season if the team is going to make a run at a third consecutive title in Mid-Willamette Conference boys basketball.
But in the meantime, the Foxes can lean on senior point guard David Gonzales.
The 5-foot-11 Gonzales, the conference co-player of the year last season, was a steadying force for Silverton on Friday night as the Foxes improved to 3-0 with a 62-44 win at Milwaukie in a 5A non-league game.
Gonzales scored 34 points, one off his career high, to turn back the Mustangs, who were coming off a pair of 29-point wins to start the season.
"David was huge tonight," Silverton coach Jamie McCarty said. "They've got four or five of the best athletes we've seen this year, so we knew it was going to be a good test, and David came out and led us pretty much the entire game.
"He's really flipped a switch this year defensively. That's been the biggest improvement of his game."
Gonzales is the only starter back from a team that went 25-3 and reached the 5A semifinals. The Foxes graduated three first-team all-conference players, including the other co-player of the year, post Levi Nielsen.
So Gonzales is more offensive-minded early in the season as his teammates get their feet wet. He is averaging 25.0 points so far.
"But at the same time, if I can create open shots for them, I think it's going to be a great season for them to score," Gonzales said. "People might try to get the ball out of my hands, but we have other players to step up."
Friday night, Gonzales scored 21 points in the first half as Silverton opened a 29-14 lead. He banked in a three-pointer at the buzzer to cap a 17-2 run to end the half.
"We couldn't stay in front of him," Milwaukie coach Don Law said. "He's a stud."
Other players got into the act in the second half. Vernon Porter, a 6-3 junior, came off the bench to score all seven of his points after halftime. Grant Dunn, a 6-6 senior, made two three-pointers in the second half and finished with 10 points.
"We had a lot of great minutes from a lot of different kids," McCarty said. "We've got a lot of kids that can step up and find roles, and we've got a lot of shooters coming off the bench. And we've got some athletic kids.
"We're just trying to develop those roles right now. I think by the end of the season, we could be pretty good."
Do the Foxes have what it takes to defend their conference title?
"That's our goal, for sure," McCarty said. "I think our conference is better this year, and it's going to be a challenge for us. It's a new group, so they've kind of taken that on. They've seen the tradition from years past and they know it's up to them this year."
Silverton started four seniors in Gonzales, Dunn, 6-6 Owen Cote and 6-1 Trysten Wertz, along with a sophomore in 6-1 Jordan McCarty, the coach's son and the quarterback of the state semifinal football team.
Gonzales said the Foxes don't have the length and overall quickness they had the last two seasons -- when they could smother opponents defensively -- but he is encouraged by their progress.
"It's been going great," Gonzales said. "We get after it in practice every day, super hard. We battle. We're lacking experience, but those players are stepping up, knowing their roles."
Milwaukie, which went 10-13 and missed the playoffs last year, opened the season by defeating Ridgeview and Thurston by identical 67-38 scores. The Mustangs couldn't find a flow Friday night, though.
"It's real basketball now," Law said. "Getting ready to come out against Silverton, we were all hyper. A little jittery. We played against some very good teams in the summer, and this was our first test. I think we'll be fine down the road. It's just figuring out how to work together."
Milwaukie outscored Silverton 8-2 to start the third quarter, pulling to within 31-22 when senior Keshawn Miles scored off a feed from senior Colton Corder. The Mustangs had chances to get closer but gave up offensive rebounds to the Foxes, who made them pay.
Myles scored 12 of his team-high 16 points in the second half, including a steal and dunk in the closing minutes. Senior Deegan McCord and Corder added 11 and nine points, respectively.
Milwaukie has made steady improvement in its four seasons under Law. The Mustangs went 1-22 in his first year but won eight and 10 games the last two seasons.
"Three years ago, we couldn't even get the ball inbounds," Law said. "We're going to be good down the road. We're good right now, it just wasn't our night."