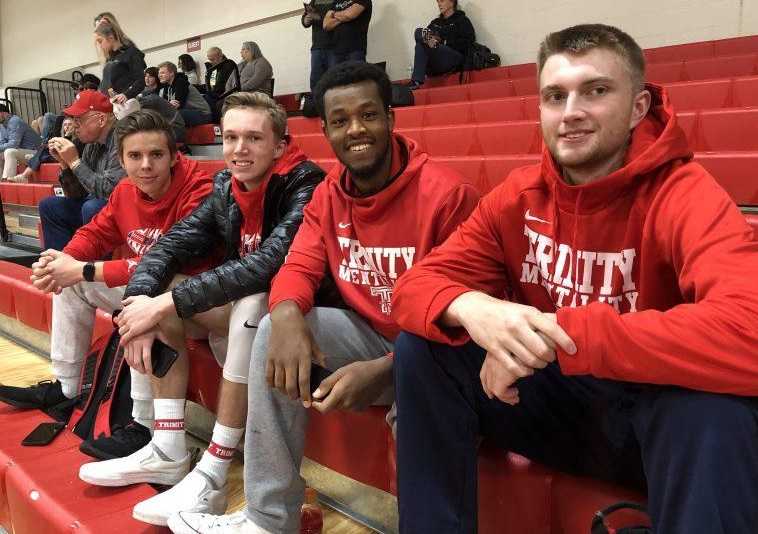 Trinity Lutheran, the runner-up in 1A boys basketball last season, opened a year of high expectations in impressive fashion last week.
The Saints of Bend, ranked second in the OSAAtoday 1A preseason coaches poll, beat three 3A teams to win the championship of the Westside Winter Jam tournament at Westside Christian in Tigard.
Trinity Lutheran dominated play in defeating Westside Christian 61-44 on Thursday, Dayton 56-44 on Friday and Creswell 85-66 on Saturday. Dayton and Creswell were ranked second and ninth, respectively, in the 3A preseason poll.
"I was proud of our boys," Saints coach Kyle Gilbert said. "They rose to the occasion and they were challenged by the higher level of play. Anytime a situation popped up, they just stepped up. We had three wins against three very good teams."
Matt Eidler, a 6-foot-5 senior wing who was the Mountain Valley League player of the year and first-team all-state last season, averaged 25.7 points and 9.3 rebounds and made 25 of 27 free throws in the tournament.
Scooty Gilbert, a 6-1, 225-pound sophomore point guard who was first-team all-league as a freshman, averaged 21.0 points and shot 12 of 24 from three-point range in the three games.
"We have a great one-two combination between Matt and Scooty, as far as scoring goes," Kyle Gilbert said. "Everybody else contributes."
Eidler exploded for 36 points, nine rebounds and four steals in the championship game against Creswell. The Saints, who also got 20 points, six rebounds and five assists from Gilbert, blew the game open with a 31-point third quarter, making 12 of 18 shots.
Trinity Lutheran also had a big third quarter in the win over Dayton, outscoring the Pirates 23-8 to open a 50-27 lead. Gilbert had 17 points and five three-pointers in the game, including a buzzer-beater from half-court to punctuate the third quarter.
In the opening win over Westside Christian, Eidler had 25 points, 12 rebounds and five assists, Gilbert had 26 points and five assists and senior wing Cash Niemeyer added 11 rebounds.
The Saints graduated only one player and returned all five starters from a team that finished 24-6 and lost to Nixyaawii 59-42 in the state final. The starters are Eidler, Gilbert, Niemeyer, junior wing Layton Valentine and senior post Abe Clift.
"We're definitely a lot better, just maturity-wise," Kyle Gilbert said. "We've added a few new pieces. Everybody's stronger. Our freshman point guard is now a sophomore, so that helps out a lot, too. I think we're ready for any challenge."
The Saints got ready by taking on bigger schools in the offseason. They more than held their own against 6A, 5A and 4A teams in summer league and had success in the 4A/5A league at the University of Oregon team camp. They also went down to the wire against Union, a Washington 4A quarterfinalist last season, in a summer game.
"I've always felt that in order to get better you need to always play the best competition you can possibly play, no matter what level it could be," Kyle Gilbert said. "It's been a great growing experience for our boys."
Up next for Trinity Lutheran is a Tuesday home game against Kennedy, a 2A quarterfinalist last season. Last year, the Saints lost at Kennedy 55-36 in their second game.
Trinity Lutheran will play against 4A and 3A teams in the Les Schwab/Eagle Booster Club Invitational, Thursday through Saturday at Junction City.