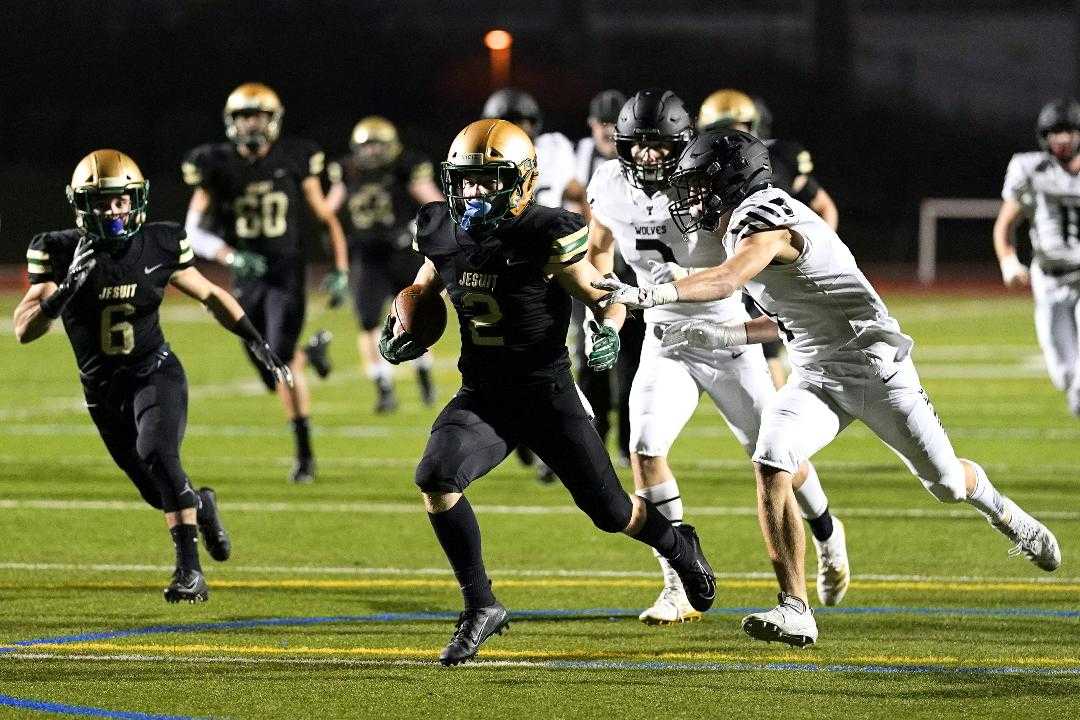 PORTLAND – At 5-foot-9 and 160 pounds, Kade Wisher doesn't exactly fit the mold of a workhorse running back.
But after what the Jesuit senior did to visiting Tualatin on Friday night, it's hard to argue with the results.
Wisher rushed for 330 yards and four touchdowns on 40 carries, accounting for all but 53 of his team's total yards, as No. 2 seed Jesuit held off No. 7 seed Tualatin 42-28 in the quarterfinals of the 6A football playoffs. The Crusaders (10-2) advance to meet No. 3 seed Lake Oswego in the semifinals.
Other than some leg cramps late in the game, Wisher – who entered averaging 20 carries per game -- said he was no worse for the wear.
"Last year, I wasn't getting a lot of carries, because they gave them predominantly to Andy," Wisher said of senior teammate Andy Alfieri. "I came back and put on a few L-Bs over the offseason, so I'm able to hold up to these hits pretty well."
Wisher's workload is multiplying in the playoffs. He had 11 carries in the first round against Oregon City, 20 in the second round against Liberty and doubled that total Friday night. For the season, he has rushed for 2,294 yards and 30 touchdowns, averaging 8.8 yards per carry.
"John McKay used to say that the ball weighs 10 ounces, so you should be able to carry it 40 times," Jesuit coach Ken Potter said with a laugh, referring to the former USC coach. "Honestly, Kade does a great job of reading blocks and slipping through things, and he doesn't take a lot of direct, hard hits."
Running behind one of the state's best offensive lines, Wisher cut Tualatin's defense to shreds.
"He's very elusive," said Tualatin senior linebacker John Miller. "He kind of moves in and out. He's very slippery and hard to tackle. Lot of respect to him."
Among those admiring Wisher's style is the 6-3, 226-pound Alfieri, who played his second game on defense after missing nine games with a cracked vertebra.
"Great mentality. He's always running downhill," Alfieri said. "He's not afraid to juke you out or truck you. It's so fun to watch him. He plays like a big guy."
Jesuit junior offensive lineman Declan Quillin offered praise for Wisher, too.
"He's amazing," Quillin said. "It's really special when you look up and see No. 2 running by you. It's kind of fun watching him run through all these teams."
Wisher scored on runs of 40 and 10 yards as Jesuit took a 14-0 lead early in the second quarter. He added touchdown runs of 19 and 30 yards – sandwiched around a 33-yard fumble return for a score by Alfieri – as the Crusaders built a commanding 35-7 lead with 1:20 left in the third quarter.
But Tualatin (9-3), appearing in the semifinals for the first time since 2010, went on a whirlwind rally that included three touchdowns in a span of three minutes, 38 seconds, to draw within 35-28.
First, senior Luke Marion returned a kickoff 93 yards for a touchdown. Then, after recovering an onside kick, Marion scored on a 20-yard run. The Timberwolves forced a three-and-out, then sophomore Malik Ross came through with the play of the night, breaking tackles and traversing the field on a 61-yard punt return for a score.
"We're always a team that's not going to give up," Miller said. "We knew it was going to be a fistfight in a phone booth, and we weren't going to let up."
Tualatin's surge was a splash of cold water on Jesuit. The Crusaders desperately needed to regain control, and that's exactly what they did, getting a 53-yard touchdown run from senior Ted Atkinson to extend the lead to 42-28 with 6:56 to go.
It was the second and final carry of the night for Atkinson, who has had his big games this season, too, entering with 1,240 yards and 20 touchdowns.
"When you have the opportunity, you make the most of it, and that's what Ted did, so we're really proud of him," Potter said. "We've got two good running backs."
Jesuit's defense sealed the deal, getting sacks from junior Race Edwards and senior Shea Brooks, then a clinching interception from senior Campbell Brandt, his 11th pick of the season.
The Crusaders finished with eight sacks as Edwards had three, Brooks and senior Kaba Haou had two apiece and junior Charlie Pickard added one.
Jesuit's defense got a boost with the linebacker play of the Cal-bound Alfieri. He was believed to be out for the season, but returned to play about 15 snaps on defense last week and was a full-go on defense Friday night. He even got about a half-dozen snaps at fullback, although he didn't have a carry.
"It's so fun to be back out here with my brothers," he said. "It was hard because I thought I was out for the season. But I just came back to 100 percent. I felt great, so I had no choice. I had to come back, get back out here with my guys."
And what about his fumble-return touchdown?
"It was so exhilarating," he said.
The Crusaders got a glimmer of hope about Alfieri about three weeks ago, according to Potter.
"The doctor said, 'The bone is healed, it just depends on how the muscle is around it,'" Potter said. "So we let him do some stuff in practice, and do a little bit of light hitting. Last week he played on defense and it didn't bother him at all.
"He might do a little more on offense, but no, we're not going to play him both ways. We're so happy he's back and playing, we just want him to be healthy and fresh."
With Alfieri aboard, the Crusaders are looking more powerful than ever as they head into the semifinals. They have a score to settle with Lake Oswego, which knocked them out of the semifinals 24-14 last year and beat them 44-41 in a nonleague game in Week 2 of this season.
Quillin vividly remembers losing to Lake Oswego last year, which turned out to be the final game he played alongside his brother Joe, who is now at Air Force.
"It was real emotional for me," Quillin said. "I felt real bad. I felt like I let him down. I know he's going to be watching this time. I'm going to be playing for him."
Alfieri, who missed the Lake Oswego game this season, reflected the team's confidence.
"Only we can stop ourselves," Alfieri said. "I don't think anybody can stop us. Our franchise up front, they lead the way, and they're unstoppable."
Tualatin, which scored 119 points in its first two playoff games, was limited to 200 total yards. Senior Kainoa Sayre rushed for 81 yards and one touchdown on 10 carries. Senior Blake Jackson completed 7 of 14 passes for 65 yards with one interception.