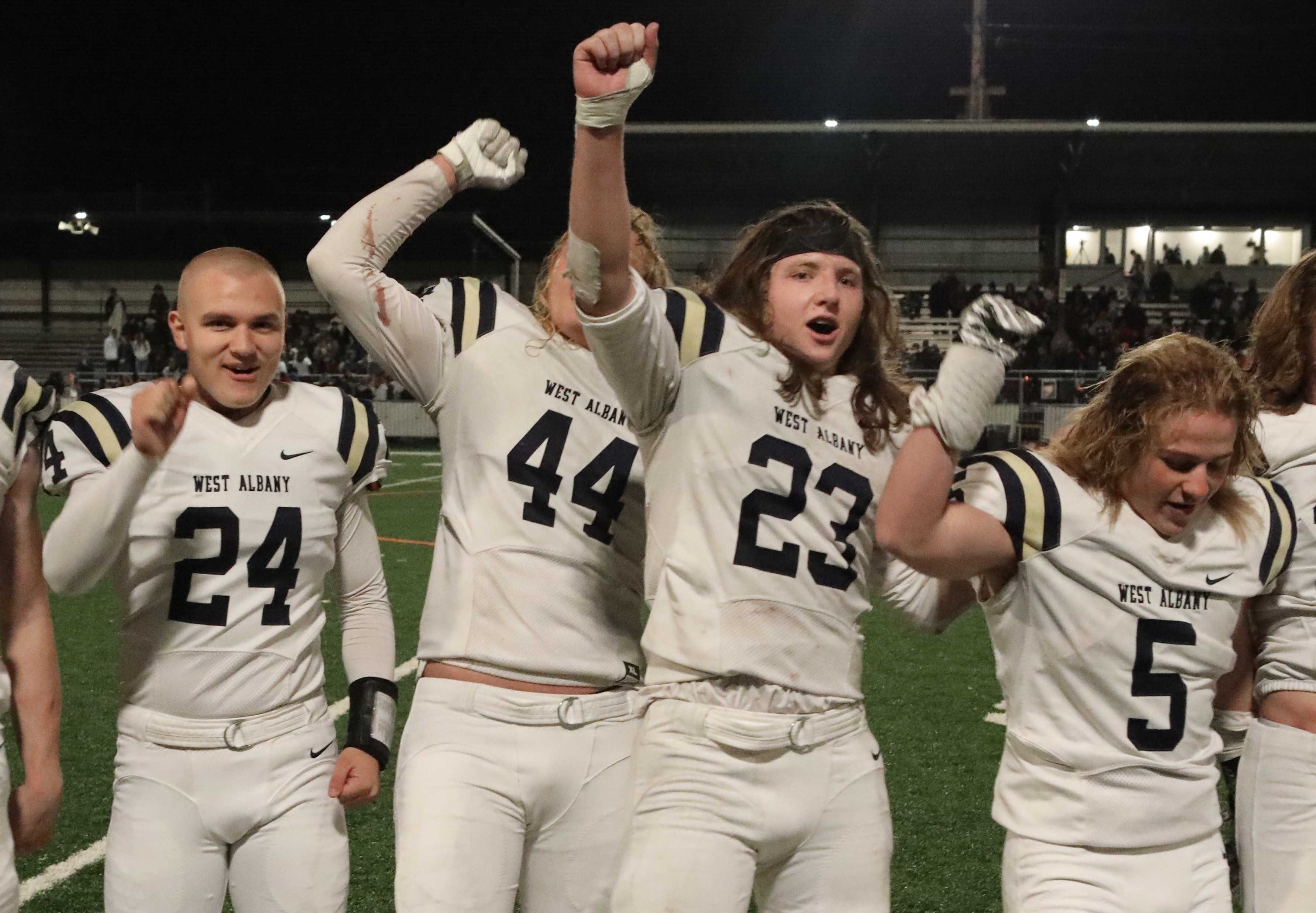 SILVERTON — It only seemed fitting that when West Albany reached the top of the 5A Mid Willamette Conference football mountain Friday night, they turned tp Porter Phillips to plant the flag.
The game had already reached a crescendo with 1:48 left when the visiting Bulldogs, nursing a 28-21 lead, stopped Silverton's splendid sophomore quarterback, Jordan McCarty, two yards short of the fourth-down line to gain.
But there was still time on the clock, the Foxes had a couple of time outs left and — and Silverton being Silverton, you gotta make sure.
So the second-ranked Bulldogs needed a couple of first downs. The situation had "Hey, Porter" written all over it.
The 210-pound senior running back was up to it. His 28th carry of the night was for 12 yards, his 29th for five and his 30th for 11. Quarterback Carson Van Dyke kneeled once and the game was over.
Phillips turned in a clutch performance in the championship game of the Mid Willamette between two of Oregon 5A football's most continually successful programs. He carried the ball 30 times for 226 yards and two touchdowns against a defense that knew he was coming.
Heck, everybody knows he's coming. These particular Bulldogs open in beast mode and dare you to stop them. Nobody — with the exception of No 4. Silverton now and then — really ever does.
"We know the value of having No. 23 in the backfield," West coach Brian Mehl said. "He's uniquely talented, and he has a future. When you can run the football with him, it opens up the passing game.
"But you have to give credit to that offensive line. They've played a lot of football together for a lot of time. Silverton gave us a look in the line we hadn't ever seen from them, and we adjusted."
Phillips pointed toward the line, too.
"We were just grinding away tonight," he said. "It helps when you have that line in front of you."
The five-man offensive front consists of four seniors — Cole Norlander, Osten Pham, Darius Braithwaite and Isaiah Fernandez — and junior Hummer Hampl. The Bulldogs aim Phillips between the five of them all night long.
"We're all veterans," Norlander said. "We know what each other is thinking and we trust each other. We've been playing a long time, and it's a lifelong friendship.
"It's always nice when you get rewarded for your hard work like this."
West Albany, 9-0, had to earn its rewards against the Foxes. Everybody does. Silverton is fast, skilled and prepared every game of every year.
So it was significant that the Bulldogs went 77 yards in 10 plays with their opening drive. Phillips carried the ball six times for 52 yards — including 35 on his very first touch of the game — and Van Dyke ended finished with a four-yard touchdown pass to Connor Wolfe. It was the first of his two touchdown passes for the game.
The Foxes regrouped quickly and tied the game with an 11-play, 75-yard drive that tied the game two minutes into the second quarter. Significantly, senior fullback Hayden Roth, who would rush for 101 yards, ran it in from the eight-yard line.
West Albany stretched the lead to 14-7 on a short wildcat blast by Phillips just before halftime, and went up by 14 on its second drive of the third quarter. Phillips got that one, too, on another wildcat plunge.
Just when West Albany looked as if it had established the momentum, though, the Foxes stormed back Behind McCarty and Roth. Roth rumbled 14 yards for the touchdown to cut the margin back to seven, and the Foxes were back in it.
For one play, as it turned out. West Albany started its next drive on its own 38, and Phillips took off on first down for 61 yards. He stepped out of bounds on the Fox 1 yard line.
"We pulled a guard and a tackle around and I had a huge hole," Phillips said. "I just followed them into it."
On his way through the Silverton defense, Phillips absolutely stomped the Silverton free safety.
"I saw him square up on me," Phillips said, "so I just ran him over. Yeah, it was fun."
It was, Silverton coach Josh Craig said, a big one.
"That was a dagger," he said.
The Bulldogs scored on the second play after that, and the 28-14 lead was too much for Silverton to overcome. Not that they didn't make it interesting. McCarty sneaked in with 6:04 to go, but the Foxes had only one more crack at it after that and it fell short.
In his post-game end zone talk, Mehl stressed about the new playoff season ahead of his team. To emphasize his point, he displayed a tee shirt to the team around him.
It talked of the 2019 Mid Willamette on the front. Then he turned it around.
On the back, it read "Unfinished Business."