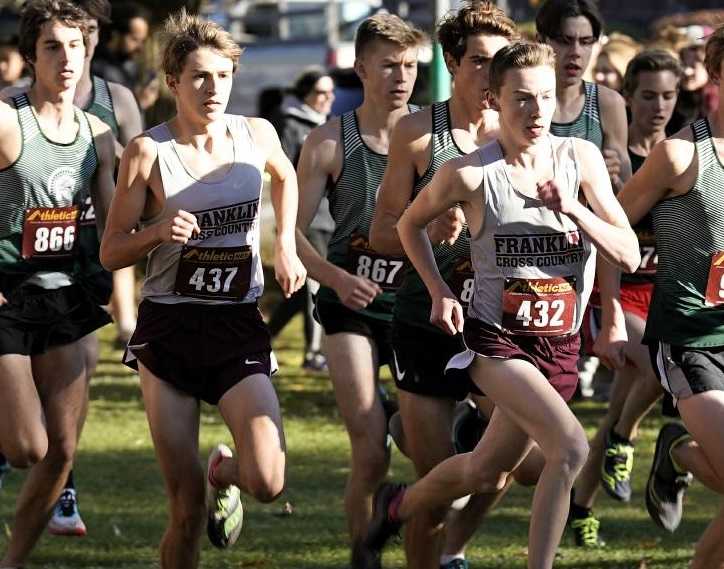 PORTLAND -- Franklin's standout duo of Aidan Palmer and Charlie Robertson finished in unison on Wednesday, going 1-2 for the Quakers at the Portland Interscholastic League district cross country championships at Lents Park.
On a cold, windy day, Palmer ran 15:21.7 for his second consecutive PIL title. Robertson, third last year, was right next to him in 15:21.9.
The two training partners have been in lockstep most of the season and are hoping that a potential 1-2 finish at the 6A final at Lane Community College on Nov. 9 might help lift Franklin to a state title. No. 1-ranked Jesuit stands in the way of that. No PIL boys cross country team has won the state championship since Wilson did in 1983.
In some respect, the gloves will come off at state.
"Of course I'm going to try and beat Aidan," Robertson said. "I ain't going to let him have it easy. But if there's anybody that beats me, it better be Aidan. And if he does I'm going to make him work real hard for it."
Palmer, second last year in the state final, is the highest placing returner in the 6A meet. Robertson, seventh at state, went on to win the 6A 3,000 meters crown in the spring.
"We've been racing each other for a few years and training," Palmer said. "It's going to be interesting."
Franklin put four in the top seven and scored 27 points.
Mateo Althouse of Lincoln finished third in 15;26.7 and stuck with the Franklin duo for more than 3,000 meters of the 5,000-meter race.
"They went at about 1,200 (to go) and went together, and I was kind of expecting that," Althouse said. "I hung for a little bit but they pulled away. I'm happy I competed with them. They're great competitors."
Lincoln finished second with 54 points and Wilson was third with 72 points, led by fourth-place finisher Giuliano Scasso.
In the girls varsity race, Lincoln's freshman star Kate Peters let the entire field jump out ahead of her at the starting line and then picked her way through the crowd and caught up to Grant's Anneliese Quinton and Franklin pair Autumn Ost and Kaiya Robertson.
Peters moved ahead on the final loop of the park and won in a conservative time of 17:41.9. Quinton was second in 17:45.4 and Ost (17:53.3) and Robertson (17:53.6) finished third and fourth.
Peters said she wanted to save some of her energy this week so that she is ready for a full effort at the state meet.
"I want to do really good at state and maybe win," Peters said. "It'll be me and Fiona (Max) again."
Two weeks ago at the Warner Pacific Classic, on virtually the same Lents Park course, Peters finished seven second behind Max, of Summit, the reigning 6A champion.
The Cardinals put six runners in the top 11 and won the district title with 31 points. The race for second was close, but Franklin got it with 73 points. Wilson was third with 74 points and Grant was fourth with 76.
Doug Binder is the editor of DyeStat.com