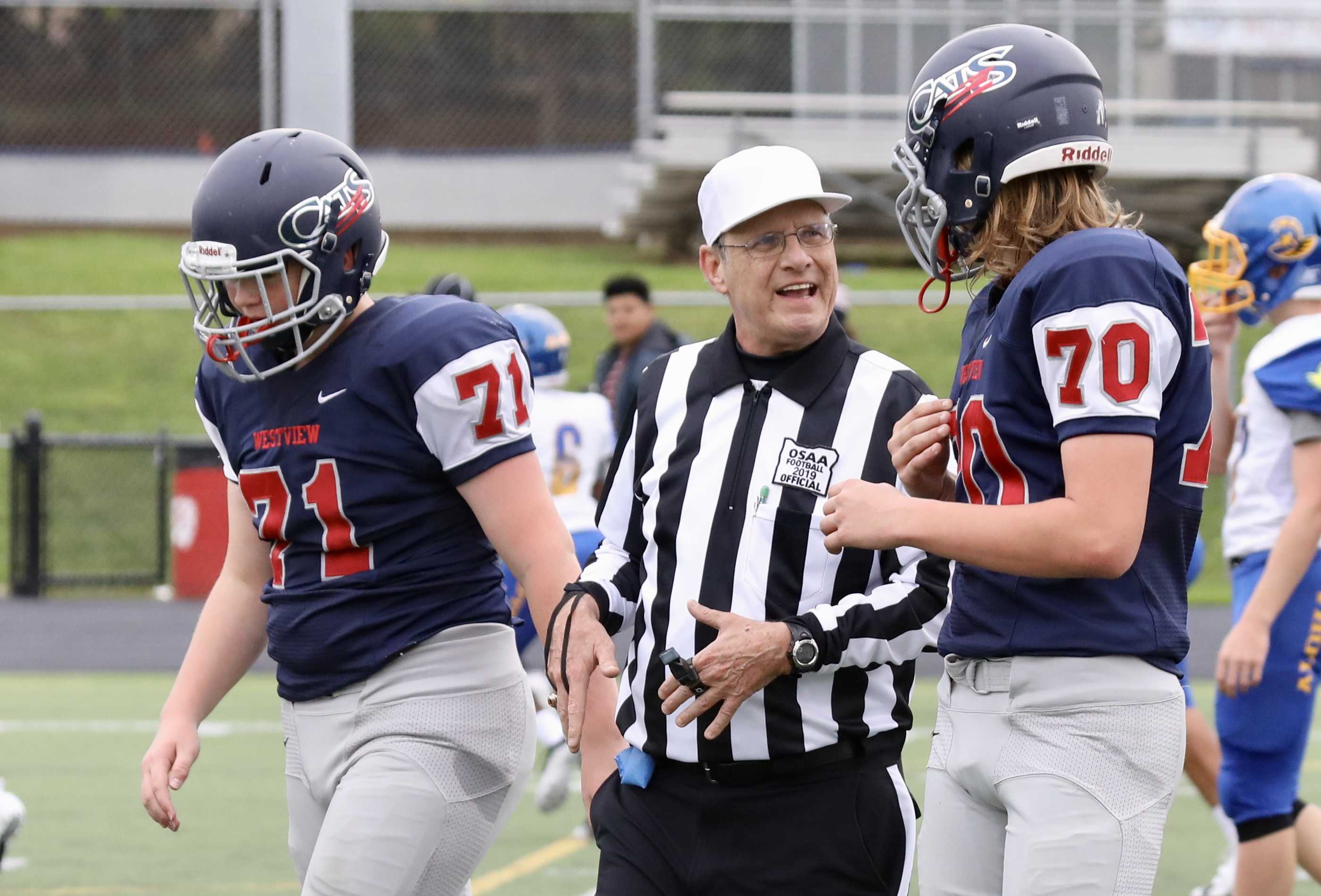 BEAVERTON — The football official in the white hat stands at the middle of the Westview High School football field and turns his head one way, then the other, to get the attention of the two rows of high school junior varsity players from Westview and Aloha preparing for the coin toss.
"Gentlemen," he begins, "the word of the day is sportsmanship. Make your teammates proud. Make your parents proud."
It's the same way Jim Alex begins every game. If there's anything he's learned by officiating sports into this, his 50th year with a whistle in his mouth, is that sportsmanship makes a game — any game — more fun and teachable.
He's also learned, in more than the 1,260 games he's officiated now, how to get his fractured foot into a bucket of ice as soon as possible, to keep his wallet (and insurance card) with him in case he gets evacuated to a hospital and how to officiate a game with his arm in a cast.
He's called games in the fog, rain, snow and mud. He's witnessed some of the Portland area's legendary high school athletes in action: Joey Harrington of Central Catholic, Mike Hass of Jesuit, Ndamukong Suh of Grant. He's worked between the Oregon high school game's greatest coaches.
He's made lifelong friendships that he cherishes as much as anything he knows. He wears patches on his sleeves in both football and basketball games to commemorate absent friends.
But when he distills his vast experience down to just a few sacred principles, the first one is this:
"The biggest game of your life," he says, "is the one you're doing at this moment in time for these kids."
Alex, now 68, is an Oregon man through and through. His ancestors were the Greek fishermen who charged out into the Pacific Ocean waters west of Astoria, then settled into Portland to work the waterfront supplying the ships and keeping the river traffic stocked.
He grew up in Northwest Portland in the 1960s and was raised in the robust Greek Orthodox community at Holy Trinity Church. His athletic resume was thin when he arrived at Lincoln High School, so he began an eight-year commitment for the Cardinals and then Oregon State as a team manager.
But he always wanted to referee games.
"We had a family friend named Henry Sadorus," he said recently. "He was the best friend of one of my uncles, and he officiated games in the Pac-8 for oh, 20-25 years. I used to go watch him do Oregon high school football games. I decided I wanted to do that."
He got his first chance when he enrolled at Oregon State in the fall of 1970 and interviewed for the job as a team manager. The interviewer was the Beavers' assistant football coach, Sam Boghosian.
"That's the most terrified I've ever been in my life," Alex says now.
But the connection paid off. Alex started working intramural games at OSU. Boghosian encouraged him to chase his officiating dream. So did a fellow Greek: Demosthenes Konstandies Androcopoulos.
Everybody knew him by another name — Dee Andros. Andros wrote a letter of recommendation for him. Alex still worships the man.
"I met Bob Zelinka then," Alex says. "He was an assistant coach when Tommy Prothro coached at OSU. When Tommy went to UCLA (1965), Bob stayed here (in the lumber business) and went into officiating. He's the reason I wanted to become a head linesman.
"I met Chuck Daly, who was the basketball timer at OSU and the local basketball commissioner. They all pushed me to get involved."
So Alex started doing youth league games for the spending money. He didn't always travel with the Beavers, so he had Saturdays and Sundays to officiate.
"It was," he says, "great pocket money for a college kid."
One of his early experiences at big-time football officiating, ironically, was during OSU football practices.
"We didn't bring officials down for scrimmages then," he says, "We didn't have that many people, so they would grab a coach, then tell me to go stand over there and officiate.
"Rich Brooks really got on my case once. I called a touchdown, then realized that the player's body was in the end zone, but the ball wasn't. Brooks really got after me good. I never made that mistake again."
Alex graduated from OSU in 1974 and returned to Portland to get into the family marine supply business. He's still a consultant on the Portland waterfront.
He hooked up with the Portland officials associations immediately. In football, he continued on as a head linesman until 2003, then made the transition to referee.
But to keep his perspective, Alex keeps a lot of his old tools: The coin he flips is one he got in Corvallis. He still carries mechanical down counter in his hand. He has an old red flag, and still has the red and white flag with the lead sinker his grandmother sewed into it.
His first high school game was in the early 1970s at Corbett.
"I forget who they were playing," he says, "but I remember a great sense of self-satisfaction. This was something I had worked hard for, and was now beginning to achieve. I was just starting out on my adventure.
"To me, officiating is an adventure."
And it's full of highlights.
"I was back at Lincoln in the 1990s," he says, "and Lincoln had one of those clocks with tenths of a second. It was down to one-tenth, and Lincoln beat Benson on a field goal — by Joy Lawrence, who was their Rose Festival princess (then queen).
The toughest game, he said, was a Metro League championship game in 1996 between Beaverton and Glencoe.
"The winner won the league championship," Alex said. "The pressure made it tough — I was officiating a game between Craig Ruecker and Faustin Riley."
He was working in the fog ("We were the only ones who could see the game") in 2000 when Jesuit's Mike Hass scored seven touchdowns against Central Catholic.
He was knocked cold by a wave of players during the second half kickoff of a game in Seaside. "When I opened my eyes, the first eyes I could see were (coach) Stubby Lyons and Clark Sanders, the referee. They looked very concerned."
Once upon a time, Alex aspired to Division I college football. He's always been a dreamer.
"But officiating is an avocation, not a vocation," he says. "My goal in life was to excel at the family business, and that can be a seven-day-a-week job. That didn't allow me to do the traveling you have to do to officiate in college.
"In my work, I've been to 35 countries. I've been inside the Eastern Bloc. I'm not at all disappointed that I never officiated college."
Alex has a keen memory for the moments of his officiating life. He has kept a record of dates, gams and the crews he has worked with. But he's most grateful for the friends he's made.
"Time has really flown," he says. "I miss the people. I've lost a lot of them. We always say that if you can count your best friends on two hands, you're really blessed.
"Officiating exposes you to all the walks of life. I've met some wonderful people. I love watching the younger officials climbing up the ladder.
"It's been a joy."
He ticks off some names.
"I knew (the late) Vern Marshall for 31 years. I worked his last lower level game with him the day before he was diagnosed with pancreatic cancer. Tony Amato of Los Angeles, an umpire and maybe the best there ever was. Charlie Moffitt of Seattle, a head linesman and maybe the best there ever was."
And all his friends among the Portland officials. He shakes his head often when he talks about them.
He recognizes two of them with patches on his striped uniforms. He honors Terry Jacobsen ("Jake") on the sleeve of his football outfit, and Marshall on his basketball jersey.
Time has changed the way Alex does his work on the fields and courts, but it hasn't intruded on the joy.
"Physically, I've slowed down quite a bit," he says. "I'm sometimes further away than I like to be, but I know what to do to compensate for that. In basketball, I primarily do girls games because of the pace. I don't work weekends because I need to rest my legs.
"I'm not perfect. I have flaws like everybody else."
But he has no calendar to tell him when it's all over and it's time to retire.
He's having too much fun.