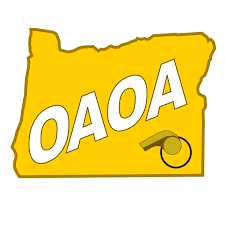 The OSAA welcomes four new State Rules Interpreters in 2019-20. The State Rules Interpreter (SRI) position plays a vital role in the Association. The State Rules Interpreters are fluent in the high school rules provided by the NFHS. These individuals are an intermediary between coaches, officials and the staff when it comes to rule interpretations in their given activities.
Newcomers include:
Mike Bezner (Football)
Cam Rust (Basketball)
Danny Anson (Wrestling)
Christine Andersen (Dance/Drill)
Four new state rules interpreters in one year is an anomaly for the OSAA as many of our SRI positions hold the position for a lengthy period like Clark Sanders who previously held the Football position for 17 years. See below for some of our returning SRI's and the activities they represent.
Volleyball: Debi Hanson - 16 years of service
Soccer: Patrick Duffy – 14 years of service
Swimming: Jacki Allender – 15 years of service
Baseball: Tad Cockerill – 7 years of service
Cheerleading: Haley Thomas – 2 years of service
Softball: John Christensen – 2 years of service
We thank all of our SRI's for their outstanding service to Oregon High School Activities.
To get in touch with these State Rules Interpreters please visit http://www.osaa.org/officials#rules.