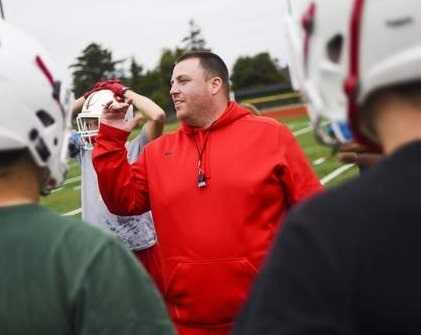 In a pinch, Cottage Grove turned to another Sheldon connection to fill its head football coaching vacancy.
The Lions have hired Chad Smith, a former Sheldon assistant who was the coach at Siuslaw last season. Cottage Grove had to scramble to find a coach after Jordan Johnson, hired in February to succeed Gary Roberts, resigned last month to become an assistant at Sheldon.
Smith, 32, assisted at 6A powerhouse Sheldon in 2005 and 2006. On that staff, he and Roberts were assistants under Marty Johnson, Jordan's father. Roberts took over at 4A Cottage Grove in 2008 and was Sky-Em League coach of the year five times, leading the team to the state title in 2017.
"I know the type of guys that they are and the type of program that Marty ran, and obviously Gary kind of took off and did the same thing at Cottage Grove," Smith said. "I know the type of expectations, and the Xs and Os are very similar to what I've done. My offense is pretty much what I learned at Sheldon. It seemed like an easy transition."
That familiarity was a key factor in Cottage Grove choosing Smith.
"The kids aren't going to have to switch systems," Cottage Grove first-year athletic director Matt Myers said. "We didn't really want to change too much for the kids.
"Also, the fact that he's been a head coach before -- and at Siuslaw, which is a similar size and similar kind of demographic as Cottage Grove -- is good. We knew he'd be a culture fit and know the ins and outs of being a head coach."
Smith must get to work on building a coaching staff. Marty Johnson, who came out of retirement to be Cottage Grove's offensive coordinator the last three seasons, is among the assistants that will not return.
It is the fourth head coaching job for Smith. He went 5-4 at 4A La Grande in 2014, 2-6 at 4A Seaside in 2016 and 0-8 last season at Siuslaw, a 4A school that played down in 3A. He also assisted at Sprague (2008-10) and Mercer Island, Wash. (2017).
"I feel extremely fortunate and grateful to have this opportunity," said Smith, a Sweet Home graduate. "I'm excited to get going and try to continue the success that they've had. I'm not looking to make a bunch of wholesale changes. We're going to kind of keep going the way we're going and build on the things they've been building on."
Jordan Johnson, 26, was promoted to head coach after assisting in the program for three seasons. But when Cottage Grove principal and assistant football coach Mike Ingman left to become the principal at Sheldon, Johnson opted to follow him there. Johnson was the quarterback for Sheldon state title teams in 2007 and 2009.
"Jordan had a lot of connections at Sheldon," Myers said.
Smith, who was the girls basketball coach at Siuslaw last season, will teach PE at Cottage Grove. Myers said Smith's ability to "check both boxes" for the coaching and teaching jobs was integral in his hiring.
"We were really looking for someone to fill both," Myers said. "The challenge wasn't so much a thin pool of candidates, it was having someone that could teach, too.
Roberts, who also served as athletic director, has left Cottage Grove for an administrative position in the Coos Bay School District.