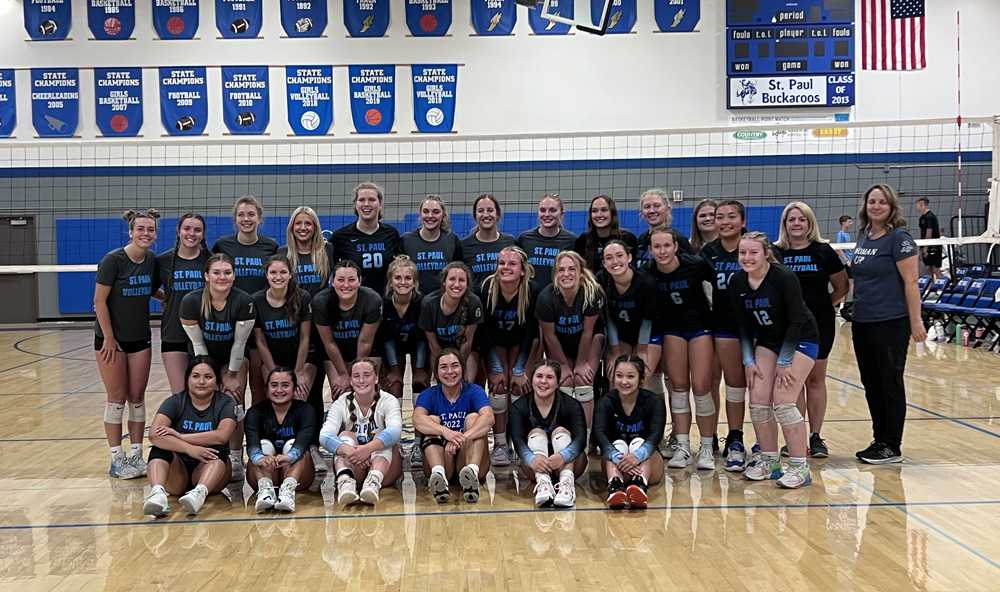 Chart toppers?
When the OSAAtoday Coaches Polls came out last week, there were the six teams voted No. 1 in their respective classifications:
6A – Jesuit
5A – Crescent Valley
4A – Marshfield
3A – Sisters
2A – Salem Academy
1A – Damascus Christian
With the season just one week old, let's take a look at how our No. 1's have fared.
Jesuit is 1-0, having won its opener in four sets yesterday over Sherwood.
Here's what I wrote about the Crusaders this year:
Jesuit is ALWAYS in the mix. The Crusaders were No. 1 in 6A all of 2022 until they suffered their only loss of the season in the state finals to Sheldon, a team they had twice defeated previously. Teresa Zimmerlee's team is No. 1 again to start the fall, but it could be a challenge to stay there, given the graduation of stalwart attackers CeAnna O'Loughlin and Isabel Patterson, as well as two other front row talents. There is depth and athleticism in 'Saderville, however, and stability in the first two contacts with the return of All-League libero Addy Azavedo and All-League setter Jackie Carle. Senior MB Lilly Lansing and senior OH Emma Williams should be the focal point of the offense.
Crescent Valley, the defending 5A champions, haven't lost yet in 2023 but the Raiders haven't won, either. Troy Shorey's team, which is loaded, doesn't get its season started until after Labor day.
Reigning 4A champion Marshfield has opened 5-1, with wins over the likes of Sheldon and Summit. The Pirates' lone blemish came to Crater, 15-12 in the final set. Marshfield has a chance at revenge on Sept. 7.
Sisters is 2-0 and has yet to drop a set.
Here's the blurb I wrote about the Outlaws:
Sisters is the pre-season state favorite in 3A. The Outlaws have been to the state tournament for at least 10 years straight and have made the championship final three times over the past six years. Despite the graduation of standout setter Hannah Fendall, Sisters figures to be in the mix with a strong and athletic squad that features six seniors, including the outstanding outside hitting duo of Gracie Vohs and Gracelyn Myhre. MB Bailey Robertson and OH/MB Kathryn Scholl are other returning impact players for coach Rory Rush, whose team will be tall with overwhelming offensive capabilities.
[NOTE: We wrote outlooks for all the defending champions in last week's Notebook, which you can find here: https://www.osaa.org/today/article/3372/view?title=Aug.+23+volleyball+notebook]
Salem Academy is listed at 1-1. The Crusaders lost, 16-14 in the third, to 3A Cascade Christian on Saturday.
Finally, 1A Damascus Christian is one of the last schools in Oregon to get their seasons started. The Eagles open one week from Friday.
Fast starts for Sunset, Forest Grove, Glencoe
Sunset won three pool play matches and three bracket play matches to take the Franklin Tournament. The Apollos knocked off Ridgeview In the final. OH Sara Davies led the offense, while Kamryn Spooner steadied the defense. Setters Leila Yazd and Madi Harrington excelled dishing the rock.
Forest Grove won its own tournament, beating good teams in Ida B. Wells and McDaniel along the day. The Vikings were led by sophomore setter Sofie Fox and both outside hitters, senior Jadyn Punchocar and freshman Sydney Chrismer.
"It was a great start to the season and I look forward to great things from this team," said coach Jeff Leo..
Glencoe took first at the Tigard Tournament on Saturday. The Crimson Tide did not drop a set, playing with very high energy. Standouts on the day included Cassidy Watters (OH/RS), Rylee Pihl (libero), and Elisabeth Levick (setter).
Too many gray hairs?
St. Paul opened its season in the traditional way, by taking on its alumni. The alumni side was stacked, with All-Stars from the past six years, including seven from the Bucks' two state championship teams.
Here's the narrative I have written about St. Paul:
St. Paul went 28-6 last year and placed third at state. The Buckaroos will be looking for their third title since 2018 behind four returning starters: senior setter Gracie Koch, the team's captain, quarterback and catalyst; junior MB Audra Rose, senior OH Meredith Coleman and senior libero Isla Haven. All were All-League honorees in 2022 and are ready to lead St. Paul to great things, with help, of course, from some hardworking youngsters.
Volleyball outlooks for 42 additional teams
Varsity head coaches were asked to submit outlook forms to OSAAtoday at this link: https://osaa.wufoo.com/forms/zppm34k1vdbwwn/.
Those forms were used to write ALL of the narratives in this Notebook and last week's Notebook as well.
Any forms completed subsequently, by varsity head coaches or their proxies only, will appear in future Notebooks.
6A
Westview won 26 matches in 2022 and qualified for the state tournament, a season that was best by a Wildcat team in more than two decades. Ten seniors have departed, including five starters. The losses will be felt deepest on first contact control. Coach Janelle Bryant's team is led by senior S/RS Tayor Guerra, thrice an All-Metro performer; and junior MB Olie Madsen, a force at the net who should be a prolific scorer and blocker. Four newcomers could be big-time contributors: senior pin Thanvi Chilkuri, a transfer from Sunset, where she was All-League; 6-3 junior middle Steel Sinai and freshmen Ashlyn Pedersen, a 6-1 middle; and Mady Lebeck, a scrappy libero.
Caree Mickelsen takes over as head coach at Century with aims to improve on the Jaguars' two-win showing in 2022. The team will build around two strong middles, sophomore Lola Mastrantonio, an HM All-Conference pick; and senior Islee Siliga. Two juniors, libero Bailey Henderson and setter Callie Turner, also will be vital to the growth of this young, hardworking team.
South Salem has had a solid program for a number of years, but the Saxons have struggled to be regulars at the final state tournament site. They lost in the round of 16 last year to then-undefeated Jesuit. Coach Matt Leichty has graduated three, including massive losses at the outside hitter position. Senior middle Malena Mathis, sophomore OH Briella Mathis, moving from right to left; and sophomore setter Kamree Orizotti are key players on a South Saxon team that is deep, defensive-oriented and is driven to compete.
Gresham has been a state powerhouse and a team trying to be one. Coach Lori Anderson Cook has been there for all of it, winning two state titles as a player and three as a coach. But it's been more than a decade since the Gophers made the final eight and they graduated four-year starter Autumn Gaboury-Parker, whom Cook described as the "heart and soul of our team." After going 11-13 last year, Cook says that Gresham should be better despite many new faces. This team is quick, athletic, defensive-minded and competitive, led by senior setter Alyssa Smith and junior libero Tenzin Choedon.
After winning seven matches a year ago, Tigard is in building mode. The Tigers graduated just one starter, but lost two others, one to injury and one to a move. Coach Jesse Abell says that he has a roster of hungry players prepared to compete relentlessly. Two seniors, setter Isabel Williams and OH Amber Walker, will lead the way. Walker was a First Team All-League performer last year. Two sophomores, MB Jacky Godard and libero Addy Witt, should also be impact players on a team that has started the season 3-1.
Benson has a new coach in Claire Bailey, who will try to rebuild a Techster program that was once a state contender. Defense should be solid with returning starters Shekinah Castillo and Tracy Zhen. Others to watch include S/OH Shaleeah Harris, S/OH Keymore Goldsby and two newcomers, one transfer and one freshman, who will inject new life into the program.
Oregon City won the TRL last year for the first time and placed fourth at the state tournament. The Pioneers should be one of the favorites to win it all in 2023 with six back, including junior OH Paige Thies, the conference POY and an All-State pick. Coach Erica Frafjord also returns All-League picks Oliva Adamo and Brooke Williams in the middle and DS/OH McKenna Brent. The graduation of libero Sam Keightley is big but OC will turn to Lauren Crumley and Emma Comer to step up.
It is Year 2 in the Wendy Stammer era at St. Mary's Academy. A former 6A state champion while at Lakeridge, Stammer helped the Blues win 13 matches in her first year. Despite three graduated starters, Stammer says that St. Mary's has all the pieces to be a top ten team this fall. All-League libero Adrienne Nguyen, middles Julissa Pernsteiner and Eleanor Brecke, pins Sarah Wolff, Jane McDowal and Nina Read and DS Shelby Cenova will lead the way.
South Medford made the final eight for the first time in school history last fall. Six seniors, including four starters, have departed. This year's Panther team is young but ultra-physical, led by senior OH Brooke Johnston and 6-3 sophomore middle Mayenabasi Akpan, who was a state leader inn kills and blocks as a freshman. The team also will lean heavily on sophomore setter Julia Slaughter and senior RS Isabel Miracle, a transfer from Crater.
Sprague won a conference title in 20222 and made it to the state tournament. Five starters have graduated, but coach Anne Olsen expects her team to vie for the top 10 behind junior setter Evie Morrissette and senior pins Sidney Friesen and Faith Buchheit. Freshman S/RS Brooke Friesen is one of several varsity newcomers expected to make an impact this season..
5A
Hillsboro finished 5-19 in 2022 and hasn't been a contender in about 30 years. HilHi has a significant group of players back this season and they will use their quickness and drive to compete hard. Players to watch include libero Jessica Ramirez Mata, setter Kalena Kekahuna and MB Janya Anderson, all seniors; and junior outsides Aspen Radke and Natalia Flores.
Chloe LeLuge, a 6-3 senior OH/MB, returns for one final season at Bend. She alone makes the Lava Bears, who finished second in the state a year ago, a contender for 2023. Kristin Cooper's team graduated three impactful starters, including its libero, setter and an outside hitter; but Bend was deep with athletes and should be able to build around LeLuge with junior S/MB/OH Lucy Schuller and junior OH Jasi Kjellesvik. The biggest question mark going into the season is setting. Bend opens its season on Thursday in Hawaii.
West Albany finished fourth in 5A a year ago, continuing a recent tradition of making the final site 12 times over the past 15 years. Two have graduated and are now playing collegiately, but a nice core group remains, led by All-State OH Kendyl Arnett. Four All-League performers, pins Megan Blake, Lauren Bernt and Jenna Konzelman also return, as does senior libero Taylor Thompson. The deep offensive options and leadership from four seniors will have the Bulldogs looking to add a fourth state title to its trophy case.
Putnam went to the state playoffs last year and will try to push for the final eight in 2023 despite graduating 10 seniors, including four starters. Coach Jasmine Varela's team will be young, but guided by senior All-League MB Rylee Lemen. Underclass defenders Zoey Bauer and Chloe Stearns and freshman middle Kennedy Brown are others to watch on a team that could make noise if the young players develop quickly.
When I first moved to Oregon Ashland was a volleyball power. The Grizzlies won state in 2005. The team, however, won just once in 2022. A better season is expected this fall, as coach Tia Khachitphet returns a lot of experience, including pin hitters Lanie Carter and Alyssa Sturdevant, middle Flannery Lundgren and setter Kiera Kubiak. There are eight driven seniors on the roster and a couple of talented youngsters in freshman middle Stella Thompson and sophomore libero Savannah Elster.
McKay's 2022 highlight was breaking an 18-month winless streak. The Royal Scots ended up winning twice, but the team is in complete rebuild mode according to coach Natalie Dunn, as only 2-3 with any varsity experience return. Players to watch are junior OH Hannah Bedford and senior setter Alyssa Isaac.
Emily McMahon's first year as head coach of the Summit varsity produced an 8-13 record, not very Summit-like for a Storm team that's been a state contender for a decade or more. 5A coaches voted Summit into the pre-season top 10, meaning they think there's promise at the Bend school despite graduating star OH Shannon MacCallum and two others. "We had an extremely strong bench in 2022 and those positions are easily filled," McMahon said. "We have fast and extremely strong athletes jumping right into those spots." Here returning All-Conference players, OH Avery Ruhl, MB Danica Becerril and libero Lucie Reynolds, will lead the Storm. Expect contributions as well from improved setters Abby Toolan and Ellie Ezell, high-jumping middles Mia Mees and Lyla Gilchrist and RS Ellie Guadalupe. Summit has started the season 0-2 but do not be deceived: the team has lost to Sheldon and Marshfield, two defending champions.
Milwaukie has been building its program over the past few years. "I think this is the year we will shine," said head coach Carol York. The Mustangs have started 1-2, matching their win total from last season; and have transfers and strong JV players to add to the returning varsity members. Look for strength in the middle with 6-2 junior Harry Berry and 5-10 junior Yazmeen Brown, the reigning 5A discus champion and a crazy athlete. Senior S/RS Izzie Martinez and junior OH Moe Bondo are others to watch for Milwaukie, which expects to win as muc as it loses in league play.
Wilsonville was 27-1 in 2022 and placed third at state despite playing without two injured starters. The Wildcats will miss four graduated starters, including impact players Makenna Wiepert and Emma Alwine, but should capture a sixth straight conference title behind returning All-Conference players Mary Mathews (L), Cammy Gore (S) and Olivia Lyons (MB). S/RS Ellis Underhill and pins Kate Gore, Ashlyn Hartford, Emma Fauth and Teagan Hamilton (a freshman) are others expected to make significant contributions.
4A
After finishing fourth at state, Crook County has a new volleyball coach in Jessica Mumm, who's been the track coach for a decade. The Cowgirls graduated superstars Jacey Ramos and McKenzie Jonas. They will be challenging to replace. Crook County returns a strong trio to build around in libero Jaycee Villastrigo, middle Lillimae Brumble and setter Joann McKinnon, and the arrival of hard-hitting freshman outside Paige Wood gives the Cowgirls hope of a return trip to the state tournament.
Mazama advanced to the state tournament in 2022 and finished third, the best finish ever for a Viking team. With three starters now off to college, John Downey will build around setter Alexia Lowe, OH Bella Lowe, MB Cali Bitzer and RS NIshika Irish. The team is senior-dominated with a ton of experience and defensive mindset.
Molalla was a breakeven 11-11 last year and made the state playoffs for the fourth straight year. Molalla graduated two All-League players, both three-year starters. This may be a building year for head coach Lauree Nelzen.
3A
Chris Harmon is the new coach at Sheridan, a school with a strong tradition of volleyball excellence. The Spartans went 16-8 a year ago and graduated their best player, dominant hitter Hayley Ayala. Five starters return, however, for a team that expects to be more balanced this fall. Junior OH Chloe Ayala, junior MB Logen Watkins, senior setter Irma Ayala, junior OH Taylor Givens and junior defender Kaylee Johnson are the experienced players who will help Sheridan push towards a playoff berth after missing out last year.
Portland Adventist Academy also has a new coach, as Sean Lee takes over a Cougar program that had just four varsity wins last fall. The team graduated two starters from last year but should be better in 2023 thanks to five returnees, including outsides Caitlin Lee and Hannah Vliet; middles Ava Thompson and Sophia Koh and setter Keira White.
Oregon Episcopal School was one better than break even a year ago. The Aardvarks go into 2023 trying to replace three six-rotation impact players, including top performer Cayton Smith. The team is in rebuild mode, but there is promise thanks to a strong freshman class, anchored by 5-6 OH Zoe Olson. Others to watch include pin Athena Hsu-Chen, setter Scarlet Jacobson and libero Yasmin Iyer. All are seniors and will help OES lay the groundwork for an exciting future.
Burns was 30-4 last year was runner up in the loaded 3A state tournament. The Hilanders have won state eight times in coach Paula Toney's 30 years on the bench and will contend again in 2023 despite graduating standout libero Macy Temple and a couple of part-time starters. Three First Team All-State players, setter Ashley Wright, OH Mackenzie King and MB Akylah Kaino, will lead the way. Watch for freshman Bailey Temple to step into the libero jersey seamlessly and make her sister proud.
Two years ago, Catlin Gabel had its most successful season, placing third at the state tournament. Five starters, including impactful Elsa McDermott, have graduated, leaving the Eagles to forge ahead with many new faces. One "old" face is 6-2 sophomore MB Hayley Schaaf, a Third Team All-State pick as a freshman last year. She and seniors Rachel Cohrs (5-9 S/RS), Lyla Wohlgemuth (5-9 OH) and Erin Chow (5-9 pin) form a core group that has coach Jeanette Lee very excited about the team's prospects. Two freshmen, 6-1 S/RS Maliha Rajan and 5-10 OH/MB Lindsay Wohlgemuth, should be deep impact players as well.
McLoughlin struggled to a 1-18 record in coach Kassidy Ruiz' first year. The Pioneers are in a slow build and will rely on returning underclass starters Addy Brown (S), Martiza Ruvalcaba (L), Lainie Ellis (OH) and Miley Rhoads (MB). Ellis and Rhoads were HM All-League in 2022. This is a very young team, with only a couple of seniors expected to see the court regularly.
Cascade Christian has been one of the top teams in Southern Oregon for more than a decade, including last year when the Challengers went 17-10. Rob Kleker's team graduated two middles and a libero, but the coach says: "We have reloaded and should be more athletic at each position headed into this year." Cascade Christian will rely heavily on Conference Setter of the Year Molly Griffin and three potent pins, Madison Todd and Poppy Freeman, All-State performers in 2022; plus Maddi Carter, a First Team Al-Conference player two years ago before missing last year with a knee injury.
Pleasant Hill won 19 times a year ago and made the state tournament for the first time in years. The Billies could be even better in 2023, as two All-State and two more All-League players are back, OH Cheyenne Green, setter Claire Crawford, libero Emily Krauss and MB Ruby Jackson, all juniors. With just three seniors on the roster, and three promising freshmen as well, Pleasant Hill is set up for at least two more years of going for deep state tournament runs.
2A
Mannahouse Academy Portland last won league in 2012. The Lions, who won six matches a year ago, are 1-0 in 2023 with six key players back, including All-League performers Adrianna Bjornsgard (junior OH) and Sofia Acuna (junior libero). Two other strong juniors, OH Reaiah Hall and MB Annalise Schefter, are other young players with experience to help Mannahouse push through in the close games that often eluded this team a year ago.
Faith Bible / Life Christian has started 2023 with a 3-1 record after winning just three times in 2022. The Falcons had zero seniors on the roster last fall and expects to challenge for a .500 record behind three sophomore, Cecily Scesa, Maddie Predmore and Mary Rosetti.
Gaston placed fifth at the state tournament a year ago. The 21-win Greyhounds have a new coach in Sarah Irvine but the goal remains the same: to make the playoffs for the eighth consecutive year since it "took off" in 2016. Four All-League players are back, including senior setter Lexi Fern, the league POY and a First Team All-State pick. Gaston also brings back senior libero Cayden Handerson and small but mighty outsides Rhys Niederberg and Kaylee Spaulding. Add a couple of impact freshman middles and chances are decent that Gaston can win a third straight state championship trophy this fall.
Gervais made the state tournament field last fall for the first time in 10 years. The Cougars may have difficulty duplicating their 19-11-1 record in 2023, as eight seniors graduated and a returning senior starter transferred to Silverton. Gervais will build around two-year starting setter Addy McCarger, a junior, and a large group of hard-working players making the transition to varsity play.
Nestucca was 14-7 a year ago and qualified for the state playoffs. The Bobcats graduated three starters and have a new coach in Megan Deam but should be competitive with five key players back, including All-League hitter Kyla Hurliman. Injuries at the setter position to start the season may hinder this team's development. Hitting, where Rylee Armstrong and Chloe Love join Hurliman, should be a team strength.
Coach Peter Pioxoto is new to Blanchet Catholic, which has a strong volleyball tradition that includes league and state titles. The Cavaliers were 13-8 a year ago and should showcase athleticism and defensive prowess this year. Players to watch include undersized outsides Lindsey Arritola and Tatum Fleming, middles Regan Rasmussen and Horte Gemodo, libero Lilly Castaneda and setter Sarah Naegeli. A state tournament run is possible because of the number of athletes the team can put on the floor at the same time.
Willamina was two better than .500 a year ago and qualified for the state tournament for the first time in 11 years. The Bulldogs graduated five, including their best players, so this may be a building year for coach Heather Hughes. Three juniors, MB/OH Madison Oelhafen, MB/S Nichole Godwin and defender Sylvie Berry, return to lead the way. Freshman OH/S Hadley Hughes is a newcomer to watch. She's the 2023 USATF National Junior Olympic champion in the Javelin, meaning she has a "hitting arm" on her.
Portland Christian was one better than .500 last year and made the playoffs despite having a virtually new team. The Royals expected to have everyone back, but a torn ACL during softball season will sideline OH Hannah Griffin, the captain and leader of this young team. Still, there are high hopes, as coach Denetia Chimuku welcomes back All-League players Alyssa baird (RS), OH Finley Marine and libero Olivia Clapp, as well as three other key underclassmen. Two freshmen, setter Payton Becker and MB Addison Johnson, should make PC even more dynamic. This team is going to surprise.
Colton has a new coach, Joslyn Rathmann, and new outlook after winning just one game last year. Rathmann expects the Vikings to win as many as they lose this year, relying heavily on MB Chayse Smith, who should be a big blocking and hitting threat.
1A
South Wasco County made it to the second round of the state tournament last fall. Four starters graduated, including Big Sky POY Kylie Iverson; but the Redsides are confident that they will be a top 10 team and candidate to make the final eight in Redmond. Four regular are back, including All-League performers Anabell Udey in the middle and Jayda Iverson on the outside. The team also gets senior setter Hannah Babcock back after she missed her junior year due to injury. Julie Hull, Macy Bell, Justee Gotham and Bailey Udey are others to watch on a good team that lacks depth and will need to stay healthy to meet its lofty expectations.
Powder Valley had made the final eight state tournament six of the past eight years, including last season, when the Badgers went 29-4. Coach Marji Lind's team graduated just one starter, an outside hitter, but many impact players return, including All-State MB Jaycee Anderson, All-State libero Jodi Bingham, All-State OH/S Marli Lind and experienced senior starters Neveah Schuldt (RS) and Ayla Bingham (RS/S). This is a team that should be among the favorites to hoist the blue trophy should it stay injury free.
Trinity Lutheran made the state playoffs a year ago, continuing a recent rise in the program's fortunes. Head coach Kristin Bryan said that the Saints are poised to be very strong this fall, as many starters are back, including senior setter Lexi Valentine, MBs Aubree Weisner and Ava Elliott, OH Kiya Young and defender Ellie Cooper. Cooper should be joined in the back row by senior Madison Hernandez, an All-Conference transfer from Central Christian. Her sister, sophomore Malia Hernandez, also has transferred in and will be an outside after earning All-Conference honors last fall as well. This is a well-rounded team that seems ticketed for the final eight. Avoiding injuries will be key, as the Saints are not deep.