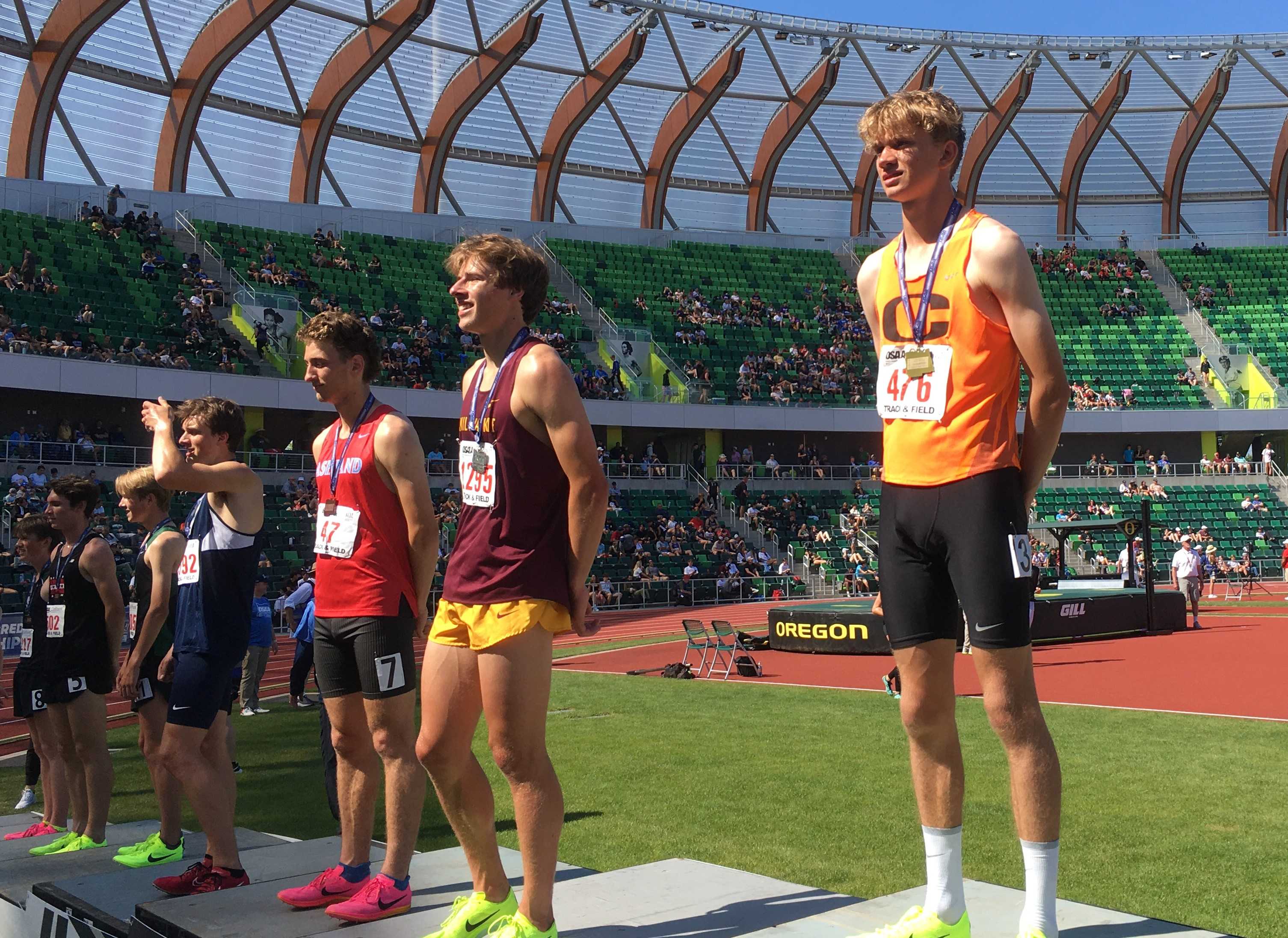 EUGENE – Tyrone Gorze had big plans when he arrived at Hayward Field on Friday for the first day of the OSAA/OnPoint Community Credit Union 5A track championships.
The Crater senior was taking aim at the state record in the 3,000 meters, looking to become the first Oregon boy to break the eight-minute mark.
As it turned out, Gorze fell just short, but in running to a personal best, he joined elite company. His winning time of 8:04.60 moved him to No. 2 on the state's all-time list between Central Catholic's Galen Rupp (8:03.67 in 2004) and Marshfield's Steve Prefontaine (8:07.9 in 1969).
"Thinking about it, I can't be too upset," said the University of Washington-bound Gorze, who beat his previous outdoor best of 8:11.60. "It's tough not to get under eight, or Rupp's record, but a PR's a PR. So I'll take it."
Gorze set a 5A meet record in repeating as champion. Still, he wondered what could have been.
"My second-to-last lap was definitely the one I wish I could have run faster," he said. "And my last lap, too. I only closed out in a 63, and I felt like I definitely could have closed out in a sub-60 or at 60."
Gorze, the two-time 5A cross country champion, had high hopes for his senior season when he ran the 3,000 in 8:05.17 during the winter indoor season. Up until Friday, he had not matched that time.
"Going 8:05 in January, I knew outdoors I could push that a little bit more," Gorze said. "To be that close to an all-time state record, it's a little frustrating."
Last year, Gorze ran 8:11.38 indoors and did not improve on the time during his junior season.
"This year I was like, 'I don't want to do that,'" he said. "I didn't want to make the same mistake again. So opening up 8:05, I'm like, 'I'm definitely going to push it. I'm going to go faster than that.'"
Gorze will go for a state double Saturday when he races in the 1,500. He was runner-up in the event last year.
In other 5A boys finals, Summit picked up titles from junior Noah Goodrich in the triple jump and senior Spencer Elliott in the shot. Central sophomore Gabriel Haines won the discus.
6A
Jesuit senior Jacob Nenow followed his state cross country title with a victory in the 3,000 final. Nenow finished in 8:17.07 to beat West Salem junior Jack Meier (8:20.80).
"My goal was just to try to make it fast and even so it wouldn't come down to the final sprint," said Nenow, who was fifth at state last year. "I was just kind of running 66 pace the whole way. Just trying to keep it on as long as I could."
Four other seniors wrapped up individual titles Friday: Lincoln's Grant Nyhus (triple jump), Grants Pass' Parker Jarvis (shot), Tigard's Kevin Swindler (pole vault) and North Medford's David Fuiava (discus).
4A
Five months after shattering his right collarbone and breaking his wrist in a motorcycle accident, Marshfield junior Jonathon Parks won the pole vault for the second year in a row.
Parks cleared 15-0 to hold off senior teammate Trent Summers (14-9).
"It makes it huge because I didn't even think I'd be here," Parks said.
Parks said he hit a deer while riding at about 70 mph. He said it took him until a couple weeks ago to regain his form.
"I was scared to death I'd never be able to vault," he said. "I pushed past the injury as hard as I could. It hurt to do anything. The doctor definitely did not recommend me to do anything. I still tried to work out and do everything."
The 5-foot-6 Parks had just enough to knock off the 6-2 Summers.
"I wouldn't have gotten that high if he wouldn't have pushed me," Parks said. "Speed, that's all I have. The entire lower half of the pole vault, he is way better than me. The only thing I beat him at is the upper form."
Marshfield senior Alexander Garcia-Silver, a two-time cross country state champion who was runner-up in the 1,500 and 3,000 last year, picked up his first track title by winning the 3,000.
Garcia-Silver won by more than 21 seconds in 8:31.08, a 4A meet record.
"The goal was just to get a state meet record," he said. "It's hard to solo, but I know I could do it, and I'm glad I had the capability to do it today."
It's been a season of adversity for Garcia-Silver.
"I've had a lot of challenges," he said. "I got injured, then my grandma died, and four days later, my dog died. I was just down in the dumps. Maybe three weeks ago, I started to pick myself up."
Estacada senior Cody White saved his best for last to win the discus. On his final throw, he came through with a mark of 159-6 – a personal best by more than 11 feet – to pass Pendleton junior Nathan Neveau (154-7).
"That was an amazing feeling," White said. "My first five throws weren't my best."
White, committed to Oregon State for football, tried for a repeat title in the shot but finished third (50-4 ½) behind La Grande senior Myer Whitmore (52-9 ½) and Neveau (51-0 ¼).
Pendleton junior Nolan Mead finished first in the triple jump.
Girls
6A
McDaniel junior Maleigha Canaday-Elliott prevailed over West Linn senior Anika Sukumar in a historic duel in the triple jump.
Canaday-Elliott jumped 40-6 ¾ on her third attempt to overtake Sukumar, who went 40-4 ¼ on her second try. Last year, Sukumar placed first and Canaday-Elliott was second.
It was the first time either one had surpassed 40 feet. Only two others have made it past 40 feet in state history: Benson's Sara Callier (40-7 ¼ in 2005) and Sunset's Keoma Wardford (40-6 ¾ in 1992).
"I was so happy, because I've been trying so hard in practices to break that 40," said Canaday-Elliott, who had three jumps at more than 40 feet. "I've taken time off from soccer. I was like, 'I'm not going to be here, but I'm going to break records.'"
Sukumar has been trying to break 40 feet since hitting 39-11 ½ at state last year.
"I'm not satisfied with my performance today, but I'm glad I was able to come away with a PR," Sukumar said. "I'm glad it happened here at state. My goal was 41. Still working towards that."
Tualatin junior Lauren Ayers, a middle-distance standout, showed her versatility by winning the 3,000.
Ayers, who was fourth in the 800 and fifth in the 1,500 at state last year, opted for the 3,000 this season to help the Timberwolves score points. She finished in 10:01.57 to win by nearly five seconds.
"I had only ran it in a dual meet and at districts, so it was weird getting my position because I've never run a 3,000 in a herd," Ayers said. "I got boxed in, so I had to make a move to get out. I'm glad I did because I felt like I was more in the race. I was expecting more people to go with me."
Ayers said she wasn't sure what to expect in the race.
"I didn't know if it was going to be really slow and tactical," she said. "The first few laps, it was like no one really wanted to take it. … It just doesn't feel real. I'm really grateful."
Central Catholic senior Kyeese Hollands successfully defended her title in the javelin. Hollands' winning throw of 149-6 was off her personal best of 154-5. She will try for a repeat title in the discus Saturday.
Tigard sophomore Alexa Anderson won the pole vault.
Lake Oswego junior Josie Donelson stood out in Friday's prelims. She ran the 400 in 54.51, moving her to No. 4 on the state's all-time list. She also clocked 44.13 in the 300 hurdles, the best time in the state this season.
5A
Crescent Valley sophomore Emily Wisniewski dominated the field to win the 3,000 for the second year in a row, finishing in 9:28.52, a 10-second personal best.
With the time, Wisniewski moved from sixth to third on the state's all-time list. She trails only Grant's Ella Donaghu (9:24.86 in 2014) and Lake Oswego's Kate Peters (9:25.15 in 2022).
"My goal was to possibly go under 9:30 or anywhere around there," Wisniewski said. "It hasn't really kicked in yet. It was an awesome race. I'm really happy about it."
Breanna Raven, Thurston's multidimensional senior, came through with a nine-inch personal best to take her third state title in the triple jump.
Raven jumped 38-10 ½ to move into a tie for 13th all-time in the state. She also tied the school record, set by Ashley Potter in 2007.
"I was just hoping for a PR, and hoping to have fun, and I did just that," said the Utah State-bound Raven, who will go for a third title in the long jump Saturday. "I woke up feeling great, and lots of positive affirmations, and just ready to have a great day."
4A
Hidden Valley junior Aja LaPan triple-jumped 36-9 ¾ to win the title. Last year's champion, Henley senior Lanie Cox, placed third at 33-11 ½.
La Grande freshman Brooke Perry delivered with a dominant win in the 3,000, finishing in 10:32.23 to win by 13 seconds. Perry will go for a title Saturday in the 1,500, an event in which she leads 4A.
Also snagging titles Friday were Klamath Union sophomore Andi Harmon (high jump) and North Bend sophomore Drew Hood (javelin).