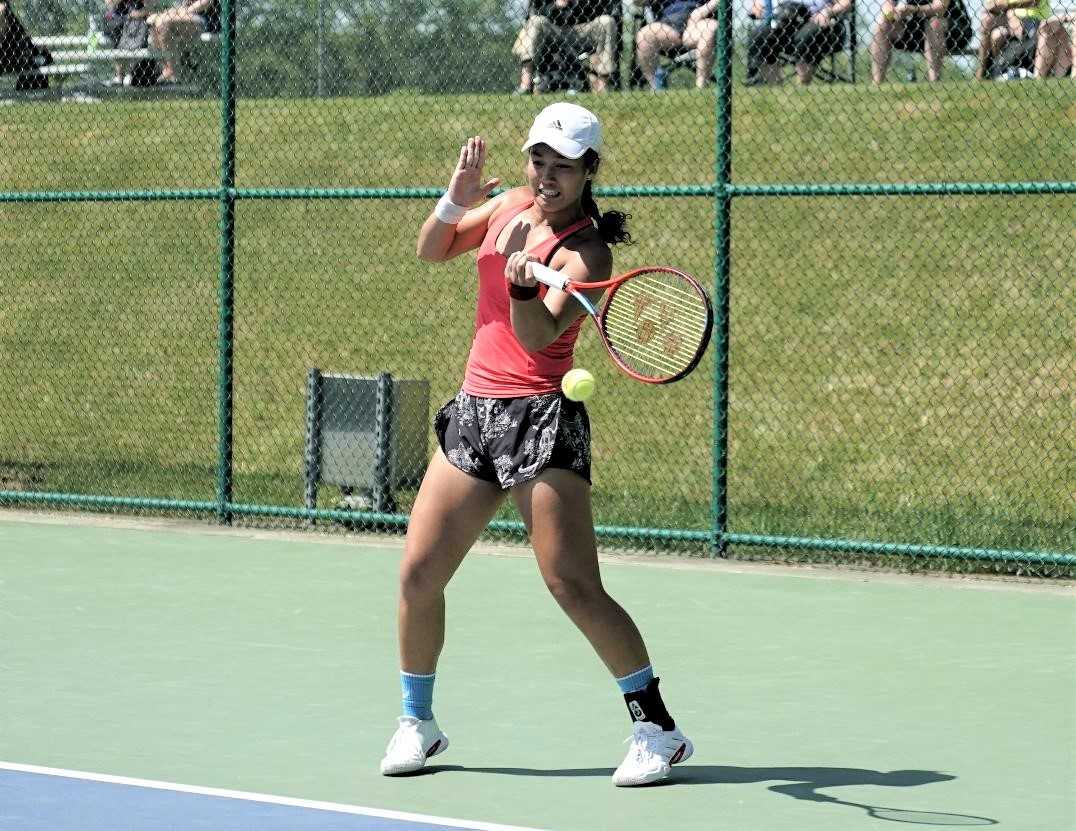 BEAVERTON – One year after falling in the state final, Westview senior Neena Feldman turned the tables of Clackamas junior Lauren Han.
The second-seeded Feldman seized the momentum in the middle of the first set and went on to beat the top-seeded Han 7-5, 6-1 in the singles final of the OSAA/OnPoint Community Credit Union 6A girls tennis tournament Saturday at Tualatin Hills Tennis Center.
It was a much different match than last year, when Han defeated Feldman 6-3, 6-4 for the championship.
"I was way less nervous," Feldman said. "I was just out there to have fun, to be honest. This is my last match as a senior, with my team, so I really just wanted to go out there and play my game and not have any regrets. I was just way more relaxed. Last year I was so tight."
Feldman beat Han last summer but lost to her 7-6 (8-6), 6-2 in the last meeting in January.
"I really reflected on that match," Feldman said. "I think I learned a lot. I didn't really have anything to lose at this point."
After coming back to win the first set, Feldman carried the momentum into the second set, when she bolted to a 5-0 lead.
"You could see that she got some confidence," Westview coach Tom Lefor said. "That's big to get that one under your belt."
Lefor said it was the best he has seen Feldman play.
"She was in her zone today," he said.
Feldman was plagued by unforced errors in last year's match, but this time, it was Han who struggled with miscues. And instead of Han dictating the points, Feldman was the aggressor.
"This year, I think the tables went my way a little bit," said Feldman, who has signed with Northwestern, where she plans to study biomedical engineering. "A lot of close points, she missed. And I made less unforced errors."
The Dartmouth-bound Han credited Feldman.
"She played really well today. Props to her," Han said. "I honestly don't feel like I played my best. That's not an excuse, though. I never got in my flow in the match and I made a lot of unforced errors early in the points."
Jesuit's third-seeded team of seniors Sofia Bell and Mishi Batinkova won the doubles title, knocking off Sheldon's fifth-seeded team of junior Emerson Kearney and freshman Hayden Kearney 6-4, 6-3. In the semifinals, Bell and Batinkova defeated the No. 1 seed, West Linn seniors Kate and Megan DeVall, 6-1, 6-3.
The 6-foot-1 Bell, a basketball standout who has signed with Oregon, teamed up with Batinkova late in the season.
"We were unseeded at districts because we didn't have any experience playing together," Bell said. "So just being able to qualify for state, and then make a run, is really exciting. It's super exciting to win."
Jesuit scored 19 points to beat Westview (16), Sheldon (12) and West Linn (9) for the team title. It is a state-record 16th team title for the Crusaders, and the 10th for coach Kirsten Ruchaber, but their first since 2015.
"It's been a few years," Ruchaber said. "We've had quite a few seconds between now and the last time we won. They've worked so hard. And the Metro League is tough."
5A, Tualatin Hills Tennis Center
La Salle Prep sophomore Kennedy Harris repeated as singles champion, defeating Crescent Valley freshman Emily Gu 6-4, 6-2 in the final. The top-seeded Harris lost to the second-seeded Gu 6-1, 6-7 (5), 10-6 in their previous meeting March 21.
"I just had to stay really focused," Harris said. "After the first set, the important thing in the second set, especially the beginning of it, is to stay really focused and dialed in and make sure you just keep doing what's working."
Crescent Valley's top-seeded doubles team of junior Anna Nguyen and senior Kiah Hollister defeated Ridgeview's unseeded duo of senior Rachel Lester and Sydney Cassaro 6-2, 6-0 for the title.
Crescent Valley repeated as team champion, racking up 26 points to dominate La Salle Prep (12.5), Silverton (6) and Ridgeview (6).
4A/3A/2A/1A, OSU Tennis Complex
Second-seeded Klamath Union junior Patricia Dougherty won the singles title for the second year in a row, defeating the No. 1 seed, North Bend freshman Raegan Farm, 6-3, 7-6 in the final.
With the win, Dougherty avenged her only defeat of the season. She lost to Farm 2-6, 6-4, 6-1 in the district final.
Catlin Gabel's third-seeded team of senior Lily Wand and freshman Amanda Perez took the doubles crown, beating the top-seeded tandem of Oregon Episcopal senior Sophia Dube and junior Marin Roseman 6-1, 3-6, 6-1. Wand and Perez had lost to Dube and Roseman twice in district play this season, 6-2, 6-4 and 6-2, 6-2.
Oregon Episcopal won its 14th team title and first since 2018. The Aardvarks scored 13 points to finish ahead of Klamath Union (8.5), Catlin Gabel (8), North Bend (6) and Philomath (6).
Boys
6A, Tualatin Hills Tennis Center
Lincoln junior Will Semler successfully defended his 6A singles title, turning back Beaverton senior Tannor Binder 7-5, 6-3. Last year, Semler stopped Binder 6-4, 7-6 (5) for the title.
"It was actually pretty similar," Semler said. "We both improved a lot over the last year. Otherwise it was pretty close. Margins are small at this level. … I feel like I played a little more aggressive than him today."
Semler and Binder, who has signed with Portland, have grown closer as friends since becoming training partners last summer.
"From a couple points into the match, we kind of turned it off," Semler said. "We're here to compete. We put in too much work to kind of let the friendship get in the way of the match."
Sunset seniors Kei Watanabe and Parsa Nasri won the doubles title for the second year in a row, beating West Linn senior Cameron Paulsen and Rhyson Chiang 6-1, 7-5 in the final.
Last year, Watanabe and Nasri knocked out Paulsen and Chiang in the quarterfinals, but the West Linn team avenged that defeat with a 6-1, 4-6, 7-6 (5) win in the Jesuit Tournament in April. That got the attention of Watanabe and Nasri, who entered state with the No. 2 seed behind Paulsen and Chiang.
"I think we were underestimating our competition," Watanabe said. "It was good that we came in with a fighting spirit. It was a reality check against West Linn in that match. It got us fired up for state."
The loss to West Linn was the only doubles match Watanabe and Nasri played this season until district. They quickly rediscovered their chemistry.
"It's more than just tennis," Nasri said. "We bond off the court. We actually met through tennis, and it expanded from there. This is my best friend right here. We worked for it. We earned everything we got."
Watanabe and Nasri are headed to Oregon, where they plan to play club tennis.
West Linn won the team title, its first championship since going back-to-back in 2003 and 2004. The Lions scored 23 points to hold off Sunset (17), Lincoln (16) and Jesuit (14).
5A, Tualatin Hills Tennis Center
Top-seeded Summit senior Ben Bonetto capped his first high school season with the 5A singles title, outdueling second-seeded Milwaukie freshman Aiden Yeung 2-6, 6-4, 6-3. Bonetto had to mentally regroup after dropping the first set.
"I kind of sat there and thought some things through, and revised my strategy," Bonetto said. "In general, I would say that it really could've gone either way. I'm just glad I ended up winning. He played well all throughout the match, and I just tried to do what I could to win."
Bonetto's brother Nate, a sophomore on the team at Florida, was a title contender as a sophomore at Summit but missed the state tournament due to a hip injury. Nate didn't get another chance to make a title run due to the COVID crisis.
Ben, who attends online school, joined the Storm this season. His teammates were vocal in their support Saturday.
"It's huge. It's a ton of fun," he said. "I decided to do it this year mainly because it was super fun to just be with the guys and hang out. Being in the team environment was different this year."
Summit dominated the tournament with 28 points, far ahead of Crescent Valley (9), West Albany (6.5) and Milwaukie (6). The Storm – which spent the last four years in 6A – has won nine titles in its last 11 seasons in 5A, including five in a row.
Summit collected big points in the doubles bracket, with three teams reaching the semifinals and two making the final. The top-seeded team of junior Max Himstreet and senior Zack Olander defeated the No. 4 seed of seniors Aidan MacLennon and Otto Haar 6-2, 6-3 for the championship.
4A/3A/2A/1A, OSU Tennis Complex
Cascade senior Zach Moore, the No. 1 seed, repeated last year's title by defeating the No. 2 seed, Marist Catholic freshman EJ Roedl, 6-3, 6-3 in the final. It was Moore's third straight-set win over Roedl this season.
Marist Catholic won the doubles title with the top-seeded team of senior Jack Kiefer and junior Peyton Tyner, who ousted the No. 4 seed, Catlin Gabel seniors Ben Rosenfeld and Lucas Holliday, 6-2, 6-1. Kiefer and Tyner lost to a Catlin Gabel team in the championship match last year.
Marist Catholic won its third team championship, and first outright title, by outscoring runner-up Oregon Episcopal 20-15. St. Mary's and reigning champion Catlin Gabel tied for third place with 10 points.