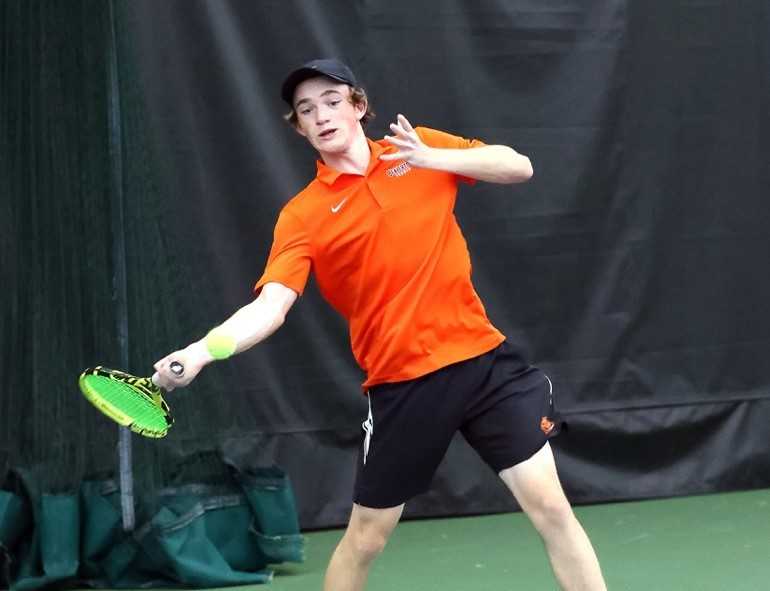 Coming off a runner-up finish in the 6A boys tennis tournament last year, Beaverton senior Tannor Binder is intent on making the most of his final chance this season.
Binder underscored that he is a serious title threat last weekend by winning the Oregon High School Tennis Championships at Tualatin Hills Tennis Center.
The top-seeded Binder claimed the title Saturday by beating the third seed, Jesuit junior Reif Larson, 6-2, 6-2 in the final. It came two days after he defeated Larson by the identical score in a Metro League match.
"He's hitting the ball really well," Beaverton coach Matt Hottmann said of the University of Portland-bound Binder. "He has put some work in. He's kind of addressed some of his weaknesses. He's getting a few more free points here and there."
Binder also beat Larson 6-2, 6-1 in the quarterfinals of a junior tournament in Vancouver in January.
"They both have got big game, but so far Tannor's been able to get the best of him," Hottmann said.
Jesuit coach Jeff Wood liked the way Larson competed.
"The rallies are good, it's a good match, but Tannor's tough," Wood said. "Reif's a junior and Tannor's a senior. We've got lots of room for improvement. Reif really gets excited when it comes time to play him. He likes being pushed."
In the junior tournament in January, Binder lost in the semifinals to Lincoln junior Will Semler in a rematch of last year's 6A final. Semler has yet to play in a high school match this season.
"Tannor's the top player in the state right now," Wood said. "Unless Semler comes on board, he's the guy to beat."
Binder lost to Semler 6-4, 7-6 (5) in last year's state final and 6-1, 1-6 (14-12) in their last meeting in January. Hottmann said that Binder, still haunted by a missed opportunity in the tiebreaker against Semler at state last year, has elevated his game.
"Last year, Tannor struggled a little bit to dictate, to take the intermediate ball and put a little more pressure on," Hottmann said. "Will was able to have a little more firepower, so I think that was kind of the big difference. Tannor's been gaining him. Will's a step ahead, but Tannor's doing what he can to hold up his end of the rivalry."
Hottmann said that Binder is "pretty self-aware" about how he can climb to another level.
"He's got an improved serve, and he's able to dictate a little bit more," Hottmann said. "He defends so well. He's not fun to play. You know it's going to be a grind. To beat Tannor, you have to be able to put points away."
To reach Saturday's final, Binder defeated Lincoln senior Freddie Kemple 6-0, 6-0 in the first round and dispatched Grant senior Josiah Mones 6-0, 6-1 in the semifinals.
Larson knocked out the No. 2 seed, West Linn senior Jax Ledwith, 6-0, 2-6, 6-1 in the semifinals. Ledwith was a semifinalist in the state tournament last year.
Jesuit outscored West Linn 72-64 for the team title. The Crusaders got titles from junior Aaron Yan in second singles, senior Rohan Varma in third singles, juniors Surya Panyam and Alex Tran in third doubles, and freshman Cole Koopan and sophomore Patrick Doherty in fourth doubles.
Jesuit is looking to get back on top in 6A this year. The Crusaders won four consecutive 6A titles, and 11 in 12 seasons, before finishing second to Lincoln last year.
"Head-to-head, our depth is pretty tough to reckon with," Wood said. "Our challenge is going to be getting enough players out of Metro. If we can get the numbers out, then we'll definitely be in the hunt."
In No. 1 doubles, West Linn's second-seeded team of senior Cameron Paulsen and sophomore Rhyson Chiang captured the title. They outlasted Sunset's reigning 6A champion team of seniors Kei Watanabe and Parsa Nasri, the top seed, 6-1, 4-6, 7-6 (5) in the final. The win avenged a 6-1, 6-4 loss in the state quarterfinals last year.
Bend Invitational
Jesuit's girls team finished runner-up to Camas (Wash.) in the 16-team Bend Invitational dual match tournament last weekend.
The Crusaders recorded 8-0 wins over Mountain View and Caldera in the first two rounds Friday and turned back Lincoln 6-2 in the semifinals Saturday. In the final, they finished in a 4-4 deadlock with Camas but lost in sets 10-8.
"We had some challenging, close matches that will help us learn and grow as a team throughout the rest of our season," Jesuit coach Kirsten Ruchaber said.
The Crusaders' No. 2 doubles team of senior Sofia Bell and freshman Lena Bader went undefeated in the tournament. Jesuit senior Mimi Rawlinson, playing No. 2 singles, also won all of her matches.