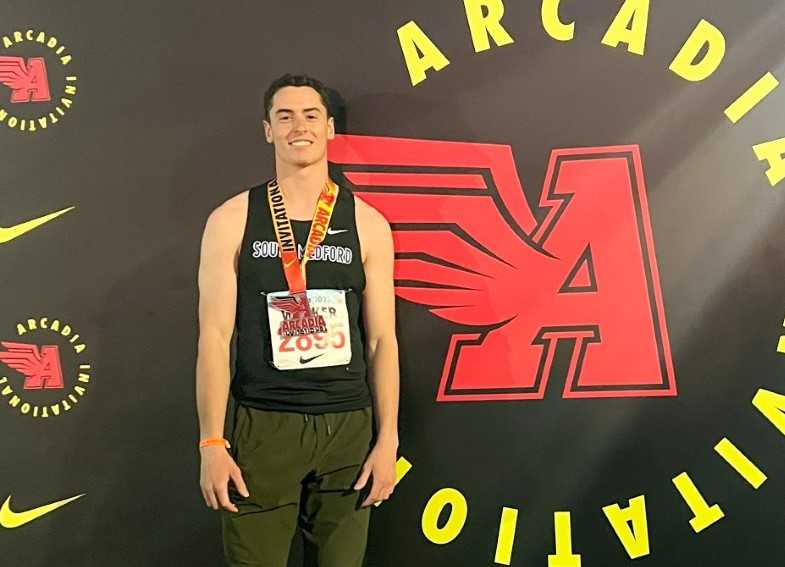 Entering the track season, much of the talk was about state record-setting sprinter Mia Brahe-Pedersen of Lake Oswego.
In southern Oregon, though, there's another sprinter who has quietly moved into position to challenge all-time state marks.
South Medford senior Andrew Walker broke out in a big way last season, winning the 100 and 200 meters in the 6A championships. Along the way, he ran the 200 in 21.27 seconds, No. 5 all-time in the state and pushing toward the state record of 21.03, set by Benson's Micah Williams in 2019.
"That's within a stone's throw," South Medford coach David Kirkpatrick said. "That's kind of the goal that we set out for this season. We said, 'Let's chase the state record.'"
After COVID canceled his entire freshman season and wiped out the state championships his sophomore season, could Walker have imagined having such a conversation?
"If you asked me sophomore year, no. But if you asked me at the end of last year, I'd say yes," Walker said. "For the 200, I want to go sub-21 this year. For the 100, I don't really have a specific goal in mind. Maybe just mid-10.4."
Walker opened the season March 16 by running the 200 in 21.67 in the Crater Track Classic Twilight. In the same meet, he ran what he believes was his fastest 100, but an issue with the timing system rendered his mark unofficial.
Walker initially was clocked with backup timers at 10.21, which would have blown away his personal best of 10.70 (tied for No. 33 all-time in the state) and tied the state record set by Williams in 2019. But the time did not stand.
"It's a big bummer for him because that was probably the best race that he'd run so far," Kirkpatrick said. "I think it was a legit 10.4 to 10.5 range."
Walker said it was "definitely faster" than 10.61, the wind-aided time he recorded in winning the 100 in the state meet last year.
"I'd say it was like high 10.4s," Walker said. "But if it's not a legit laser time, I don't want it to be out there for everyone to see. It is what is is. I'm OK with it."
In the prestigious Arcadia (Calif.) Invitational on Saturday, Walker placed third in the 200 (21.73) and seventh in the 100 (10.71). He was less than satisfied with his 100 performance, but he will get a chance to improve on it Saturday when he returns to California to run the 100 in the Mt. SAC Relays.
Walker made dramatic improvement last season, shaving .38 and .77 seconds off his times in the 100 and 200, respectively. He attributes much of his rise to Kirkpatrick, a former Cascade Christian sprinter who took over as South Medford's coach last season.
"He's more personal," Walker said. "He took me through a bunch of stuff and explained why. I think he's a big reason why. He's just more hands-on and willing."
Kirkpatrick drilled Walker in the fundamentals.
"When we first started working together, I watched his 100 block start and I could immediately see a lot that we could tweak and improve on," Kirkpatrick said. "He was just kind of standing up and sprinting. It takes a long time to develop the blocks. That's all to Andrew's credit. He's been patient and diligent. It's been a lot of us working together. He's committed to it."
From the beginning, Kirkpatrick could see that the 200 is a "whole different thing" for Walker.
"Starting into the curve seemed to really bring a lot of natural instinct and intuition out of him," Kirkpatrick said. "That wasn't a whole lot of coaching. Since then we've adjusted some finer points of that. But he's really naturally gifted at running that corner. I think that's what separates him in that 200 is he has an extreme gift for running the corners."
The 200 allows the 6-foot-1, 175-pound Walker to use his long stride.
"My starts are where I usually fall behind," Walker said. "I'm always a step behind, so on that last 100 stretch in the 200, I can stride out. That's where I make up ground. I like to chase, so if I'm on an inner lane, I like to keep track of my progress with each person in front of me, just eat up the stagger."
Walker has a potent combination of a long stride and excellent turnover.
"He definitely has elite turnover," Kirkpatrick said. "I think that's what makes him so dangerous and capable of breaking that record. The stride length is definitely something that comes into play, but if he didn't have the elite turnover, he wouldn't be the special runner that he is."
Walker's speed also jumps out as a receiver in football. Last season, he caught 50 passes for 777 yards and 10 touchdowns for the Panthers.
He inherited his athleticism from his parents, who ran track at Ashland. His father, Tom, was the state runner-up in the 100 (11.05) as a senior in 1991. Tom was a running back for Ashland's state semifinal football team in 1990 and went on to play in college at Air Force.
Andrew has accepted a preferred walk-on opportunity to play football at Oregon. He said he hasn't decided if he will pursue track in college.
"I'm kind of feeling it out this season," he said. "Whatever feels right."
After the Mt. SAC Relays, Walker will focus on the Oregon Relays on April 21 and 22 at Hayward Field. In the 200 at last year's Oregon Relays, he recorded his personal best and set the meet record.
More records could be on the way.
"I feel like I'm on track, where I need to be," Walker said. "My block starts are a lot better. I just need a nice day to go run a 100 and 200 and see what it is."