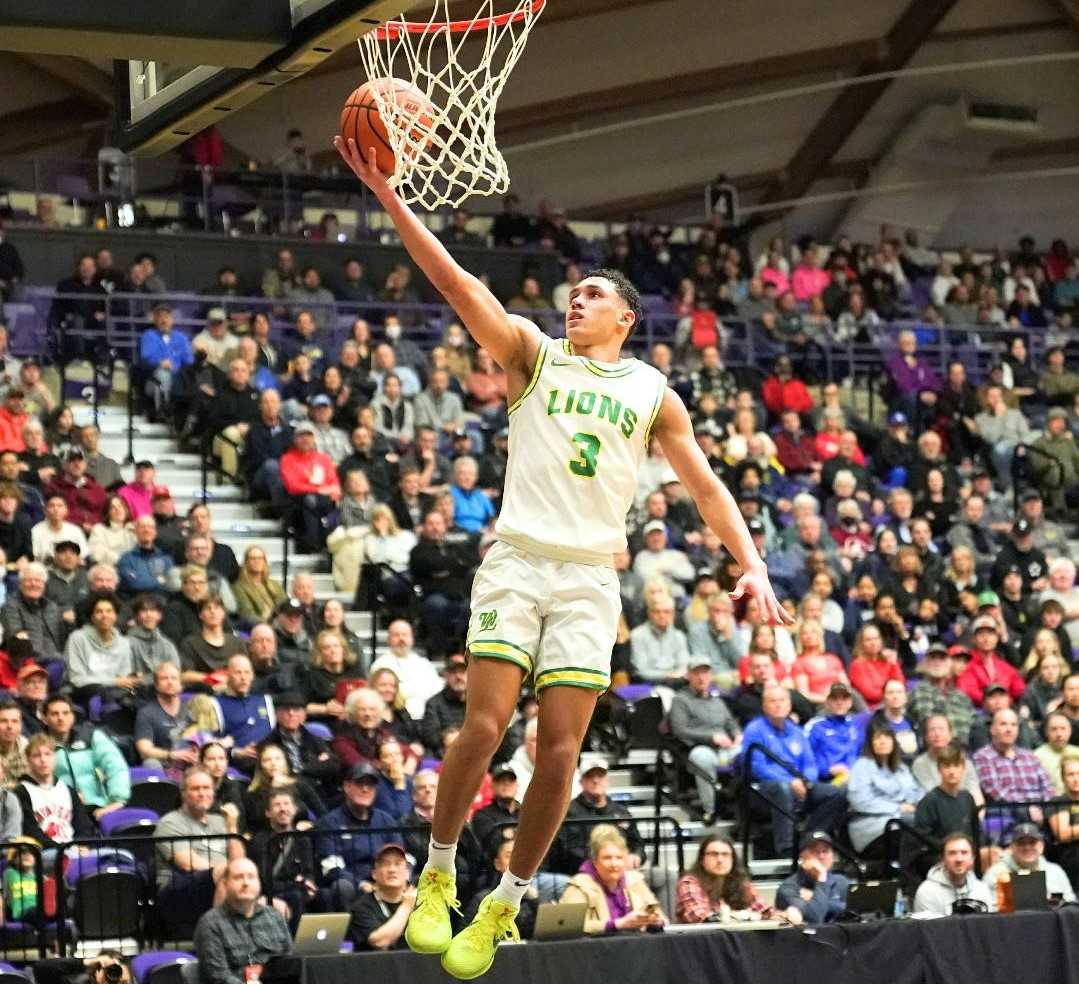 PORTLAND – Less than satisfied with a subpar performance in the quarterfinals, No. 1 West Linn came out blazing against No. 4 Lincoln in the semifinals of the OSAA/OnPoint Community Credit Union 6A boys basketball tournament Friday at the Chiles Center.
The Lions (28-1) jumped all over the Cardinals (24-5) at the start, hitting five three-pointers in the first four minutes to take a double-digit lead. They extended the lead to 24 points in the third quarter and rolled to an 89-69 win.
"We had some fuel in the tank from yesterday," Lions senior point guard Jackson Shelstad said, referring to the team's 49-45 win over Central Catholic. "We were just hungry. We didn't want to be playing at 9 a.m. tomorrow, so we came out and showed everybody what West Linn basketball is about.
"Tonight we just ramped it up. We didn't want to leave anybody second-guessing us out there tonight."
Lions senior forward Mark Hamper said the quick start was key.
"That was kind of our emphasis for today's game is just to come out fast, come out early and play at a fast pace," Hamper said. "Yesterday we felt like we played at Central Catholic's pace. The difference today I think is we played at West Linn's pace."
The Oregon-bound Shelstad made 14 of 24 shots and had 32 points, seven rebounds, nine assists and three steals. Senior Adrian Mosley had 16 points and eight rebounds and junior Nick DiGuilio scored 14 points as West Linn, which lost in the semifinals last year, earned a spot in Saturday's final opposite of reigning champion Tualatin.
The Lions haven't won a title since taking four in a row from 2013 to 2016, but the way they played Friday, they appear ready to get back on top. Since losing to Tualatin in the semifinals last year, they are 3-0 against their Three Rivers League rival this year.
"The job's not done, though," Shelstad cautioned. "We've got one more tomorrow, and that's what we've been waiting for all season long. So we're excited."
First-year West Linn coach Robert Key, who coached Grant to the 6A title in 2018, senses the urgency in his players.
"They see what's ahead of them," Key said. "They want it bad. They want it just as bad as I do. We're all on the same page."
The Lions were on target early against Lincoln, getting two three-pointers each from seniors Drake Gabel and Mosley and another from senior Sam Leavitt to lead 17-7. They finished the game 12 for 26 from three-point range, getting four triples from DiGuilio.
"I've been waiting for that," Key said. "We put the work in. We put in 25 to 30 minutes of shooting at different spots. It was just a matter of time to see it just open up. Today it was really good to watch."
The jet-quick Shelstad was slicing up the defense and finding shooters.
"Everybody was shooting lights-out," Shelstad said. "Defensively, I couldn't tell what they were running, but they were leaving the corners and the wings really open."
It was part of Lincoln's strategy, according to Cardinals senior Moroni Seely-Roberts, who led his team with 25 points, six rebounds, seven assists and four steals.
"Our game plan was basically, if they're going to beat us, they're going to have to shoot and make shots," Seely-Roberts said. "And they did that tonight. So hats off to them. And we weren't able to make enough shots on the other end to counteract that."
Lincoln had a distinct size advantage with Moroni Seely-Roberts (6-6), senior Malachi Seely-Roberts (6-8), senior Graham Eikenberry (6-10) and junior Evan Heisler (6-10).
But the hyper-competitive Lions – with two Division I football recruits in the 6-3 Hamper (Idaho) and 6-3 Leavitt (Michigan State), and the burly 6-2 Mosley – had the muscle to mix it up.
"We're a real physical team," Shelstad said. "Just like in the Les Schwab, we played some of the best athletes, some of the best teams in the country, and we out-toughed both of them. … We just compete. And I love that about our group. I'd go to war with these dudes every night."
The feisty Hamper said that he and Leavitt, a dynamic receiver-quarterback combination on the state championship football team, relished the challenge.
"Sam and I, we just want to go in there and make them feel us," Hamper said. "Just be active on both sides, rebounding, and show our physicality down there. It makes up for the lack of height."
Moroni Seely-Roberts, who got into a scrap with Mosley that led to both players picking up technical fouls, said the Lions are "super physical."
"I felt like we backed down a little bit at times and we were a little bit afraid of them, I would say," he said. "Overall, they're just a great team, and at the end of the day, they played better than us tonight."
Heisler came off the bench to make 7 of 10 shots and score 14 points for Lincoln. Malachi Seely-Roberts added 10 points, four rebounds and five assists.
No. 3 Tualatin 68, No. 2 Barlow 55: One year after winning their first championship, the Timberwolves (23-5) will go for a repeat title after dispatching the Bruins (25-4) in the semifinals.
Senior guard Josiah Lake, the lone returning starter from last season, made 9 of 15 shots and scored 27 points to lead Tualatin. Junior wing Jaden Steppe had 15 points, eight rebounds, three assists and three blocks and junior guard AJ Noland made three three-pointers and scored 17 points.
"This is something we looked forward to at the beginning of the season," Lake said of reaching the final. "One of our goals was to make it back here. We did that tonight. And we did it all season. It's not just one game. We've been here all year, people are just starting to take notice. We still have one more to win."
The 6-8 Steppe, a key rotation player last season, said he knew the Timberwolves had what it took to return to the championship game.
"Last year we had about 10 guys who were even matches in practice," Steppe said. "It was an even match, starters vs. bench. And even now, we're going to be good for the next couple years. It's a good program."
Tualatin opened a 34-20 lead when Noland scored the first basket of the second half. Barlow came back behind sophomore guard Jalen Atkins, pulling to within 51-48 on an Atkins jumper with 5:03 left in the game.
But Lake made a layup and Steppe hit a jumper to make it 55-48, and when Noland threw down a dunk with 1:33 remaining, Tualatin's lead was 63-52.
Atkins scored 15 points on 5 of 16 from the field. Senior Jahvari Martino and sophomore Mason Bierbrauer added 13 and 11 points, respectively, for the Bruins.
Tualatin is eager for another crack at West Linn. The Timberwolves lost to the Lions 73-69 in overtime at the Les Schwab Invitational and fell 60-54 and 89-78 in Three Rivers games.
"We're ready. We've got nothing to lose," Lake said. "They beat us three times, so if we can get this one, it means the world. We wanted to see them from the start. … Now it's just down to one game for it all."
The Timberwolves are confident they can play with West Linn.
"Out of all the teams, we're the closest, even the national teams," Steppe said. "We know how to beat them. We should have beat them once or twice. We played one of those games with a couple injuries. So we're ready. We're going to play our hardest. They're going to have to stop us at our very best."