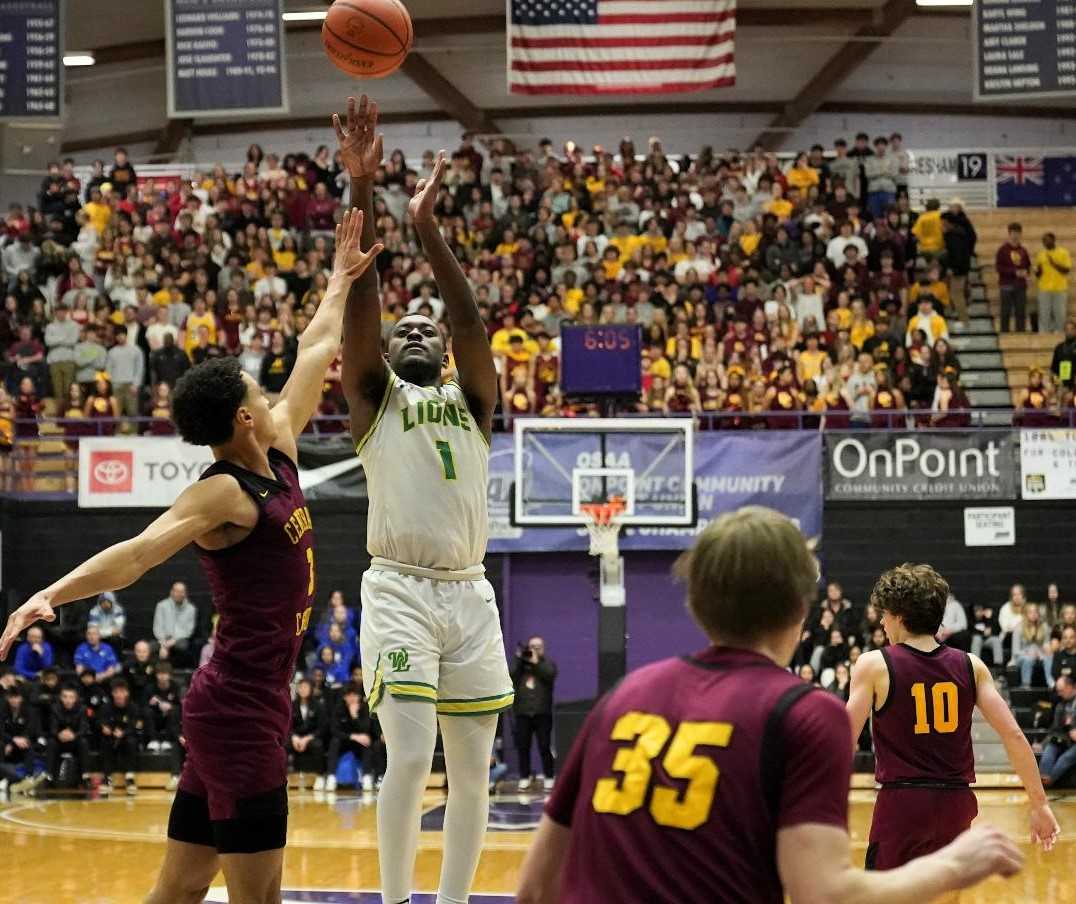 PORTLAND – Tournament favorite West Linn had to dig deep in the fourth quarter to shake off a stern challenge from Central Catholic in a 6A boys basketball quarterfinal Thursday at the Chiles Center.
The top-seeded Lions (27-1) trailed by six points in the second quarter, took the lead for good late in the third quarter and repelled the No. 9 Rams 49-45 to advance to the semifinals for the second year in a row.
Senior guard Adrian Mosley, who scored a game-high 21 points for West Linn, came through down the stretch.
After Central Catholic pulled within one point in the fourth quarter, Mosley converted a three-point play and hit a jumper for a 45-39 lead with 2:24 left. Rams freshman Zamir Paschal scored to make it 45-43 with 1:14 on the clock, but Mosley made two free throws to restore a 47-43 lead with 34 seconds to go.
"We all kept our composure and stayed calm, no matter when we were down or it was close down the stretch," Mosley said.
West Linn, which entered averaging 73.9 points per game, finished with a season-low point total. The Lions shot 37.0 percent from the field, including 4 of 18 from three-point range.
"That defensive plan the had was really good and confusing," Mosley said. "I don't think we've seen anything like that all year. It just looked like a zone, but then they were in man, but then they were gapping so hard.
"They forced us to shoot. No team ever forces us to shoot the ball wide open. So it was kind of weird, being wide open and no one's contesting."
West Linn got 17 points from Oregon-bound senior point guard Jackson Shelstad, well off his 28.7 average. He scored 33 and 41 points in two playoff games.
"We did not play very good, honestly," Shelstad said. "They came out, they were well prepared for us. They were a little bit more physical and had some more athletes than we thought. But we just came out flat. Offensively we weren't moving around, running any of our plays. And then on the other hand, they were hitting some big shots."
Shelstad shot 6 of 12 from the field, 2 of 4 on three-pointers.
"They did a really good job on me, too, just keeping me out of my flow," Shelstad said.
Central Catholic guard Isaac Carr, a 6-3 sophomore, made four three-pointers and scored a team-high 16 points. Paschal and junior Marley Zeller added 10 and eight points, repectively.
West Linn, which hasn't won a title since its four-year reign from 2013 to 2016, will play No. 4 Lincoln in the semifinals. Shelstad said that Thursday's win will serve as a wake-up call, of sorts.
"It's got to go up from here," Shelstad said. "We should be ready by tomorrow. I think we got a little bit of fuel from this game. Hopefully we come out ready to go."
No. 3 Tualatin 63, No. 6 Beaverton 54: The reigning champion Timberwolves (22-5) let a 13-point, third-quarter lead dwindle to one point in the fourth quarter before putting away the Beavers (20-8).
Senior guard Josiah Lake, the lone returning starter from last year's team, made three three-pointers and scored 28 points for Tualatin. Junior Jaden Steppe had 18 points and six rebounds for the Timberwolves, who had a 29-16 advantage on the boards.
Tualatin led 43-30 late in the third quarter when Beaverton made its run. Junior Aidan Rice made two three-pointers and a jumper in the comeback, the latter drawing the Beavers within 51-50 with 2:56 remaining.
But after senior Brady Rice made two three throws to cut the lead to 53-52 with 2:23 to go, the Lions scored the next eight points. Steppe hit a jumper and Lake, senior Ryan Schleicher and senior Jack Wagner each dropped a pair of free throws for a 61-52 lead. Junior AJ Noland added two more free throws for the final margin.
"They're a tough team, but we stayed composed," Lake said. "I suppose we could have been a little nervous (during the comeback), but we've been through this before. I knew we'd be all right."
The battle-tested Timberwolves held strong down the stretch.
"Our league is tough, but our whole schedule was tough," first-year Tualatin coach Bubba Lemon said. "We've been through stuff like this before. We've played Barlow, Lincoln, Beaverton, everybody. I told our players to stay poised and we'd be all right.
"That's a good team over there. It was just a matter of our good players stepping up."
The Timberwolves will play Barlow in the semifinals Friday. They lost at Barlow 86-85 in overtime Dec. 10.
No. 2 Barlow 73, No. 7 Mountainside 72 (2 OT): Two of the state's top sophomores dueled in a thriller as the Bruins (25-3) outlasted the Mavericks (19-8).
Barlow sophomore guard Jalen Atkins had 31 points, four rebounds, three assists and seven steals to lead the Bruins into the semifinals for the first time since 2018. He shot 11 of 23 from the field, 2 of 8 on three-pointers.
Mountainside sophomore point guard Brayden Boe collected 35 points, eight rebounds and nine assists as the Mavericks fell short in their bid to return to the semifinals. Boe made 13 of 24 field-goal attempts, 3 of 8 from behind the arc.
Mountainside forced the first overtime when senior Jaylin Ormond scored inside off a feed from Boe, tying the score at 57-57 with 12 seconds left in regulation. The Mavericks sent the game in double overtime when senior Blake Thune hit a three-pointer with six seconds left, knotting the game at 64-64.
Down 73-70 in the second overtime, Mountainside again had a chance to extend the game, but sophomore Peyton Reyes and freshman Eli Vizconde misfired on three-point attempts, and Ormond scored on a tip-in to make it 73-72 with 0.4 seconds on the clock.
Barlow got 16 points and seven rebounds from sophomore Mason Bierbrauer and 16 points from senior Jahvari Martino. The Bruins have won all four of their overtime games this season, including three in double overtime.
Ormond finished with 13 points and 15 rebounds for Mountainside. Thune also had 13 points, making three three-pointers.