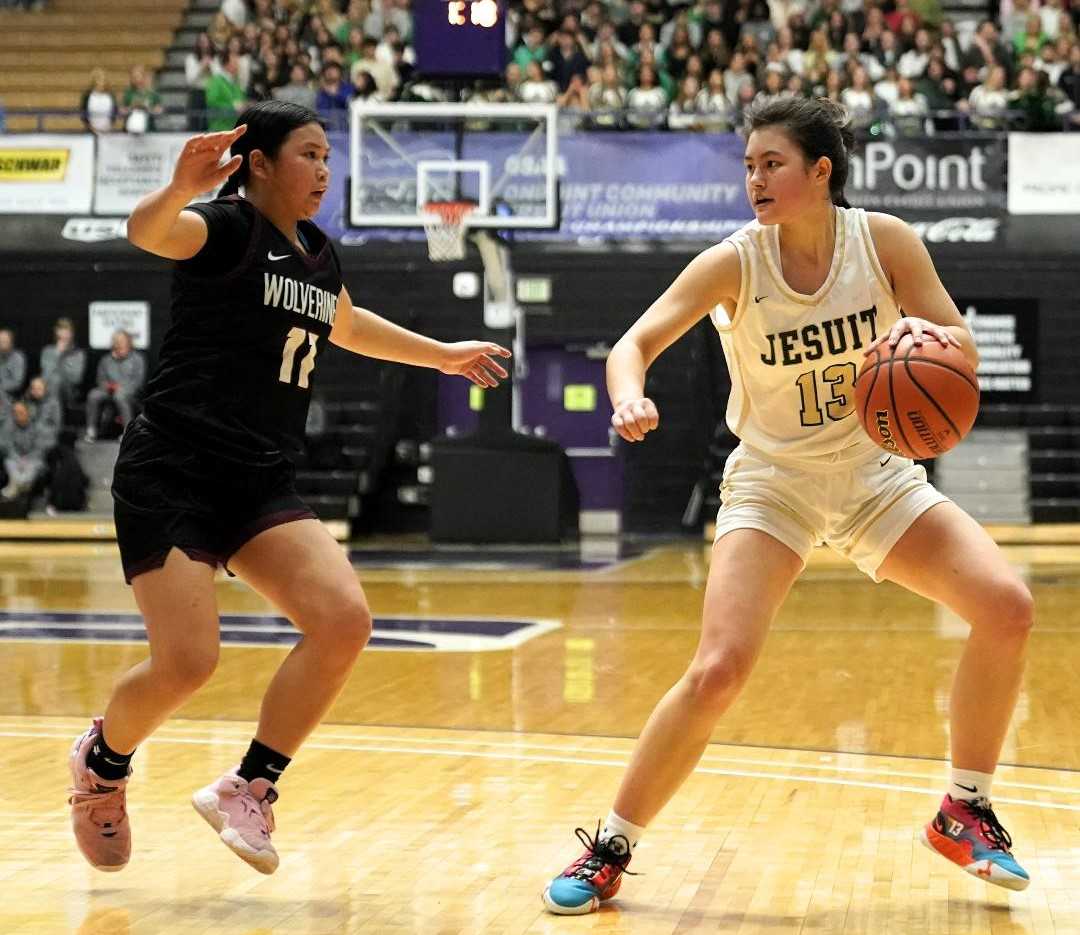 PORTLAND -- Top-seeded Jesuit needed some late-game heroics to survive a scare from No. 8 Willamette in the quarterfinals of the OSAA/OnPoint Community Credit Union 6A girls basketball tournament Wednesday.
Senior guard Emma Sixta made a three-pointer from the right wing with one second left to give the Crusaders (26-2) a 58-55 win over the Wolverines (18-8).
Willamette, which led by as many as 10 points in the second quarter, had pulled even at 55-55 on a short jumper by sophomore Brynn Smith with seven seconds left. Jesuit opted not to call a timeout, and senior guard Sofia Bell drove and passed in the corner to senior Tessa Randall, who found Sixta.
"We knew it was tied, and Sofia had been pushing it well, so we went transition, because that had been working," Sixta said. "It's a shot that we focus on, we like. The trail three is a good shot for us. We got the best shot we could've got."
The Crusaders advance to the semifinals for the first time since 2016, when they lost to South Salem. They will meet No. 5 seed Clackamas, which beat them 47-29 in December.
Jesuit, which lost to Barlow in the quarterfinals last year, is chasing its first title since 2011.
"Knowing that last year didn't turn out the way we wanted, it gives us a slight chip on our shoulder," Sixta said. "It gives us some more motivation. I think being able to win on such a big stage, and a big game, it's really big for us."
The Oregon-bound Bell led Jesuit with 25 points, seven rebounds, three assists and two blocks. Sixta scored 13 points, making 3 of 10 three-point attempts, and 6-foot-1 junior post Kendra Hicks added nine points and 12 rebounds, helping the Crusaders to a 38-20 edge on the boards.
Willamette got 21 points from 6-0 sophomore forward Isabella Harms, who made 7 of 10 shots, including 3 of 4 from behind the arc. Smith and sophomore Victoria Nguyen contributed 14 and 11 points, respectively, for the Wolverines, who shot 50 percent from the field, 9 of 18 on three-pointers.
Willamette, which starts five sophomores, nearly pulled off a stunner.
"They were great. They were well prepared," Sixta said of the Wolverines. "I thought they executed really well and they hit all their shots."
Bell opened the game with two three-pointers for a 6-0 lead, but Willamette took a 15-13 lead after one quarter on a layup by sophomore Harper Wagner. The Wolverines got hot from three-point range in the second quarter as sophomore Maddy Warberg, Nguyen and Harms struck from deep, the latter opening a 29-19 lead.
Jesuit got within 32-26 at half and took a 38-37 lead on a jumper by Bell. Nguyen hit a three-pointer with three seconds left in the third quarter to put Willamette ahead 44-42.
No. 6 Barlow 37, No. 3 Tualatin 32: Senior guard Annie Koenig made four three-pointers, including the go-ahead shot midway through the fourth quarter, as the Bruins (23-5) eliminated the Timberwolves (24-3).
Koenig scored a game-high 16 points, going 4 of 11 from deep. Her play helped make up for an off night by Oregon State-bound senior point guard Kennedie Shuler, who went 2 for 8 from the field and finished with five points and five steals.
Barlow, last year's runner-up, will play No. 2 South Medford in the semifinals for the second year in a row. The Bruins beat the Panthers 44-42 last year.
Koenig hit two triples and Haidyn Sobella added another in a 9-0 run as the Bruins opened a 25-15 lead late in the second quarter. Tualatin battled back to within 27-26 at half and took a 30-28 lead on two free throws by Jaylyn Arosemena with 5:27 left in the game.
The Bruins regained a 31-30 lead on a three-pointer by Koenig with 4:33 remaining. Rilyn Quirke converted two layups, the second one putting Barlow ahead 35-32 with 43 seconds left.
Tualatin's Olivia Poulivaati missed two free throws with 33 seconds to go, but she grabbed an offensive rebound to give the Timberwolves another chance. But Tabi Searle missed inside with four seconds left, and Barlow's Olivia Payne salted the game with two free throws.
Searle had a team-high 10 points and six rebounds for Tualatin. Poulivaati had nine points, 10 rebounds and three steals and Ries Miadich added six points on two three-pointers.
No. 2 South Medford 65, No. 10 West Salem 35: The Panthers (26-2) returned to the semifinals for the third consecutive postseason by dominating the Titans (21-6), who made the first state tournament appearance in school history.
South Medford senior guard Donovyn Hunter, who has signed with Oregon State, had 20 points, five rebounds, three assists and four steals. Freshman guard Taylor Young made 8 of 10 shots and finished with 16 points and four steals. The Panthers shot 50.9 percent and collected 14 steals.
West Salem's Madelyn Diaz made two three-pointers and scored 14 points.
South Medford led 23-13 after one quarter and 45-26 at half. Hunter made a three-pointer to extend the advantage to 61-33 with two minutes left in the third quarter.