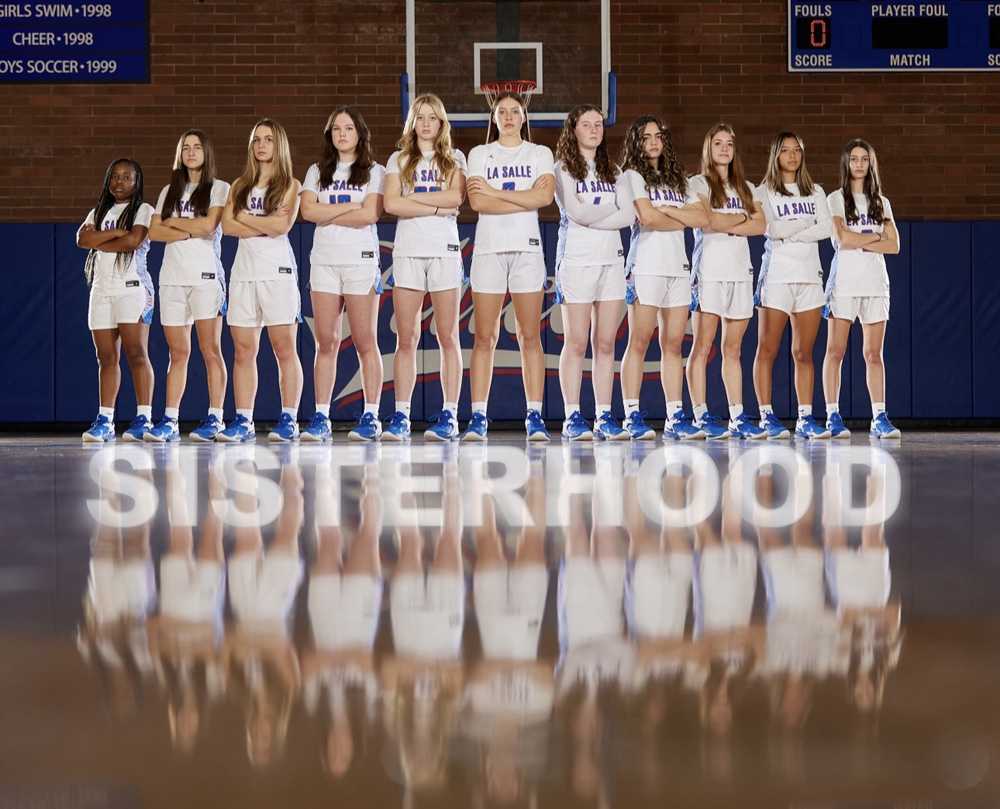 Top-seeded Springfield amped up its defense to dominate No. 10 Mountain View, 45-26, in the first round of the 2023 OSAA / OnPoint Community Credit Union 5A Girls Basketball State Championship, which started on Tuesday at Gill Coliseum in Corvallis.
The Millers, who lost to Crescent Valley in last year's championship game, dominated from the start against a Mountain View team making its first appearance at state since 2011. They got five first-quarter points from 2022 5A Player of the Year Danaeja Romero-Ah Sam, matching the total put up by the entire Cougar team, and never looked back.
Committing only two turnovers in the first half and six for the game, Springfield extended its 14-5 lead after one to 39-18 after three quarters and cruised to the win.
Besides limiting its turnovers, the key to the game was the defense of sophomore JB Robinson on Mountain View scorer Kasey Booster. Booster played the entire game and finished with just four points, on 1-14 shooting, 19 points below her season average.
"JB is a stopper on defense and the team was very aware of where she was at," Springfield coach Joe Williamson said. "So great individual and team defense."
Romero Ah-Sam finished with 15 points to lead Springfield (22-5). Juju Henderson added 10 points and five boards. Robinson finished with seven points, four assists, four steals and zero turnovers, while hounding Booster all game long.
Avery Andrews, a 6-2 junior center, topped Mountain View in scoring with 15 points. Junior forward Ruby Haarberg added seven points and seven rebounds for the Cougars, who fell to 18-7.
In other quarterfinal games…
No. 5 Crater d. No. 4 Putnam, 81-60
Crater didn't win by 45 points, its average margin of victory over the Comets' past 17 wins, but they did a number on athletic and experienced Putnam with their high pressure defense.
Crater (20-6) outscored Putnam, 17-3, during the last five minutes of the first quarter to take control and led by as many as 26 points in a game they dominated thanks to points off turnovers and second chances generated by a massive rebounding advantage.
Sage Winslow had a monster game for Crater, piling up 25 points, 12 rebounds, eight assists and seven steals. Addison Dippel and Abigail Winslow combined for 33 more points as Crater avenged a first-round playoff loss to the Kingsmen from a year ago.
Riley Greenleaf, Kayla Kasubuchi, Emma McDonald and Rylee Lemen all scored in double figures for Putnam, which came into the game having won 13 in a row. The Kingsmen were tied with Crater at 6-6 in the first quarter, before Dippel hit back-to-back triples to give the Comets a lead they would never relinquish.
No. 6 Crescent Valley d. No. 3 South Albany, 44-38
The defending champion Raiders trailed by five points in the third quarter before rallying to win, thanks to balanced offense and advantages in turnover and rebound margin. Gabby Bland, the hero of last year's state tournament, led the way for Crescent Valley with 11 points.
South Albany, making its first-ever appearance at the state tournament, surged to a third quarter lead on the strength of three-balls from Karsen Angel and Amelia Moss, but a 7-3 run late in the quarter, capped by a Nicole Huang layup, gave CV a lead it would not relinquish.
Angel finished with 11 points to lead South Albany (22-5). Crescent Valley improved to 21-6 with the win.
No. 7 La Salle Prep d. No. 2 Silverton, 38-36
Emma Buchanan scored on a layup with eight seconds remaining to break a 36-36 tie and propel La Salle Prep to the upset victory.
The underdog Falcons led by as many as 10, 31-21, in the opening moments of the fourth quarter before Silverton rallied all the way back to tie the game at 34-34, on a three pointer by Allie Mansur with 2:26 remaining. Silverton, whose only lead of the second half was 15-14 early in the third quarter, tied the game one more time at 36-36, on a Grace Hayashida bucket, before Buchanan delivered the game winner.
Clara Hudson and Ella Wedin teamed for 23 points to lead the victors (21-5). Justina Semerikov scored 12 to lead Silverton. Kyleigh Brown, the Foxes' leading scorer at 20 points per game, played 30 minutes and was credited with just one field goal attempt. She finished with seven points on 7-of-8 shooting from the free throw line.