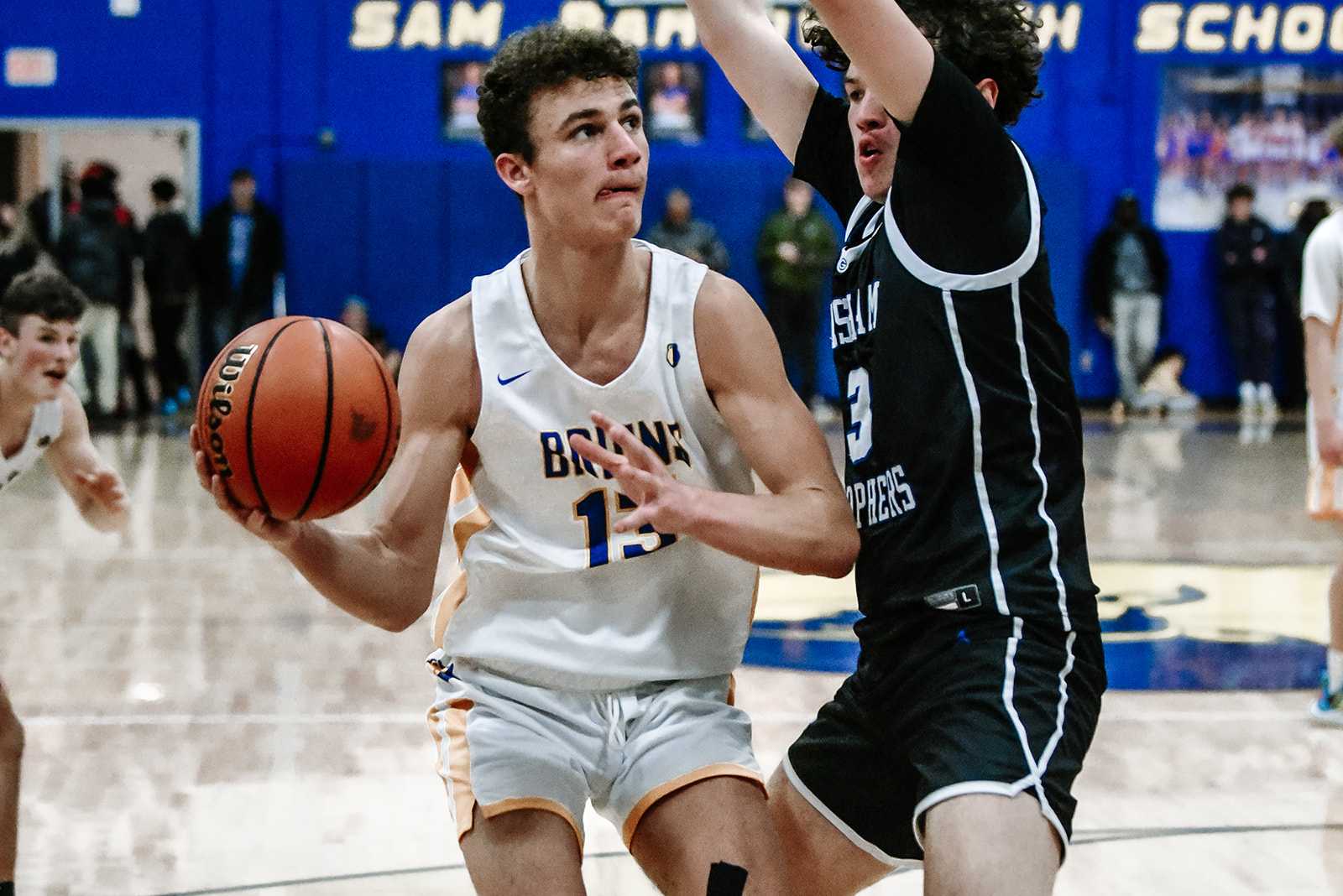 Good shooting has been a hallmark of Tom Johnson's teams in his 37 seasons of coaching Barlow boys basketball. And this year's team is among his best.
The Mt. Hood Conference-leading Bruins (15-4, 8-0) are shooting 53.0 percent from the field for the season, including 40.2 percent from three-point range. They also are hitting 76.5 percent of their free throws.
The field-goal and free-throw percentages are on pace to break school records, which are 52.7 percent (2004-05) and 75.9 percent (2017-18), respectively. The three-point mark also could be an all-time best, but those records have not been kept.
"We're just shooting the ball so well," said Johnson, whose team is No. 4 in the OSAAtoday 6A coaches poll. "We do have a lot of offensive firepower."
Barlow has been sizzling in eight conference games, shooting 56.5 percent from the field, including 47.3 percent on three-point attempts (70 for 148). With all five starters shooting better than 50 percent from the field, they are averaging 80.0 points per game in the conference.
The Bruins opened a two-game lead in the Mt. Hood on Friday with a 91-72 home win over second-place Gresham (14-4, 6-2). They will play host to the other second-place team, Central Catholic (10-8, 6-2), on Wednesday.
"As good as our league is, to be where we are right now, it feels good," Johnson said. "But the most important part of the season is coming."
Sophomore guard Jalen Atkins scored 31 points against Gresham, hiking his season average to 24.4. The aggressive Atkins put pressure on the Gophers with his penetration, making 13 of 15 free throws.
"He's able to get to the free throw line by attacking the hoop," Johnson said of Atkins, who is shooting 57.1 percent on three-pointers (28 for 49) in conference play. "He's strong physically."
The 6-foot-3 Atkins is well known throughout the state, but another sophomore, 6-5 forward Mason Bierbrauer, is having a breakout season. Bierbrauer is averaging 16.4 points per game and shooting 53 percent. In Mt. Hood games, he is 9 for 22 from behind the arc.
"He's able to score in a variety of ways," Johnson said. "He's really improved his perimeter shooting from a year ago. He's making threes, he's got a good mid-range game, and he's got the ability and the athleticism to get to the basket."
Bierbrauer's potential is intriguing.
"He looks like he's going to grow another inch or two or maybe three," Johnson said. "He's really gifted athletically. He's a quick jumper, and he anticipates well."
Johnson said Barlow must continue to improve its defense and rebounding to take a step forward. He liked how the Bruins attacked the boards against Gresham, collecting a season-high 17 offensive rebounds.
"Rebounding has been one of our weaknesses, but we're slowly getting better in that area," he said.
Boe rescues Mountainside
Sophomore Brayden Boe's three-pointer from the left wing with 19.5 seconds left lifted No. 5 Mountainside over No. 6 Beaverton 52-51 in a key 6A Metro League game Friday.
The Mavericks trailed 16-4 after one quarter but rallied behind senior Blake Thune, who scored eight of his team-high 17 points in the second quarter, including a half-court buzzer-beater.
Boe and senior Jaylin Ormond added 14 points apiece for Mountainside (13-6, 5-2), which defeated the Beavers (13-7, 4-3) for the second time this season.
The Mavericks are tied for second place with Southridge (15-4, 5-2), one game behind No. 7 Jesuit (12-7, 6-1). Mountainside plays host to Jesuit on Tuesday.
Summit rebounds
No. 1 Summit settled a score by routing No. 9 Bend 67-33 in a 5A Intermountain Conference game Friday.
Pearson Carmichael, a 6-7 junior, scored 24 points as the host Storm (12-5, 7-2) pulled into a first-place tie with Bend (10-8, 7-2) and got some payback for a 62-58 road loss Jan. 16. The win came four days after Summit fell 71-64 at No. 4 Mountain View (12-5, 5-4).
The Storm led Bend 14-10 after one quarter before pulling away. Summit pushed the lead to 51-25 after three quarters and coasted the rest of the way.
Storm coach Jon Frazier told the Bend Bulletin that the losses represented an "opportunity for growth."
"For this group, we are certainly talented, but some of those moments of adversity have forced us to come together as a team," he said. "The test we are facing locally is going to benefit us as we head into the playoffs."
Astoria topples Seaside
Astoria threw a wrench into the 4A Cowapa League title chase Saturday with a 60-55 home win over No. 6 Seaside.
With the win, the Fishermen (13-7, 6-2) drew within one game of the first-place Seagulls (15-3, 7-1), who defeated them 50-27 at Seaside on Jan. 20. The teams will meet again in the regular-season finale at Seaside on Jan. 20.
The loss ended a 13-game winning streak for Seaside. It marked the first time Astoria has beaten the Seagulls since Jan. 2016.
Juniors Merrick Benesch and Owen Williams scored 15 and 14 points, respectively, to lead Astoria. The Fishermen led 32-30 at half and opened a 52-41 edge early in the fourth quarter on consecutive baskets by freshman Kanon Huber.
Austin Palmer, a 6-6 sophomore guard, scored 24 points to lead Seaside, which was playing without a starter in junior wing Izzy Jantes.