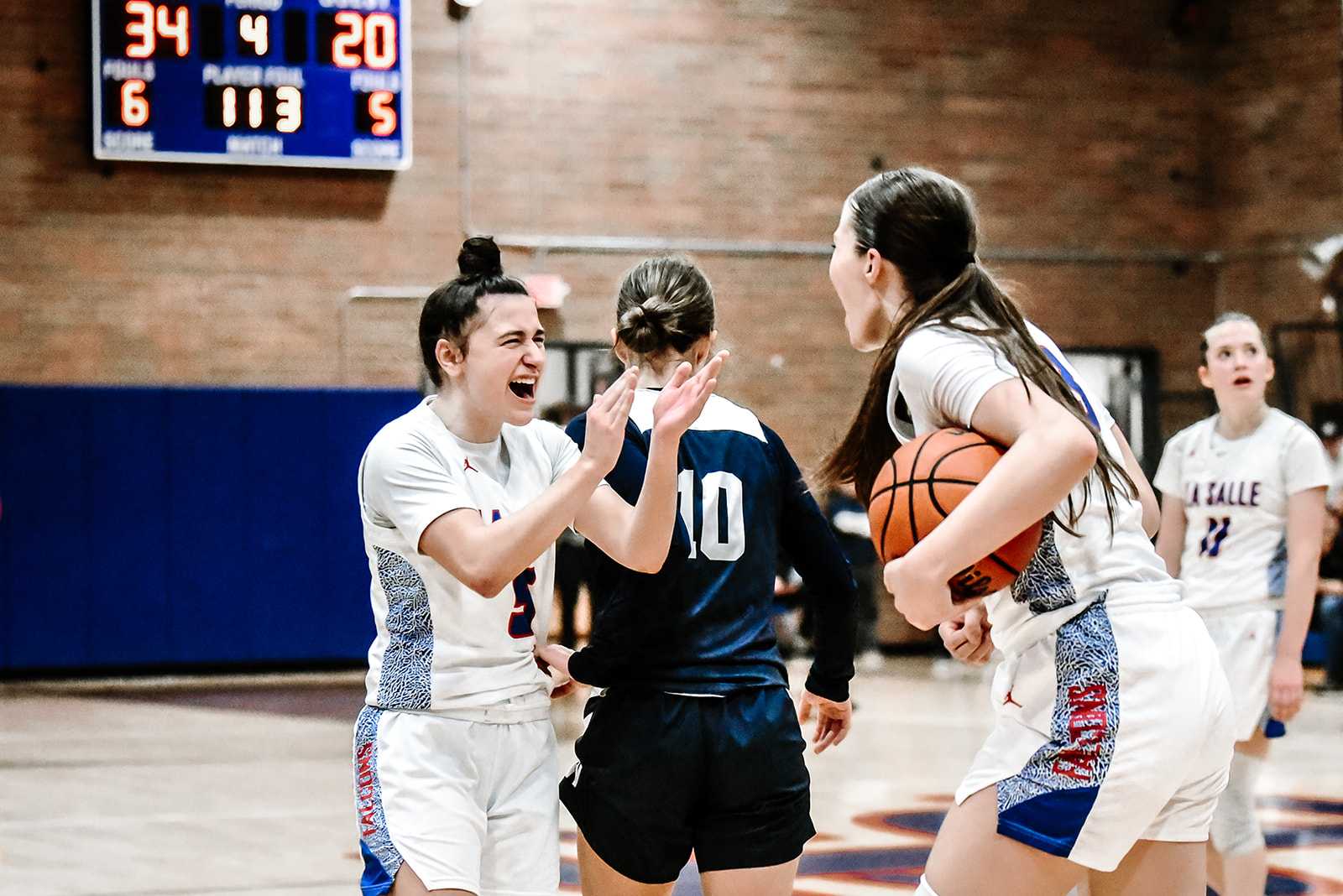 After a rocky start to the season, La Salle Prep's girls basketball team is starting to find its stride.
The Falcons (12-4, 5-1 5A Northwest Oregon Conference), ranked No. 7 in the OSAAtoday 5A coaches poll, have won 11 of their last 12 games. They notched their most important win of the season Friday, handling No. 10 Wilsonville 34-20 at home to pull into a three-way tie for first place with the Wildcats (7-10, 5-1) and No. 5 Putnam (11-3, 5-1).
Coach Kelli Wedin said the Falcons have turned a corner since losing their first game at a tournament in Las Vegas during the holiday break dropped their record to 1-3.
"We had to figure out how to be tough," Wedin said. "That's kind of when we went on our run. We've won some close games after that. I think the girls are figuring out how to grind it out and get those gritty wins. It's not always pretty."
That toughness was on display against reigning conference champion Wilsonville. La Salle Prep was able to overcome a poor shooting night with hustle and defense.
"Every 50-50, we got it," Wedin said. "They're starting to understand that every possession is going to matter. Our defense was really good and on point. We ran a little bit of a match-up and took away their primary scorers."
La Salle Prep senior guard Emma Buchanan was instrumental in holding Wildcats freshman guard Gabriella Moultrie to five points, well below her 20.5 average. The Falcons got nine points from 6-foot freshman Ava Bergeson, eight points from Buchanan and seven points from senior Ella Wedin.
La Salle Prep won comfortably despite an off night from the 6-1 Ella Wedin, a Loyola Marymount commit who is averaging 20.9 points. She shot 3 for 12 from the field, including 1 of 7 on three-pointers.
"It was good to get that win without Ella having to put up big numbers," Kelli Wedin said.
Ella Wedin has made 43 three-pointers this season, shooting 30.5 percent from behind the arc. She has scored 1,081 points and made 220 three-pointers in her four-year varsity career. She ranks No. 7 all-time in the state for three-pointers, a list topped by her sister, 2018 graduate Taycee (359).
"She's a great leader. She's doing a lot for us," Kelli Wedin said of her daughter, who also averages 4.8 rebounds. "She rebounds and typically guards the other team's best, versatile player. Her defense has come a long way."
The addition of Bergeson has provided a boost for the Falcons, who lost in the first round of the playoffs last year after making the state tournament in eight consecutive postseasons. Bergeson is averaging 9.2 points, 8.2 rebounds, 3.3 assists, 2.0 steals and 1.4 blocks.
"She's like this shot-blocking machine," Kelli Wedin said. "She has such good timing, just a quick leaper and real athletic. She can shoot the three, she can score inside. She's real promising. She's kind of that piece that we haven't had. She our X-factor."
Bergeson and Ella Wedin play off each other inside, taking turns initiating the offense from the high post.
"They're great passers, so we do a lot more paint stuff than we've ever done," Kelli Wedin said.
The offense has made progress but has been inconsistent.
"We haven't really clicked offensively all together," Kelli Wedin said. "We're definitely not one-dimensional this year, which is great. We're taking better care of the ball and being more patient offensively. I think offensively it's coming."
La Salle Prep's in-state losses have come against 6A No. 3 Beaverton, 6A No. 3 Jesuit and Putnam. The Falcons, who won state titles in 2015, 2017 and 2019 and were runners-up in 2014 and 2018, could be ready to make another championship run.
"I say, 'Why not?'" Kelli Wedin said. "I don't think this year in 5A there's somebody that's just so dominant. The 6A teams that are one, two and three, they're above and beyond. There's a clear difference this year between 6A and 5A, but within 5A, it just depends come February and March who's really clicking on all cylinders."
Foxes move to top
No. 2 Silverton took sole possession of first place in the rugged 5A Mid-Willamette Conference with two big wins last week.
The Foxes (10-3, 7-0) won 55-32 at No. 9 Corvallis (10-3, 6-1) on Jan. 16 and scraped out a 35-31 home win over No. 3 Crescent Valley (9-5, 5-2) on Jan. 19.
"We have so many good teams in our league that you have to come out and compete every night," Silverton coach Alyssa Ogle said. "I was super happy with the girls. They stuck to the game plan. They competed their butts off all week, and that was big-time for us."
Kyleigh Brown, a 5-8 junior, had 18 points, eight rebounds and eight assists and senior Lily Hayashida added 11 points as the Foxes handed Corvallis its first conference loss.
"We were able to come out on fire," Ogle said.
Brown had 11 points, nine rebounds and five assists and junior Justina Semerikov had 11 points and six rebounds in the win over reigning state champion Crescent Valley. The Foxes led by two points at halftime and four points after three quarters and held off the Raiders.
Brown is having a big season, averaging 17.6 points, 6.8 rebounds and 3.9 assists.
"We've challenged her a little bit more this year to do other aspects instead of just scoring," said Ogle, who took over as coach this season after four years of assisting Tal Wold. "She's been stepping up to the plate. She's been awesome."
PacWest showdown
No. 3 Amity (14-3, 6-0) rallied from a six-point deficit in the fourth quarter for a 44-35 win at No. 6 Santiam Christian (13-4, 5-1) in a battle for first place in the 3A PacWest Conference on Thursday.
Santiam Christian outscored Amity 18-5 in the third quarter to take a 31-25 lead, but the Warriors owned a 19-4 edge the rest of the way. Amity freshman Alyssa McMullen hit a three-pointer to cut the lead to one midway through the quarter, and sophomore Mya Haarsma put the Warriors ahead 32-31 moments later on a drive.
Freshman Eliza Nisly had 13 points for reigning PacWest champion Amity, which also got nine points from sophomore Sara Grove and eight points from Haarsma. Senior Maddie Fields scored a game-high 16 points for Santiam Christian.
Santiam Christian moved from the Mountain Valley Conference to the PacWest this season. The Eagles were 2-0 against Amity last season, defeating the Warriors in consolation at the state tournament.