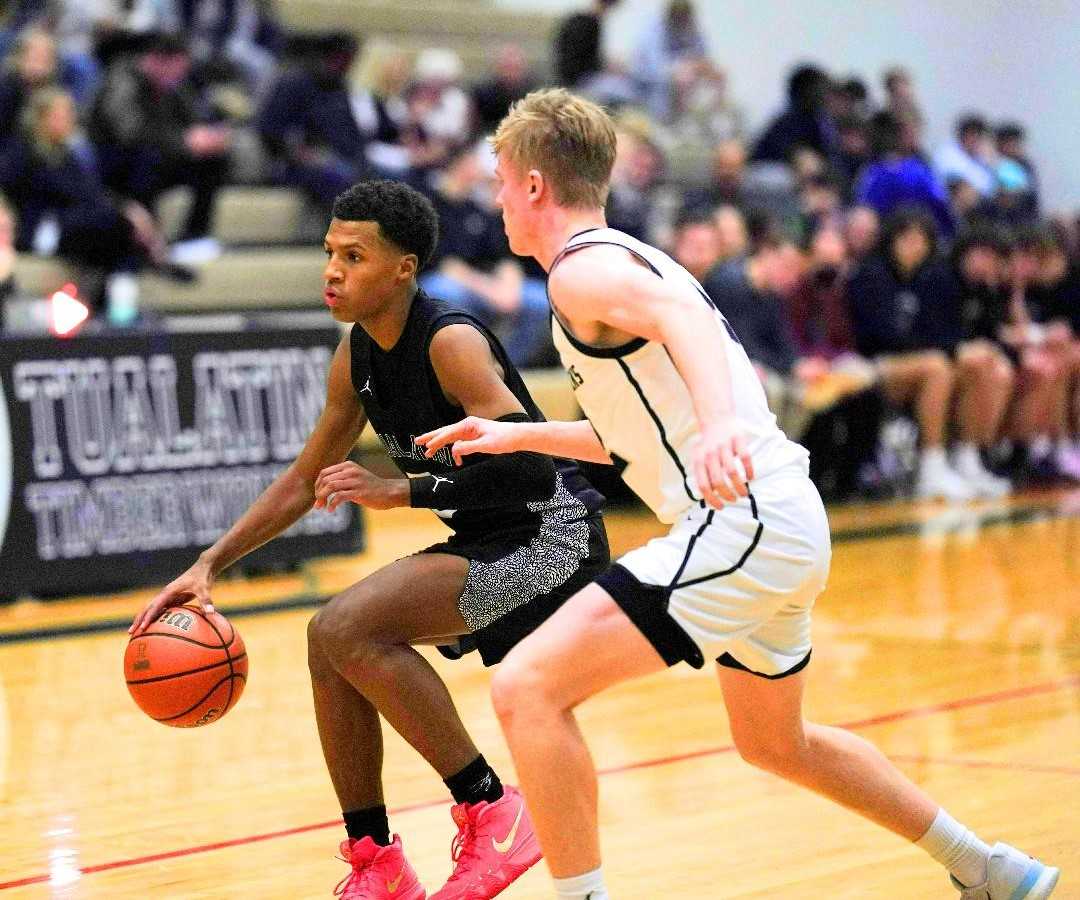 The loss of four starters from last year's 6A boys basketball champion hasn't kept Tualatin from emerging as a serious threat to repeat.
Behind senior guard Josiah Lake and junior wing Jaden Steppe, the fourth-ranked Timberwolves (10-3) have proven that they can play with the state's top contenders.
Among the teams they have beaten are No. 2 Lincoln, No. 3 Beaverton and 5A No. 1 Summit. Their only setbacks are overtime losses to No. 1 West Linn and No. 6 Barlow and a two-point defeat to No. 5 Mountainside.
"I feel great," first-year Tualatin coach Bubba Lemon said of his team's progress. "We still have a long way to go, too, so I'm hoping our team is going to end up peaking at the right time. Our kids have the potential to get a lot better. I think they're getting to what our potential could be."
The Timberwolves are playing with an edge.
"I think our guys are definitely wanting to make sure that they are still in this, and don't count them out," Lemon said. "But at the same time, if you want to underestimate us, go ahead. I think the teams we've played are pretty well prepared for us. Our guys just keep working."
On Friday, Tualatin scratched out a 90-89 overtime win over visiting Lincoln in an emotionally charged game. Lake scored 31 points, including a tying layup with five seconds left in regulation and two free throws for the lead with 24 seconds remaining in overtime.
Steppe added 27 points for the Timberwolves. They led 62-49 in the third quarter before Lincoln fought back behind senior Malachi Seely-Roberts, who scored 24 of his 29 points in the second half and overtime.
"It was definitely a playoff atmosphere," Lemon said.
The 6-foot-2 Lake, who has reached the 30-point mark in four of his last six games, is scoring a team-high 25.2 points per game. The 6-8 Steppe is averaging 20.9 points.
Last season, Lake was a starter and Steppe a key reserve.
"It's designed for Josiah and Jaden to shine this year," Lemon said. "They're two of the best players in the state for their classes. I think we have a good supporting cast around them that understands their roles. And those two guys, athletically, they keep us in every game."
Lake has deep shooting range and an ability to get to the basket and finish.
"He was complementary of that team last year, and he played his role really, really well," Lemon said. "Right now his role just changed. He's doing a great job of stepping up in it."
Steppe can slash from the wing and is effective posting up. He is getting more opportunities to create from the wing this season.
"He's playing the same position he played last year, but I think people are noticing a little bit more because he's getting more shots," Lemon said. "By the time he graduates from here, he's going to be a pretty darn special player, that's for sure."
Tualatin will play Benson (7-4) on Monday in the MLK Showcase at Lincoln.
Jalen time?
It was quite a week for Barlow sophomore Jalen Atkins, who made game-winning shots as the No. 6 Bruins opened 6A Mt. Hood Conference play with two key road wins.
Three days after the 6-2 guard made a layup at the buzzer to beat Gresham 62-60, he completed a four-point play with 6.7 seconds left to defeat Central Catholic 64-63 on Friday. It was the second four-point play of the fourth quarter for Atkins, who finished with 36 points.
"He's pretty clutch, no doubt about it," Barlow coach Tom Johnson said. "He plays with a lot of joy, which is pretty cool. It's refreshing to see."
Central Catholic (5-7, 1-1) led Barlow (9-3, 2-0) by five points with 30 seconds left and had the ball. The Bruins forced a turnover, and senior Jahvari Martino scored to make it 63-60 with 25 seconds to go. Barlow forced another turnover, and Atkins hit a three-pointer from about 30 feet while drawing a foul.
After Atkins added the go-ahead free throw with 6.7 seconds left, Central Catholic sophomore Isaac Carr missed an off-balance 15-footer as time expired.
Atkins shot 13 of 23 from the field, including 7 of 11 on three-pointers, and 3 of 4 on free throws. He is averaging 23.7 points and shooting 53 percent from the field, 50 percent from three-point range (33 of 65) and 91 percent on free throws.
"Jalen's no bigger than he was last year, but he's certainly a better player," Johnson said. "He's just taken it to a different level."
Barlow visits No. 2 Lincoln on Monday in the MLK Showcase.
4A showdown
No. 4 Junction City got 22 points from senior post Kaleb Burnett to defeat No. 3 Baker 66-48 in a 4A nonleague game Saturday at Wahtonka High School in The Dalles.
The Tigers (13-2), state runners-up last year, extended their winning streak to eight games. The Bulldogs (12-4) had their six-game winning streak snapped.
Baker was within 26-21 in the second quarter when Junction City went on a 9-0 run to take command. Burnett scored the last five points in the surge.
The Tigers led 39-23 at half and kept the lead at double digits the rest of the way. Senior guard Gunner Rothenberger added 19 points for Junction City, which did not make a three-pointer but hit 18 of 22 free throws.
Baker, which entered averaging 65.9 points per game, matched its season-low point total. Junior Paul Hobson scored 18 points, making four three-pointers, and sophomore Isaiah Jones added 14 points.
The game was a rematch of last year's 4A quarterfinal, which Junction City won 58-47 behind 30 points from Burnett.