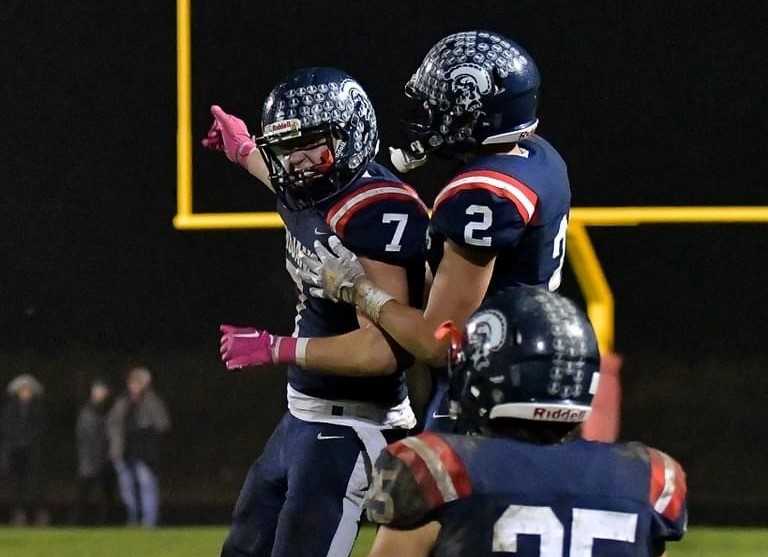 In a tight spot, No. 2 Kennedy dipped into its bag of tricks to overtake No. 5 Santiam Christian 24-20 when the unbeaten teams clashed for the 3A Special District 2 football title Friday night.
Santiam Christian came back from a 17-0 halftime deficit to lead 20-17 on a touchdown and two-point conversion with 1:12 left. But Kennedy answered when senior receiver Ethan Kleinschmidt took a handoff on a reverse and tossed a 63-yard touchdown pass to senior Luke Beyer with about 40 seconds to go.
The Eagles reached the Kennedy 45-yard line on their last possession but Trojans senior Owen Bruner ended the threat by intercepting senior quarterback Jared Mehlschau.
Kennedy, which opted to move up from 2A this season to continue playing 11-man, improved to 9-0 overall, 7-0 in the district. The Trojans, 2A runners-up last year, are the No. 1 overall seed in the 3A bracket and will face No. 16 Lakeview (5-4) in the first round.
"It's good to make a statement like that," Bruner said of the win. "It just proves to everyone, no matter how small you are or how small your school is, you can play with everyone if you play hard."
Kennedy coach Joe Panuke liked how his team responded with the game on the line.
"I told the guys, 'You're battle-tested,'" Panuke said. "You got into the playoffs, you've got to finish strong. Santiam is a really great team. They shut us down. We only had one first down in the second half, which is not great when you're ahead and want to move the clock.
"We haven't been down yet this year, and this really shows the guts of these guys and how much they want to win, and how football smart this team is."
Kennedy led 17-0 at half as senior Charlie Beyer kicked a 31-yard field goal and junior Elijah Traeger threw touchdown passes of 12 yards to Charlie Beyer and five yards to senior Brett Boen.
But Santiam Christian (8-1, 6-1) got a 12-yard touchdown run from senior Jayden Christy and a 29-yard touchdown pass from Mehlschau to senior Gavin VanVolkinburg to pull within 17-12, then took the lead as Christy ran for a one-yard touchdown and two-point conversion.
That set the stage for Kleinschmidt's pass to Luke Beyer.
"We know, and we have all along, that we have the players that can do big things," Kennedy senior lineman Briggs Snell said. "After they scored, we just pulled back together and shaped up.
"There were little mistakes that we made, but winning is huge. We'll go back to the film and break everything down, fixing every mistake there is. The playoffs are all about executing, and we're super excited to go."
Panuke said his defense was "outstanding" in limiting Christy to 74 yards on 26 carries.
"Christy is a special back, one of the top in the state," Panuke said. "But we've seen two of the best in the state now and been able to go toe-to-toe with them. I'm really happy with where our defense is right now as we move into the playoffs."
-- Andre Panse and Jeremy McDonald contributed to this report
Record-breaker
Crescent Valley quarterback Rocco McClave capped a breakout junior season with a performance for the ages Thursday night in a 5A Mid-Willamette Conference game.
The 6-2, 170-pound McClave set state records by passing for 654 yards and 10 touchdowns for the Raiders (1-8) in a 79-71 loss to Dallas (5-3) as the teams combined to set the modern-day state record for points in a game.
McClave completed 31 of 41 passes. The 654 yards breaks the previous record of 613, set by Toledo's Jaxon Rozewski in 2018. The 10 touchdown passes beats the old record of nine, set by Cascade Christian's Seth Knox in 2013.
"He was throwing all sorts of balls," said Crescent Valley coach Andrew McClave, Rocco's father. "Back-shoulder fades, lob passes through the middle, corner routes, slant routes. It wasn't one of those games where you hit a ball and a guy runs for 80 yards. He was out of his mind."
Raiders junior Luey Campos had 11 catches for 313 yards and five touchdowns and senior Walker Still had eight catches for 216 yards and four scores. Campos' yardage total is No. 9 on the all-time state list.
"We were empty most of the night. I cleared the backfield," Andrew McClave said. "You either blitz a passing team, or you play coverage, and they did both, and they couldn't stop it because he was getting the ball out.
"We executed on offense all night, but we were so bad on defense."
Crescent Valley was unstoppable through the air but couldn't contain Dallas on the ground. The Dragons rolled over the Raiders with juniors Isaiah Mosley (143 yards, three touchdowns) and Zayvian Webster (112 yards, three touchdowns) and seniors Dalton Baker (133 yards, one touchdown) and Brock Dunkin (93 yards, one touchdown).
The 150 points are the most in a game in the modern era, which is after 1950. The all-time record was set in 1913 when Estacada defeated Milwaukie 162-0.
Rocco McClave, who became the team's starting quarterback as a sophomore, came on strong at the end of the season. For the year, he completed 172 of 277 passes for 2,704 yards and 28 touchdowns with four interceptions. He also ran for three scores.
"The progression of him throughout this year has been his pocket awareness, extending plays, and getting the ball out to the open receiver," Andrew McClave said.
Rocco's sisters, Cali and Ana, played for state champion soccer teams at Crescent Valley and are on the basketball team at Western Oregon University.
Slippery sophomore
One of the hardest things for a defender to do this season is to get their mitts on slippery Lowell sophomore running back LaMar Thurman.
"One of his teammates described it as trying to tackle a stick of butter," Lowell coach Pat Todd said. "He has swivel hips. They kind of get a hold of him and he does this little wiggle, and they're flying by and slipping off."
The 5-foot-9, 151-pound Thurman has been the catalyst this season for the Red Devils (9-0), ranked No. 3 in the OSAAtoday 2A nine-man coaches poll.
He entered Friday's regular-season finale at Oakridge as the state leader in rushing yards (1,794), for all classifications, and tied for the state lead in rushing touchdowns (26). He added 66 yards and two touchdowns against Oakridge, giving him 1,860 yards and 28 scores as Lowell heads into the state playoffs.
"We always knew he'd be good. I didn't know how good, how soon," Todd said of Thurman, who ran for 407 yards in a win over Toledo in Week 8. "He's just a good athlete who keeps his mouth shut and plays hard. He's a real calming effect on some of our guys. He's pretty level-headed. He's humble."
Thurman grew up in a house full of older brothers, among them Sam, a former fullback and nose tackle for Lowell, and Symon, the Red Devils' quarterback as a senior in 2018. His brother Justus is a junior cornerback this season.
"He's been dodging his older brothers for years," Todd said. "He knows how to make people miss, because if he didn't, he would've been slaughtered as a 10-year-old. He can shift and accelerate so fast, he's back to full speed shockingly fast. He's easily the fastest guy on the field. He hasn't been caught from behind."
Todd said that Thurman has benefited from excellent blocking, in particular by senior fullback Lehi Zylstra and junior tight end Rowan Files.
"They've just been putting people into back somersaults," Todd said.
The 6-2, 190-pound Files, the reigning 2A champion in the 200 meters, also is dangerous with the ball. Lowell designed a play for Files three weeks ago – dubbed the "bullet mullet," after his hairstyle – that has paid off with two touchdowns.
The show-stopper has been Thurman, though. He is the latest in a line of outstanding running backs to go through Lowell, a group that includes Zac Cardwell (2007-10), who is No. 3 in eight-man state history in rushing yards (6,419) and first in touchdowns (101).
"JaMar is different from those guys because he truly has breakaway speed," Todd said. "They all had good speed and lots of toughness, but he has great speed and lots of toughness."
One more run?
A 5A finalist in the last three postseasons, Thurston had plenty of growing up to do this year with new starters at 20 positions.
And after opening the season with losses to No. 2 Wilsonville and No. 1 Summit, No. 4 Thurston (7-2, 7-0) found its footing and completed a perfect run through the Midwestern League, extending its league winning streak to 31 on Friday with a 44-0 home win over Churchill.
Now the Colts will cast their lot in the 5A playoffs, where they have become accustomed to success.
"They've been key reserves and been along for the ride for some deep playoff runs," said coach Justin Starck, who led Thurston to state titles in 2018 and 2019 and a runner-up finish last year. "They've seen a lot of football in November. And being on the grass field here at Thurston, we're hoping that will bode well for us in the playoffs."
The inexperienced Colts showed promise in the season opener when they rallied from a 22-point, third-quarter deficit to take Wilsonville into overtime, where they lost 38-35. But they learned a hard lesson the following week in a 48-10 loss at Summit.
"We realized we're not nearly as physical as we had hoped," Starck said. "We kind of got physically manhandled. That's been a while since I've said that. I can't think of a time when we've been manhandled the last three or four years.
"Summit's a different animal. They're so physically talented, so many all-star players on that team. We maybe had a group or two like that in 2018 or 2019. Now I know what it feels like to play against a team with that many all-stars."
Since that defeat, Thurston has improved up front. Junior guard Micah Hanna (6-1, 260) has emerged, and senior center Brian Dally Jr. (6-3, 275) – an all-league player last year -- has provided a lift since returning to the lineup after missing the first four weeks following surgery on his meniscus.
"He's healthy now and playing at a high level," Starck said of Dally. "We're really happy to have him back. He's solidified things a lot for us, given us a little bit of depth. We're better in that regard."
The offense has grown along with the maturation of sophomore quarterback Noah Blair., who completed 14 of 19 passes for 177 yards and one touchdown in Friday's win. For the season, Blair has passed for 1,202 yards and 18 touchdowns with three interceptions.
"We ran the ball a lot in the first six weeks and tried to protect him a little bit," Starck said. "We've begun to open things up now. We know we need to be more balanced in the playoffs."
Bracket fate
Teams were left to assess the new 6A playoff format after the brackets were announced Friday night.
This season, for the first time, the 6A playoffs are split into a 16-team championship bracket and a 16-team secondary bracket, named the Columbia Cup.
The championship bracket is composed of the No. 1 representative from each league and the next 10 highest-ranked teams out of the 32 qualifiers. The remaining 16 qualifying teams were placed in the Columbia Cup.
For teams straddling the line between the brackets, Friday's regular-season finale created some extra anxiety.
Grant (6-3) was hopeful of securing a home game in the championship bracket by beating Roosevelt to win the Portland Interscholastic League title outright and climbing into the top 16 of the power rankings.
But the Generals lost 3-0, settled for a three-way share of the league title with Roosevelt and Jefferson, and dropped from No. 17 to No. 19 in the power rankings. Grant still got the PIL's automatic berth in the championship bracket by virtue of a higher ranking than Jefferson and Roosevelt, but instead of a home game, the Generals landed the No. 16 seed and must play at No. 1 West Linn (8-1) in the first round.
It's far from an ideal matchup for Grant, however, the Generals much prefer it to playing in the Columbia Cup.
"Absolutely, 100 percent," Grant coach Alex Melson said. "We always want to play the best competition, period, whether no one believes we have a shot or not. We want to represent the PIL and play against that type of competition. We always want to show that Grant can compete."
Melson said he asked his players two weeks ago about which of the higher-seeded teams they would prefer to play in such a scenario.
"All of them literally said West Linn," Melson said. "They said the didn't want to see Jesuit, probably the most physical team in the state, and they were a little worried about Sheldon and their D-line and their rushing. They all just said, 'I think we have the best chance against West Linn.'
"So they got what they asked for, even if they weren't really asking for it. We're going to give them our best shot."
Liberty's bracket fate hinged on one play Friday night against Sherwood -- a two-point conversion attempt with about one minute left.
If the Falcons convert and they hold on to win by one point, they share the Pacific Conference title with Sherwood and move ahead of the Bowmen in the power rankings to take an automatic berth in the championship bracket.
But the attempt failed when Liberty sophomore quarterback Reid Linkmeyer was sacked by Sherwood junior Keaton Fried, giving the Bowmen a 20-19 win and the outright conference title, ushering Liberty into the Columbia Cup.
"They happened to sneak a guy through an inside gap that we didn't pick up," Liberty coach Eric Mahlum lamented. "He tripped up our quarterback before he could get outside of him."
Liberty slipped from No. 15 to No. 16 in the power rankings and was supplanted in the championship bracket by Grant, which was guaranteed a spot as a league champion.
The loss was a double-whammy for the Falcons, who as the No. 17 seed will play host to No. 32-seeded Reynolds (4-5) in a first-round Columbia Cup game.
"We're still playing football. Call it whatever you want," Mahlum said of the Columbia Cup. "The goal is always to win the last game of the season, whether you're making the playoffs or you don't make the playoffs.
"It's an opportunity for our kids to improve and get better. It's an opportunity for our kids to shake off the loss and go win some more games. You call it whatever you want, we're still playing and we're playing to win."
Other highlights from Week 9:
6A
Caiden Lacey threw three touchdown passes to Connor Cesaro as North Medford handled South Medford 35-0 in the 37th Black and Blue Bowl rivalry game. … Grants Pass ran for seven touchdowns – four from Gage Blay and three from Trevor Reeves – in beating Roseburg 48-26. … Sheldon smothered West Salem 40-0 as Brock Thomas passed for 392 yards and five touchdowns and rushed for 64 yards. Teitum Tuioti had six catches for 124 yards and one touchdown for the unbeaten Irish, who recorded their fourth shutout of the season. … Lakeridge topped Lake Oswego 14-9 in the Battle for the Lake, holding on after taking a 14-0 halftime lead. Ryan Oliver threw a touchdown pass to Joey Olsen and ran for a score for the Pacers, who took a safety in the final seconds. Lake Oswego pulled within 14-7 in the middle of the fourth quarter on a 97-yard touchdown catch by Owen West. …
Tualatin opened a 28-7 lead and turned back Tigard 31-21. Luke Ash ran for two touchdowns and Jack Wagner threw a 99-yard scoring pass to AJ Noland. … South Salem reclaimed the Mayor's Cup trophy from North Salem, winning 33-14 as Daschel Smith completed 27 of 40 passes for 320 yards and four touchdowns. Esteban Mendez had 11 catches for 154 yards and three scores for the Saxons, who got two interceptions from Zach Wusstig and racked up six sacks. … Jesuit led 49-0 at half in brushing aside Beaverton 63-13. Lonnie Burt rushed for 168 yards and two touchdowns on six carries, Thatcher Killian ran for 141 yards and two scores on 10 carries, Garrett Speer had two rushing touchdowns and Jacob Hutchinson passed for two scores for the Crusaders, who rushed for 450 of their 571 total yards. … Nelson scored on a blocked punt in its 40-0 win over Gresham, one of seven turnovers by the Gophers. …
Westview's Jordan Fisher had another monster game, rushing for 309 yards and five touchdowns on 26 carries to lead the Wildcats past Sunset 37-7. Fisher had scoring runs of 74, 72 and 36 yards for Westview, which had a 469-109 edge in yards. … Alex Ingalls passed for two touchdowns in Mountainside's 42-0 win over Aloha. … West Linn's Sam Leavitt completed 9 of 13 passes for 224 yards and four touchdowns as the Lions dominated Oregon City 55-13 in the Battle for the Bridge. Nick Sakys and Baird Gilroy also passed for scores for West Linn, who had six different players with touchdown catches. … Central Catholic got three touchdown passes from Cru Newman and two scoring runs from Ryan Anthony in throttling David Douglas 79-0.
5A
Kallen Gutridge ran 38 yards for a touchdown and passed for 193 yards and three scores – including bombs of 58 and 62 yards to Cooper Hiday – as Wilsonville won the Northwest Oregon Conference title by beating Putnam 42-14. … Andrew Kelly had touchdown runs of 67 and 29 yards in Crater's 55-6 win over South Eugene. … Isaiah Naverette's caught two-point conversion pass in the fourth quarter to lift Springfield over Eagle Point 30-29. Connor Dye and Dwayne Fotta scored two touchdowns each for the Millers. Eagles quarterback Bryton Livingston passed for 273 yards and three touchdowns. … Lebanon rolled up 514 yards in dropping Silverton 41-20, keeping the Foxes from winning the outright Mid-Willamette Conference title and forcing them into a three-way tie for first place with South Albany and Central. Wyatt Wessel rushed for 205 yards on 18 carries, including touchdowns of 22 and 73 yards for the Warriors. Andreus Smith passed for two touchdowns and ran for 86 yards and one score in the win. …
McKay's Jamahl Wilson scored on a two-yard run with 12 seconds left to break a tie and give the Royal Scots a 20-14 victory over West Albany. Justice Anthony's interception set up the winning score. … South Albany turned back Corvallis 48-14 as Kaden Younger threw three touchdown passes, one to Anthony Vestal, who returned an interception 95 yards for a score. … Bend trailed rival Mountain View 14-12 late in the second quarter before pulling away to win 40-14. The Lava Bears rushed for 319 yards, getting 151 yards and three touchdowns from Malakai Nutter. … Hogan Carmichael completed 19 of 25 passes for 240 yards and four touchdowns, two to Charlie Ozolin, as Summit defeated Caldera 35-0. … Hood River Valley edged Forest Grove 41-40, pulling ahead on a 90-yard touchdown pass from Davis Parr to Shaw Burns and an extra point. Parr passed for four touchdowns, two to MarKeith Harris and two to Burns, who also ran for two scores.
4A
Trevor Anderson ran for 169 yards and two touchdowns on 16 carries and Tyson Van Gastel ran for three scores in Mazama's 44-15 win over Marshfield. … Estacada got two touchdown runs each from Cory James and James Durand in downing Woodburn 58-12. … Ashland scored the last 22 points to surge past Klamath Union 39-36. Jojo Harrower completed 16 of 28 passes for 274 yards and three touchdowns, including a 90-yard strike to Gavin White, who rushed for 133 yards and one score on nine carries. … Pendleton blasted Baker 49-7 as Payton Lambert rushed for 138 yards and four touchdowns and caught a scoring pass. … Marist Catholic defeated Junction City to clinch the outright Special District 3 title. Parker Nelson ran for two touchdowns and Jackson Gibeau passed to Peyton Tyner for a score. …
Max Nowlin completed 23 of 27 passes for 221 yards and one touchdown and ran for a score in Scappoose's 34-8 win over Astoria. Brandon Neilson returned a blocked punt for a touchdown for the Indians. … Seaside dispatched St. Helens 32-16 as Jake White ran for five touchdowns and had an interception. … Henley subdued North Bend 55-24 as Luke Bennett returned a punt for a touchdown and had a scoring catch. … Tillamook's Judah Werner had two touchdown runs and a blocked punt to help defeat Milwaukie 56-6. Tyler Moncrief returned an interception for a score and had a touchdown run in the win. … Stayton stopped Cascade at the 1-yard line as time expired to win 21-18. The Eagles, who trailed 12-0 at half, got three touchdown passes from Cody Leming, including a 38-yarder to Jace Aguilar for the lead with four minutes left.
3A
Cascade Christian won the Special District 3 title by routing South Umpqua 35-6 in a game between undefeated teams. Keith Reed passed for two touchdowns and ran for a score and defensive lineman Liam Benade returned an interception for a touchdown as the Challengers completed the regular season unbeaten for the first time in 10 years. Cascade Christian limited South Umpqua to 161 yards. … Hayden GeDeros ran for three touchdowns to propel Coquille past St. Mary's 21-0. TJ Flowers ran for 135 yards on 26 carries for St. Mary's, which had five turnovers. … Benny Alves ran for two touchdowns and threw a 94-yard scoring pass to Brayson Granger for Lakeview, which took care of Sutherlin 42-14. Ty Terry (136 yards) and Tauj Flora (188 yards, two touchdowns) had big rushing games for Sutherlin. …
La Pine won the Mountain Valley Conference title outright by defeating Creswell 36-20. Colton Campbell rushed for three touchdowns (including a 73-yarder), passed for a score and had a big game at defensive end. … Dayton rushed for 515 of its 551 yards in routing rival Amity 56-20. Nate Arce rushed for 281 yards and two touchdowns on 23 carries and Zach Smith added 149 yards and four scores on 19 carries for Dayton, which also got two touchdown passes from Boston Hodges. … Ashton Crossen's three touchdown runs helped Banks pull away from North Marion 51-6. ... Douglas took a 40-0 lead at half and dispatched Brookings-Harbor 52-8 behind the rushing of Branson Willis and the passing of John Ausdemore.
2A
Bandon/Pacific led 27-6 at half and held off North Douglas/Yoncalla 27-22 to secure Special District 3's third and final automatic berth to state. Brandon Wilson ran for two touchdowns and threw for a score for Bandon/Pacific. Hunter Vaughn rushed for 165 yards and two touchdowns for North Douglas/Yoncalla. … Heppner won its sixth consecutive Blue Mountain Conference title by repelling Umatilla 20-12 in a first-place showdown. Ty Boor scored on a one-yard run to break a 12-12 tie in the fourth quarter for the Mustangs, who got a clinching interception from Landon Mitchell. Caden George rushed and passed for scores for Heppner. Umatilla's Kaden Salamanca rushed for 163 yards and one touchdown. … Cade Olds ran for three touchdowns and Cole Collins passed for two scores to lead Oakland past Reedsport 56-16. ...
Gator Goodrich returned the second-half kickoff for a touchdown to break a scoreless tie and spark Stanfield past Irrigon 22-12. Goodrich rushed for 152 yards and one touchdown, Jesus Arellano rushed for 103 yards and a score and Rudy Rivera had three sacks for Stanfield. … Eight players scored for Weston-McEwen/Griswold in a 56-0 win over Grant Union. Easton Berry passed for two touchdowns and ran for a score, Sebastian Roggiero returned an interception for a touchdown and Mazon Langford recovered a fumble in the end zone for a score. … Nate Young rushed for 195 yards and three touchdowns on six carries for Monroe, which led 38-0 after one quarter and beat Central Linn 44-8. Jacob Beauchamp rushed for 110 yards and one score on 20 carries for Central Linn.
1A-8
Camas Valley rushed for 480 of its 512 yards in beating Crosspoint Christian 32-20. Seth Lamell had 27 carries for 262 yards and four touchdowns and Riley Wolfe had 25 carries for 196 yards and one score, also adding an interception on defense. Kody Sparks passed for 252 yards and three touchdowns for Crosspoint Christian. … Powder Valley blitzed Pilot Rock 59-8. Cole Martin returned a kickoff for a touchdown and passed for a score and Jackson Chandler had two touchdown runs. Lizandro Rodriguez caught a touchdown pass, kicked a field goal and recorded touchbacks on all of his kickoffs. …Enterprise defeated Lyle/Wishram/Klickitat 60-22 as Caden Fent completed 6 of 9 passes for 182 yards and two touchdowns and ran for 118 yards and two scores on nine carries. Ashtyn Irwin rushed for 222 yards and one touchdown on eight carries and caught an 84-yard scoring pass. Chase Duncan and Kyle McQuead had interceptions. ...
Allen Hill threw five touchdown passes to Austin Sieminski to propel Bonanza past Chiloquin 64-6. Hill completed 11 of 13 passes for 240 yards and Sieminski had eight catches for 180 yards. Andres Mojica rushed for 170 yards and three scores in the win. … St. Paul blanked Perrydale 52-0 as Clay Smith rushed for 119 yards and three touchdowns on four carries and Hunter Naumann ran for 52 yards and three scores on three carries. The Buckaroos, who led 52-0 at half, held Perrydale to 91 total yards. ... Connor Dunlea threw three touchdown passes and returned an interception for a score to lead Lost River past Prospect Charter 55-6. Chase McAuliffe and Kayden Hartman also passed for touchdowns for Lost River. ... Logan Backman completed 6 of 9 passes for 168 yards and four touchdowns, two each to Andreas Villanueva and Jacob Koser, as Myrtle Point beat Mohawk 58-8. Koser also had an interception.
1A-6
Cole Teel, a 6-2, 183-pound senior, rushed for 512 yards and seven touchdowns on 33 carries as Prairie City overcame Echo 46-41. Dom Curiel threw five touchdown passes, three to Mac Nasario, for Echo. ... Elkton built a 52-0 lead at half and rolled over Jewell 59-13 behind Anthony Alimenti, who completed 6 of 8 passes for 187 yards and four touchdowns, two each to Conner Anderson and Christian Halstead. Sean Hazen added three touchdown runs for the Elks. … Spray/Mitchell/Wheeler cruised past Dayville/Monument 60-12 as Lyja Whitbeck had two catches for 88 yards and two touchdowns. Damian Dobias, an exchange student from Slovakia with a soccer background, went 3 for 6 on drop-kick extra points. ... Sterling Buckley had three interceptions, returning two for touchdowns, and rushed for 137 yards and three scores on five carries as Siletz Valley thumped Riddle 62-12. Tyee Yanez ran for 169 yards and four touchdowns on nine carries in the win. ... James Best rushed for 218 yards and three touchdowns on 32 carries for South Wasco County, which defeated Joseph 49-28. Ian Ongers completed 17 of 23 passes for 143 yards and four touchdowns, two to Dominic Marquez, in the win.