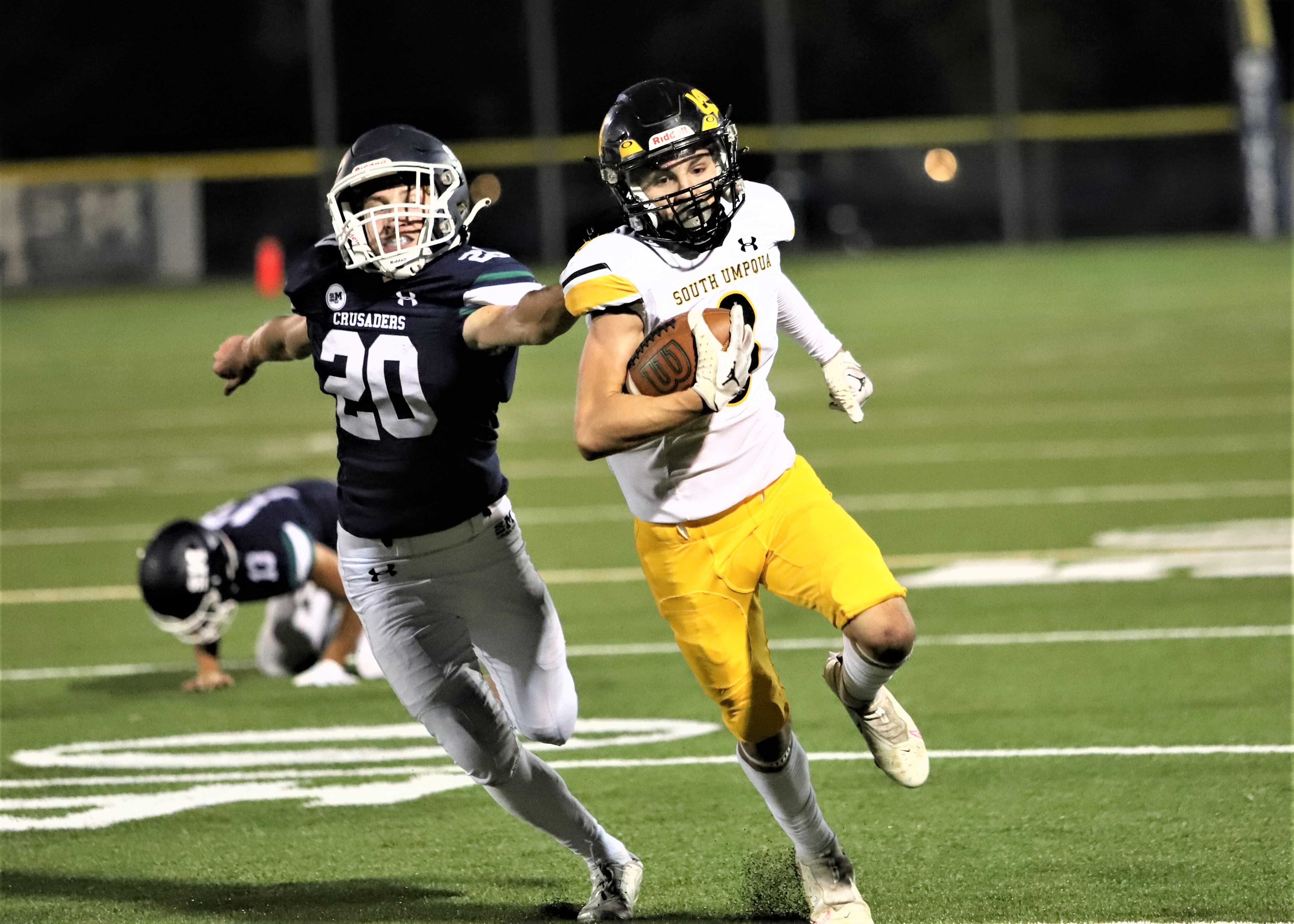 One year after coming within a touchdown of its first state championship in 40 years, South Umpqua is on the brink of taking a perfect record into the 3A football playoffs.
Unfortunately for the fourth-ranked Lancers (8-0), they are facing a massive obstacle in Friday's regular-season finale in top-ranked and unbeaten Cascade Christian (8-0), which plays host to South Umpqua with the Special District 3 title on the line.
The Challengers have been the most dominant team in 3A this season, outscoring opponents 433-35. They have made a believer out of Lancers coach Steve Stebbins.
"I joked with someone, 'If they don't beat us and win the state title, they might be underachieving this year,'" Stebbins said of the Challengers, who won state championships in 2006, 2013 and 2017. "They've been excellent for years, and they are this year. They're so talented and excellent in what they do."
South Umpqua took it on the chin against Cascade Christian for three consecutive seasons, getting outscored 149-0, before a breakthrough 28-26 win over the Challengers last year.
"I told the kids last year going into that game, 'Guys, this is the fourth year we've played these guys, and we have yet to even score,'" Stebbins said. "They just smoked us. I go, 'I'm going to do a little jig on the sideline if we ever score some points.'"
Cascade Christian coach Jon Gettman tipped his cap to South Umpqua for its improvement.
"They've done a great job," Gettman said. "Coach Stebbins, I thought his game plan against us last year was really good, offensively and defensively. They especially jammed us up in the first half, offensively. We really couldn't get into any type of groove. Overall you could see the confidence that they play with, and level of execution."
Cascade Christian went unbeaten in conference games for 10 consecutive seasons before finishing runner-up to Hidden Valley in 2019 and South Umqqua last year.
"We haven't won a league title for a while," Gettman said. "It's an opportunity to get one of the goals that we put forth."
South Umpqua not only took the Special District 2 South division title from Cascade Christian last year, but made a run to the state championship game before falling to Siuslaw 14-9.
The big question heading into this season was whether the Lancers had enough left over to make another title run. They had to rebuild their offensive line and fill holes at skill positions, but they brought back their outstanding quarterback in senior Jace Johnson.
The 6-foot-2, 175-pound Johnson – an all-league athlete in three sports – has completed 68,8 percent of his passes for 1,531 yards and 20 touchdowns with three interceptions.
"Last year he hit a lot of home runs because we had a fast and talented group of skill kids," Stebbins said. "This year we don't have the overall skill speed we had last year, so we haven't hit as many big plays, but we've hit plays where he's taking what the defense gives him."
Johnson's top target is 5-9, 140-pound senior Isaac Real, who had 34 catches for 499 yards and seven touchdowns. He also has returned a punt and interception for scores.
"He can score anytime from anywhere," Stebbins said. "He's the one guy we have that can do that. We try to get him the ball as many different ways as we can, try to get him in space a little bit so he can make some things happen."
Junior Matt Burnett was supposed to be the starting running back, but suffered a concussion in a jamboree and is out for the season. Junior Jacob Logan (6-0, 195) moved from H-back to running back and has rushed for 872 yards and 15 touchdowns.
Senior defensive end Tanner Dobeck (6-3, 230), the 3A defensive lineman of the year last season, leads a unit that is holding opponents to 8.4 points per game. He has 11 tackles for loss.
The Lancers will have their hands full with a Cascade Christian offense that is averaging a 3A-high 54.1 points per game.
Challengers senior quarterback Keith Reed, who missed the first month of the season after suffering a partial tear of the ulnar collateral ligament in his throwing elbow, has returned and returned to throw for two touchdowns in each of the last three games.
Kameron Rague, a 6-2, 185-pound sophomore, has rushed for 776 yards and 12 touchdowns, averaging 14.1 yards per carry. Senior Brody Sample and junior Payton Maurer each have four touchdown catches.
"They're fast and physical," Stebbins said. "Their system isn't super complicated, but they execute it really well. They always have a quarterback who can do things in their system, and they have quick kids on the outside.
"The speed thing scares me a little bit because they've got all these guys that can run. We run decent, but it'll be interesting to see how we match up."
Gettman said of the Lancers: "They're a fast team defensively. They're the best team that we've seen. We're looking forward to getting into it."
Heading into the final game, the teams are tied at No. 2 in the OSAA power rankings. Considering neither team has played a nonleague game, it's difficult to gauge how they compare with other 3A powers.
"I would've liked to have played some nonleague games to help our power ranking, but here we are, both sitting tight at No. 2, so it didn't hurt us," Stebbins said. "I look at Dayton and Kennedy and Santiam Christian, you know they played some decent nonleague games, and playing each other, they're going to be battle tested and ready to go."
Other notable matchups in Week 9:
Friday
Grant (6-2, 6-0) at Roosevelt (5-3, 5-1), 7 p.m.: Grant, which has won six in a row since dropping nonleague games to Newberg and Southridge, can claim the 6A Portland Interscholastic League title outright with a win. Roosevelt, winner of five in a row, is in the mix for a share of the league title with Grant and Jefferson (5-3, 5-1). Last year, Grant won at Roosevelt 42-41 in double overtime and the teams split the league title.
Liberty (5-3, 3-1) at Sherwood (6-2, 4-0), 7 p.m.: Sherwood needs a win to take the outright title in the 6A Pacific Conference, but Liberty can split it with the Bowmen with a victory. The teams met for the conference title in the regular-season finale last year, with Sherwood winning 49-39.
5A No. 9 Putnam (8-0, 4-0) at 5A No. 2 Wilsonville (6-2, 3-0), 7 p.m.: The Special District 1 championship is on the line as the upstart Kingsmen challenge the perennial power Wildcats. Putnam, which beat Canby 34-19 last week for its biggest win of the season, hasn't won a league title since 1986. The last time the teams met was 2017, with Wilsonville prevailing 41-14.
4A No. 2 Estacada (7-1, 4-0) at 4A No. 10 Woodburn (7-1, 4-0), 7 p.m.: The Rangers and Bulldogs square off for the Special District 2 title. The Rangers, the reigning district champions, have won seven in a row since losing to No. 1 Mazama 26-14 in the opener. Woodburn, which moved over from Special District 3 this season, has lost only to Tillamook.
Junction City (6-2, 4-1) at 4A No. 4 Marist Catholic (7-1, 5-0), 7 p.m.: Marist Catholic, coming off a hard-fought, 27-22 win over Cascade, needs to defeat the Tigers to claim the outright Special District 3 title. Junction City, which defeated Cascade 35-12 on Oct. 14, can share the title with the Spartans and possibly Stayton (6-2, 4-1) with a win. Stayton is home to play Cascade (4-4, 3-2).
4A No. 9 Marshfield (6-2, 4-1) at 4A No. 1 Mazama (8-0, 5-0), 7 p.m.: Mazama outlasted rival Henley 44-36 last week to take sole possession of first place in the Big Sky Conference, and now needs a win over reigning state champion Marshfield to secure the outright crown. If the Pirates prevail, it could mean a three-way tie for first with Mazama and Henley. Marshfield defeated Mazama twice last season, 35-20 in a nonleague game and 36-0 in the state semifinals.
3A No. 5 Santiam Christian (8-0, 6-0) at 3A No. 2 Kennedy (8-0, 6-0), 7 p.m.: Two unbeaten teams collide for the Special District 2 title. Both have dominant defenses, with Kennedy holding teams to a 3A-low 3.3 points per game and Santiam Christian allowing 4.0 points. Kennedy, which moved up from 2A this season, is No. 1 in the OSAA power rankings. The Trojans blanked Santiam Christian 31-0 last season.
2A No. 4 Umatilla (7-1, 5-0) at 2A No. 7 Heppner (6-2, 5-0), 7 p.m.: Umatilla has made giant strides this season, winning its most games since going 9-2 in 2008. Now the Vikings have a chance to take the Special District 4 title by beating the Mustangs, who have won five league titles in a row and 26 consecutive league games. Heppner rolled Umatilla 45-0 last year.
1A-8 No. 7 Perrydale (6-1, 3-0) at 1A-8 No. 1 St. Paul (7-0, 3-0), 7 p.m.: The longtime rivals meet for the title of the Special District 1 North division. St. Paul handled Perrydale 58-22 last year in its way to the district title. The Pirates' only loss this season is a 50-6 defeat at No. 6 Myrtle Point, a team St. Paul beat 42-14.
1A-6 No. 5 Joseph (6-1, 6-1) at 1A-6 No. 4 South Wasco County (6-1, 6-1), 2 p.m.: The teams are tied for first place in Special District 1 with No. 3 Spray/Mitchell/Wheeler. The winner is ensured of at least a share of the title. Spray/Mitchell/Wheeler can earn a share, also, by defeating Dayville/Monument (2-5, 2-5). Joseph beat South Wasco County 31-13 in 2021.