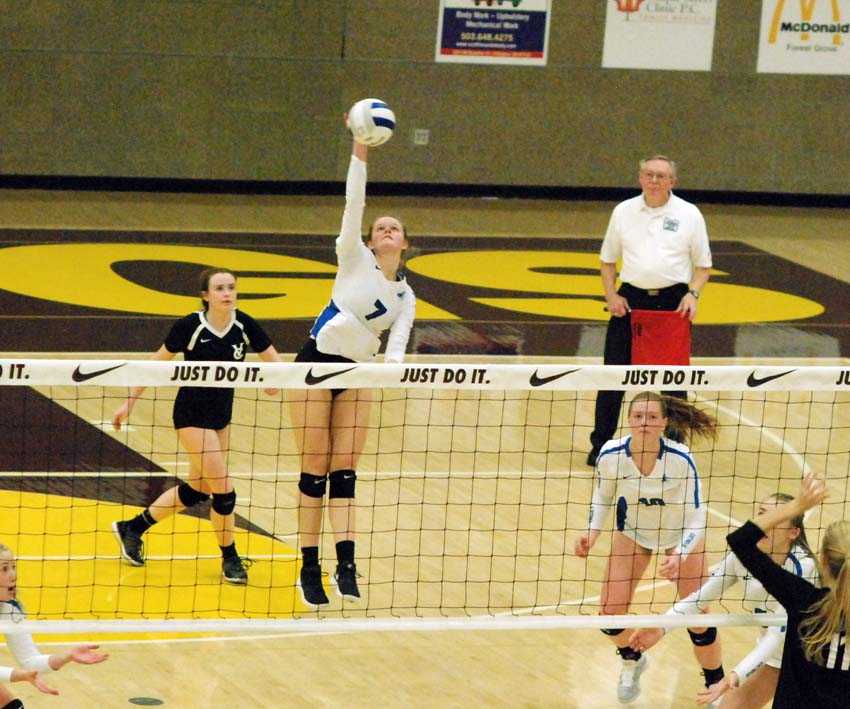 Valley Catholic won an epic battle between two teams seeking their first volleyball titles Saturday night at Forest Grove High School. Outside hitter Kayla Robbins, the only senior on the Valiants' squad, rose high on match point in the fifth set and banged the ball hard off the block and out of bounds to give the Beaverton school, which finished second a year ago, the 23-25, 25-21, 24-26, 25-22, 15-11 win in 4A over first-time finalist Cottage Grove.
"I had a feeling the last set was coming to me," said Robbins. "So I said, 'Okay, I really need to put this away and win this for my team.' So I went up as hard as I could and swung as hard as I could."
The kill was the 42nd of the match for Robbins, who took an unbelievable 92 swings in the match, which lasted more than two hours.
"I was feeling it," Robbins admitted. "But adrenaline was kicking in. I was thinking even if it does hurt I have to do this for my team. This means everything. I'm going to remember this for the rest of my life."
It did not appear that the final set would be drama laden after Valley Catholic used three kills from Robbins and another from Gretchen Kibbe, all assisted from tall, talented junior setter Allie Merz, to take a fast 5-0 lead. Reilly Kelty, a junior outside hitter, scored on a back row cut shot for Cottage Grove to stop the streak and the Lions went on a run of their own, which included two aces from libero Sam May, to knot the game at 7-7.
Robbins then cracked her fifth kill of the set to put Valley Catholic back on top. She scored again from the back row and Kibbe tipped an overpass down as part of a 3-0 Valiant run that gave the top-seeded team the lead for good. After a Kelty kill from the right side brought the Lions within two at 11-9, Cottage Grove had a chance to slice the lead one point further but a Lion played a ball that was going wide. Sophomore middle Madeline Klopcic ended the extended rally with a block to restore Valley Catholic's three-point lead and the Valiants were not really challenged down the stretch due to Cottage Grove errors in the back row.
"The girls played with a lot of heart and gave it everything they had," said Cottage Grove head coach Kendra Anderson. "We were prepared. We knew what to expect. The girls ran the game plan very well. We had a couple of moments where we made some costly, untimely errors, but they played with everything they had."
Playing with everything they had helped Cottage Grove win two of the first three sets at deuce in what was exciting, fast-paced, well-played volleyball.
Robbins had 10 kills in the first set for Valley Catholic but her try for an 11th was blocked by Cottage Grove freshman right side Gracie Arnold. Arnold, who stands 6-0 and was inserted into the match late in the set specifically to try to slow down Robbins, gave the Lions, who finished sixth at state a year ago, a 24-23 lead with that big block. May followed with an ace to give the Lions the first, 25-23.
A 9-0 Valley Catholic run, which included two aces from Abby Rewers, turned around the second set and allowed the Valiants to knot the match at a set apiece. Valley Catholic led by as many as six, at 23-17, before Cottage Grove staged a late rally. But two late kills from Robbins put the finishing touches on the Valiants' 25-21 win.
Game 3 featured many more kills for Robbins, Valley Catholic's only consistent offensive threat, but resulted in another deuce win for Cottage Grove. Valley appeared to take control with a 6-1 run late, but its 22-19 lead evaporated after Cottage Grove answered with five of its own, including a massive stuff block by sophomore middle Matty Ladd. Valley Catholic recovered with two in a row to tie the set, but the Lions took advantage of strong defense and Valley Catholic hitting errors to pull out the 26-24 win.
Cottage Grove blasted to a 5-2 lead to start the fourth set, including one of Kelty's team-high 21 kills; and the Lions were feeling pretty good about their chances to raise that championship trophy. But Valley Catholic went on a 5-1 run of its own, taking a 7-6 lead on a Rewers tip. A 5-0 Valiant run subsequently extended the lead to 14-8 but Cottage Grove had a couple of runs in it as well and got kills from Ladd and Cassidy Herbert and a short serve ace from Kelty to go in front late at 19-17. The last run, however, was by Valley Catholic. Keyed by the setting of Merz and defense by Zoey Van Vleet and Caitlin O'Kief, the 6-1 run put the Valiants in position to send the match to a fifth set but it wasn't official until Robbins and Klopcic got together on a block to clinch the 25-22 win.
Earlier in the season at a tournament, Valley Catholic lost to Cottage Grove in pool play then won the rematch in bracket play forty minutes later. The Valiants contemplated that as they got ready to play the fifth set for the title.
"We just said we know what it's like to lose to them but also what it's like to win," said Robbins. "So let's come out calm but high energy and get it done."
That's exactly what they did.
Robbins was the only Valley Catholic player with double-figure kills but the Valiants had five with 10 or more digs, led by Van Vleet with 18 and Robbins with 17. Merz had 14 digs to go along with a match-high 57 assists.
Kelty led Cottage Grove with those 21 kills and added a dozen digs. High-energy senior Herbert, who took over matches in this tournament with her serving, went for 12 kills with 23 digs. Setter Lauren Witty had 46 assists.
"Second's hard," said Anderson. "We walked out of here sixth last year with smiles on our faces. When they get home and realize what they've accomplished they'll be really proud of themselves. We have a couple of key players coming back but we're losing a couple of key players. We'll have to prepare. We will be hungry for it. They know how fun it is."
***
Players of the Game: Robbins (42 kills, 17 digs, 2 aces, 2 solo blocks) for Valley Catholic; Kelty (21 kills, 12 digs, 2 aces) for Cottage Grove
Team Sportsmanship Award: Hidden Valley
All-Tournament First Team
Valley Catholic: Robbins, Merz
Cottage Grove: Herbert
Sisters: Kendra Sitz
Sweet Home: Bailee Hartsook
Tillamook: Isabel Hurliman
All-Tournament Second Team
Valley Catholic: Klopcic
Cottage Grove: Kelty, Witty
Sisters: Samantha Silva
Sweet Home: Graci Zanona
Tillamook: MaKinley Johnson