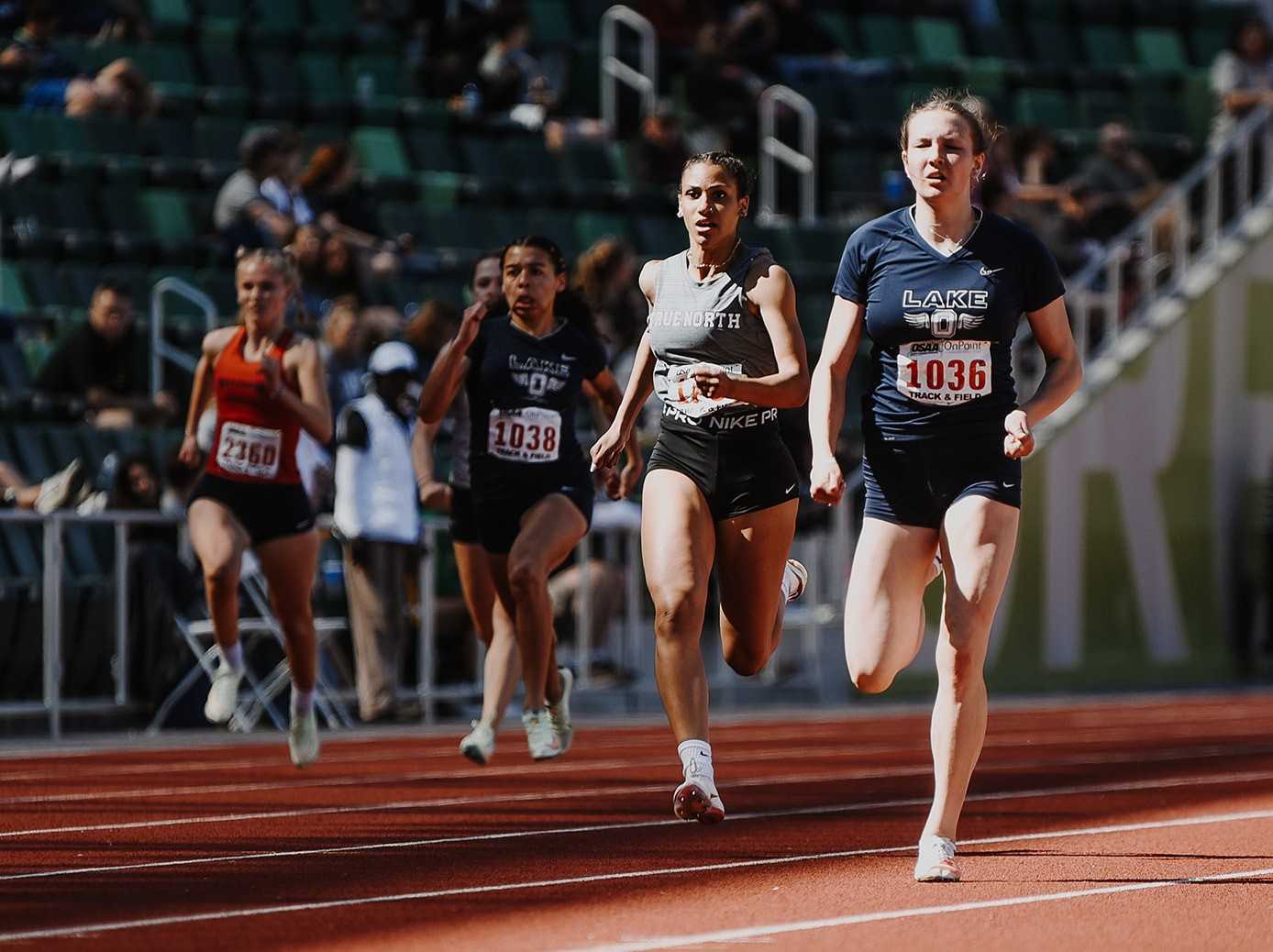 EUGENE – The emotions swirling inside Mia Brahe-Pedersen in the moments after the 100 meters Saturday were so intense, she struggled to put them into words.
"I've never felt that exact emotion before," the Lake Oswego sophomore said. "Someone needs to come up with a name for that."
Brahe-Pedersen entered the OSAA/OnPoint Community Credit Union 6A championships at Hayward Field intent on breaking the 100 state record of 11.30 seconds, set by Churchill's Margaret Johnson Bailes in 1968. Her personal best was 11.34, so when she looked up after the race and saw 11.09, she did a double take.
"It was just like shock," she said. "I saw it and I was like, 'Is that an O or a 2?'"
Brahe-Pedersen's performance came with a wind reading of -3.2, beyond the legal limit of -2.0. But even though it will go down as wind-aided, it did little to dampen her sense of accomplishment.
"I was really hoping it would be wind-legal, but I think even with the conversion, it might have probably still broken the record," she said. "But either way, a time's a time.
"I keep asking myself, 'Did that really just happen?' Words can barely even describe it. Everything I've been working for is finally coming back. It feels like everything is just lining up."
It was all part of a big day for Brahe-Pedersen, who not only won the 100, but improved on her state-meet record to take the 200 and ran on both winning relays. And to top it off, she was the driving force behind Lake Oswego's first-ever team title.
Brahe-Pedersen, who set meet records in the 100 and 200 in Friday's prelims, was primed for a big Saturday in the sun-splashed atmosphere of Hayward Field. And she delivered in a big way in the 100, holding off Oregon-bound Roosevelt senior Lily Jones, who also sizzled in 11.30.
"I know my start was really good," Brahe-Pedersen said. "Usually I'm behind Lily for at least the first 60 meters, but I was right with her. From then on I knew something was about to happen. It's going to be special."
Brahe-Pedersen's time ranks No. 4 all-time in the nation, for all conditions, and No. 1 this year.
She won the 200 in 23.25, just off her personal best of 23.23 from the Oregon Relays at Hayward Field on April 23. She fell short of the state record of 22.95, also set by Johnson Bailes in 1968.
She teamed with seniors Quinn Greene and Dakota Webb-Hawkins and sophomore Josie Donelson to win the 4x100 in 46.87 and combined with Greene and sophomores Riley Ha and Donelson to take the 4x400 in 3:50.64.
Donelson contributed a win in the 400 for Lake Oswego, which racked up 77 points to hold off Three Rivers League rival Oregon City (62), winner of last year's 6A season-ending meet. Jesuit (50) and South Eugene (43) were next.
The Lakers also got a win from junior Kate Peters, won claimed the 3,000 on Friday.
Greene, who emerged as a senior leader, praised her teammates for being "super motivated" and committed to their mission. Having it all come together at Hayward Field – site of the state meet for the first time since 2018 – made it even better.
"I'm trying to show them how grateful I am by giving it my all and telling them that they're capable of anything and everything," Greene said. "And I know that I'll be watching them the next few years, seeing them do amazing things."
Oregon City senior Harley Daniel and Jesuit senior Chloe Foerster also won two events each.
The Utah-bound Daniel repeated as champion in the 100 hurdles and 300 hurdles. She clocked 14.06 in the 100 hurdles, just off her state meet record of 14.05 in prelims. She broke the state meet record in the 300 hurdles in 42.25.
"My goal was to try to break 14, but I ran the best I could, and I can't complain about it," Daniel said.
Foerster won the 1,500 and repeated as champion in the 800, no small feat considering she came down with COVID after the Jesuit Twilight Relays on April 29 and was out for 10 days before returning for the Metro League district meet.
"I got it pretty bad," Foerster said. "They thought I had a heart problem, so that's probably why I took even longer to come out and run. But I got all cleared and I should be all good. I just have asthma.
"I know this is my last state meet. I really want to make it count."
West Linn junior Anika Sukumar defended her title in the triple jump. She trailed McDaniel sophomore Maleigha Canaday-Elliott (39-0 ¼) until going 39-11 ½ on her final jump, the best wind-legal mark of her career.
"I knew when I started the last jump, like, this was it, and I knew that I could do it," Sukumar said. "I felt good. I just had to kind of clear my head. I'm just really glad I pulled through."
Clackamas senior DeShanae Norman, the 4A long jump champion for Gladstone last year, set a 6A meet record by winning the high jump at 5-10 ¼. She did it two months after having hip surgery.
"It honestly feels just like they say, Hayward magic,' said Norman, who cleared 5-10 for the first time since last year.
5A
North Salem junior Jordan Koskondy stole the show with four state titles, winning the 100, 100 hurdles, 300 hurdles and shot. The heptathlete showed her versatility by moving between the events.
"Sometimes I do have a little bit of panic as in switching my body from a fast twitch to a slow twitch," Koskondy said. "But all in all, I try to stay as grounded as I can and just trust in myself and my coaches that have taught me everything."
Koskondy's effort nearly pushed North Salem to the state championship. Crescent Valley outscored the Vikings 67-66 for its first state title. Thurston (57) and Corvallis (40) also took home trophies.
Crescent Valley got titles from senior Ava McKee in the 400 and 800 to go along with freshman Emily Wisniewski's win in the 3,000 on Friday. The Raiders claimed the title by winning the final event, the 4x400, behind senior Mariana Lominaco, freshman Sasha Kelly and seniors Ellie Quintana and McKee.
Thurston junior Breanna Raven followed her Friday title in the long jump by winning the triple jump and 200.
4A
Philomath won its first title since 2010, scoring 87 points to hold off Marist Catholic (69), Cascade (57) and Corvallis (40).
Philomath basketball standout Sage Kramer, who won the javelin Friday, added a win in the shot. The Warriors also got titles from freshman Janice Hellesto (400) and the 4x400 relay.
North Valley senior Karlee Touey defended her title in the 300 hurdles and won the 200. Cascade senior Emma Gates, who won the high jump Friday, picked up a title in the 100.
Molalla senior Elizabeth Grandle won the 100 hurdles and long jump.
"I knew I wanted to get here, for sure, but I didn't even realize it was a possibility that I could actually win events until midway through the season," Grandle said. "Towards the end of the season I was like, 'Oh, I kind of have a chance at this.'"
Boys
6A
Tualatin's Caleb Lakeman, who used a kick to win the 3,000 on Friday, capped a sterling senior season by coming back on the last lap to take the 1,500. He was unbeaten in the 1,500 and 3,000 this season.
"Pretty amazing," he said. "Didn't think to do it, but I made it happen, so it's pretty special."
Lakeman ran the 1,500 in 3:50.78 to beat Roosevelt junior William Heslam (3:51.13), Central Catholic junior Wesley Shipsey (3:51.60) and South Medford senior Michael Maiorano (3:51.64). He lurked behind the leaders until down the stretch.
"I was just biding my time and knowing when to make that move," Lakeman said. "I made it at the last minute, like I always do. I knew that someone was going to make a hard move. … That move was going to happen and I was going to be ready for it."
Friday's win eased the pressure on Lakeman heading into Saturday.
"Not that it mattered, but getting that first race under my belt and getting that win kind of boosted my confidence going into it," Lakeman said.
Barlow junior Micah Perry and Wells senior Nolan Malcomson repeated their titles in the 110 hurdles and 300 hurdles, respectively.
Perry (14.34) and Malcomson (14.63) finished 1-2 in the 110 hurdles. Perry's time was off his personal best of 14.08 in prelims.
"I was happy with my time in prelims, but I wanted to go sub-14," Perry said. "I didn't quite get it this time, but I'm going to come back next season harder to get it."
Perry said he and Malcomson developed a "great friendship."
"It's sad to see him leave because he's a senior, so next year I'll have to hold it down by myself," Perry said. "But he's a great competitor."
South Medford junior Andrew Walker finished his breakout junior year with wins in the 100 and 200. Walker, who has a personal best of 10.70 in the 100, ran a wind-aided 10.61 in the final.
Spurred by two winning relays, Central Catholic captured its first state championship. The Rams scored 55 points to beat Tigard (40), Tualatin (35) and Canby (34).
Senior Xavier Simpson led Central Catholic's title push by placing second in the 100 and fourth in the 200 and running on both relays.
5A
Churchill senior Nathan Fields followed his Friday win in the long jump with two titles Saturday. He repeated as champion in the triple jump with a personal-best mark of 47-1 and won the 300 hurdles.
Fields, whose previous best in the triple jump was 46-3, recorded the winning jump on his sixth and final attempt. He went 46-5 ½ in the fourth round.
"The 46 did make it so I was up there, but I also wanted to go farther to see what I could get," said Fields, who also placed third in the 110 hurdles. "I was going for high 46s, but I ended up getting 47-1. … I was for sure going to take my last jump. It's my final jump in my high school career, so I had to do it."
Fields has followed in the footsteps of his brother Elijah, who won the triple jump for Churchill as a senior in 2019.
"It's nice to carry on the Fields legacy throughout all of high school," Nathan Fields said. "Because he did good his junior and senior year, and I did good my junior and senior year."
Crater, which got a win from junior Tyrone Gorze in the 3,000 on Friday, picked up victories from freshman Josiah Tostenson in the 1,500 and sophomore Jeffrey Hellman in the 800.
Gorze was going for a repeat title in the 1,500, but after leading for much of the race, Tostenson came back to beat him by .30 seconds.
"We train together all the time and race together, so we like to give it to each other every time, and I guess this time I got the best of him," Tostenson said. "Probably the last 20 meters, I realized, I was like, 'Dang, I'm gaining on him.' And then probably just one more push, and then I had it."
Tostenson set a freshman national record in the mile. His brother, Jantz, won a 1,500 title for Crater as a sophomore in 2017.
"I one-upped him. I guess you could say that," Tostenson said. "I'm excited for him to hear that."
North Salem sophomore DeMari Thompson won the 100 and 200. The Dalles senior Taylor Morehouse won the pole vault for the second year in a row, matching his PR at 15-0.
Pendleton senior Sam Jennings, the state leader in the javelin for all classifications this season at 213-5, had limited participation Saturday after suffering a broken pelvis in his district meet. He threw 141-9 and 151-11 to finish 10th behind the winner, Wilsonville senior Chase Hix (188-4).
Silverton, bolstered by Friday wins from seniors Orie Schaffers (shot) and Sam Willis (discus), claimed its first team title. The Foxes scored 79 to hold off Crater (69), Wilsonville (65) and North Bend (56).
4A
Marshfield finished with 57 points to outscore Henley (52), Siuslaw (45) and Mazama (43) for first place. It is the Pirates' fourth title since 2008.
Marshfield picked up 21 points in the pole vault Friday by going 1-3-4 behind sophomores Jonathon Parks and Danner Wilson and junior Trent Summers, respectively.
Henley senior Eli Hayes repeated as champion in the triple jump to follow Friday's title in the long jump. Hayes went 44-0 ¼ in the triple jump to narrowly edge Cottage Grove senior Ty Kishen (43-10 ½)
Phoenix senior Elwood Hosking, who won the 3,000 on Friday, took the 800 by .34 seconds over Valley Catholic senior Henry Tierney, the 1,500 winner. Hosking's time of 1:54.23 was a personal best by nearly four seconds.
Mazama senior Brandon Gailey cruised to easy wins in the 100 and 200 with personal bests of 10.78 (wind-aided) and 22.24. The Vikings also got a win from senior Savien Burk in the 300 hurdles.