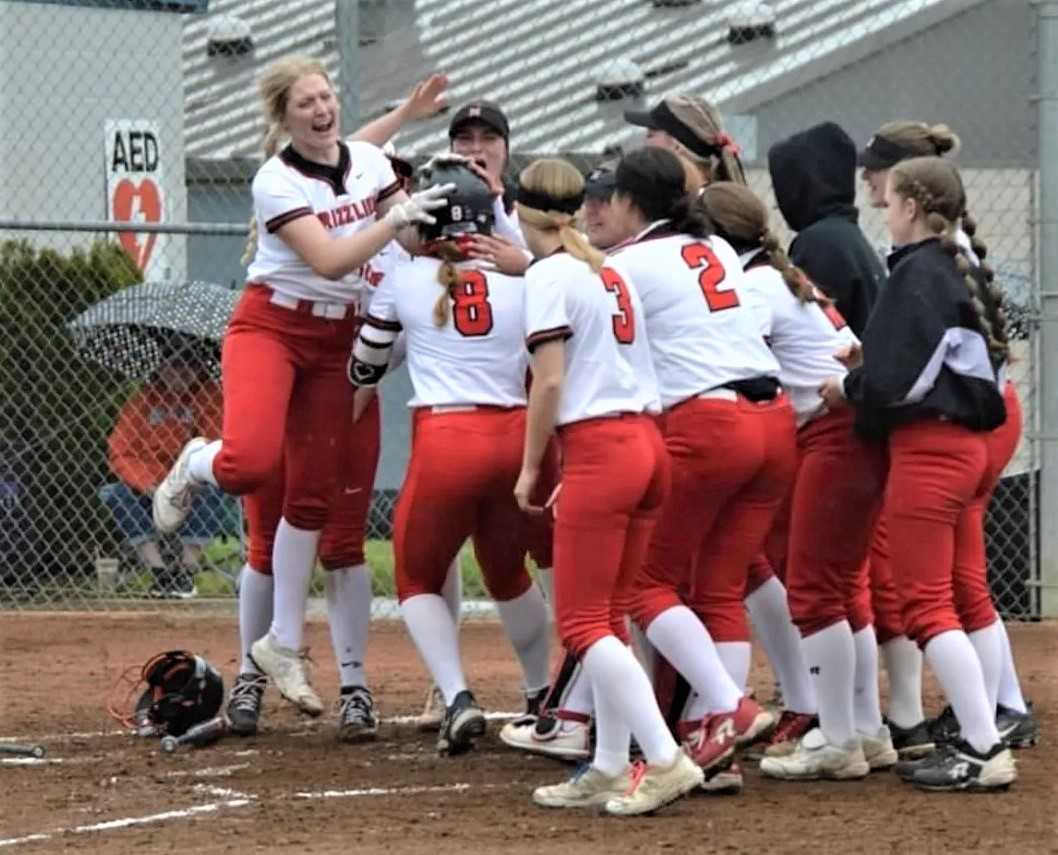 For opposing softball pitchers, facing McMinnville's power-packed lineup is like navigating a mine field.
The Grizzlies (18-3, 7-1 6A Pacific Conference) can explode at any time.
"We have no lack of pop in our lineup," first-year coach Josh Terry said. "Our girls can swing it."
McMinnville has scored a 6A-high 227 runs and hit 39 home runs, the most ever by a big-school team in Oregon. Only 4A Marist Catholic – which hit 53 home runs in 2017 and 47 in 2016 – has hit more bombs in a season.
The Grizzlies, ranked No. 4 in the OSAAtoday 6A coaches poll, hit six home runs in a 13-10 win over No. 7 Canby on March 31.
"I knew a lot of these kids from the younger levels, and I knew we were going to have the bats," said Terry, who coaches in the Salem-based Northwest Vandals club program.
The biggest bat belongs to senior shortstop Brynn McManus, who has signed with Liberty University, where she will be coached by two-time Olympic gold medalist Dot Richardson.
McManus has hit 15 home runs, putting her within reach of the state record of 21, set by Lauren Burke of Marist Catholic in 2016. McManus is batting .638 with five doubles, four triples and 46 RBIs and has scored 48 runs.
"I don't know of anybody that swings the bat better than her in the state," Terry said. "I don't see anything getting by her. She's not afraid of anybody. She just gets after it. She hits leadoff to set the tone for us."
The team's hottest hitter of late is sophomore pitcher Mackenzie Bekofsky. She is batting .500 with 12 home runs and 45 RBIs.
"She's absolutely on fire swinging the bat," Terry said. "The last three home runs she hit were opposite field because they've been throwing her away and she's just been going with it."
The lineup also features senior Madelyn Powell (.563, three home runs, 22 RBIs), juniors Libbey Hardee (.412, three home runs, 16 RBIs) and Margo McManus (.385, four home runs, 21 RBIs) and sophomore Peyton Justice (.414, 16 RBIs).
Hardee delivered the team's most dramatic home run this season, hitting a three-run shot in the bottom of the sixth inning to lift the Grizzlies to a 4-3 win over Jesuit. She also hit two home runs in a 12-4 win at No. 8 Sheldon.
Brynn McManus and Powell are the catalysts for the offense at the top of the order.
"With those two seniors leaders, we knew we were going to have something special if we could get the other pieces to fall in, and they have," Terry said.
The defense has surrendered 51 runs, ninth best in 6A. In 90 2/3 innings, Bekofsky has allowed 71 hits, struck out 110 and compiled a 2.70 ERA. Freshman Mackenzie Roberts has thrown 27 innings, allowed 16 hits, struck out 34 and posted a 1.04 ERA.
McMinnville is tied for first place in the Pacific with No. 10 Sherwood (18-4, 7-1). The Grizzlies lost at Sherwood 5-1 on April 20 as sophomore pitcher Faith McHill held them in check.
"She got us to chase a lot of balls out of the zone," said Terry, whose team plays host to Sherwood in a rematch Thursday. "That riseball is tricky."
McMinnville's other losses were 3-0 to visiting Central Catholic in the season opener and 8-6 at No. 6 Oregon City on April 5. Terry recalled how Central Catholic senior Ally Hyde handcuffed the Grizzlies.
"She had total command of the zone," Terry said. "As far as command, she's been as good as we've seen this year. That game, she absolutely owned us."
McMinnville got one of its biggest wins April 29 when it defeated No. 9 Newberg 2-0 in a conference game. Brynn McManus hit two home runs off Fresno State-bound Serayah Neiss and Bekofsky tossed a one-hitter against the Tigers (16-5, 5-2).
The Grizzlies, who reached the 6A quarterfinals in 2019, are confident about their chances in the state playoffs. They have never played in a state final.
"I don't feel like there's a team that really wants to face a lineup like ours," Terry said. "But there are some really good pitchers in the state, and you've got to get through them. It's going to be tough, but I think we've got a shot to make a run."