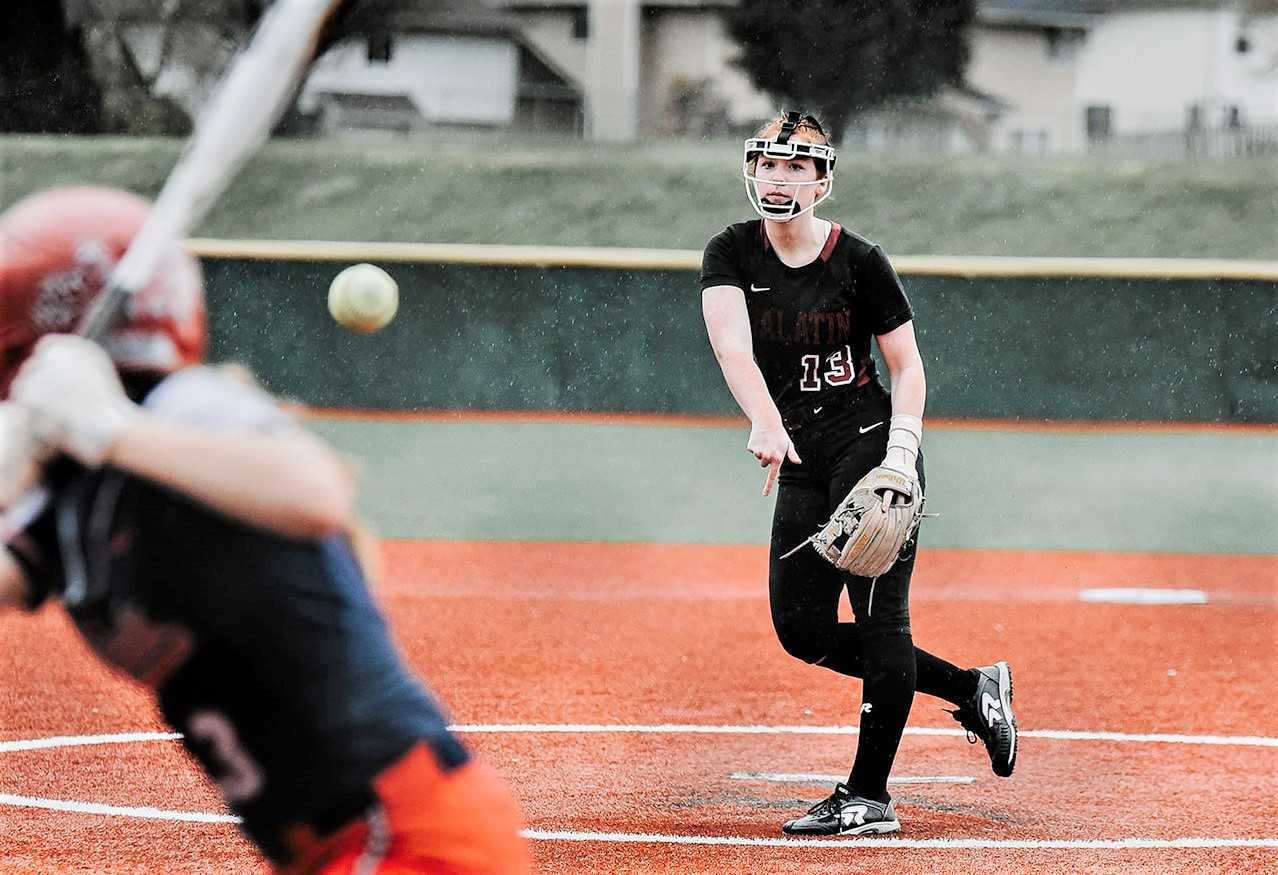 TUALATIN – The 2021 season was an aberration for Tualatin softball.
The Timberwolves, who won 45 consecutive games in 2018 and 2019, finished with a 6-9 record, their first losing season since Jenna Baird (formerly Wilson) took over as coach in 2012.
But the Timberwolves appear to have corrected their course this season, improving to 7-0 on Friday with a 4-1 nonleague win over visiting Westview. Ranked No. 5 in the OSAAtoday 6A coaches poll, Tualatin has outscored its opponents 56-5.
"We flushed it," Baird said of last season. "That was a COVID break for us, and now we're back ready to go."
Senior Camille Schmitz pitched a six-hitter with 11 strikeouts and freshman Sadie Guyette delivered the back-breaking blow, a two-run double to cap a three-run fifth inning that put Tualatin up 4-1.
The Timberwolves took satisfaction in their performance against the Wildcats (6-2), who had won six in a row after opening the season with a one-run loss to 5A No. 2 Wilsonville.
"We're really pumped," Guyette said. "We came in knowing that we had to play our hardest, and I think we did."
Schmitz, one of two players left from the 6A runner-up team in 2019, liked what she saw.
"I'm really proud of the way I pitched, but I'm more proud of the way my girls hit today," Schmitz said. "They weren't being selfish hitters, they were getting base hits. I did my job and they did theirs."
Baird knows it's no small task to beat Westview and coach Ronda McKenzie, who is No. 3 on the state's all-time list with 552 wins in 29 seasons.
"Westview's a great team, it's a great program, and Ronda is wonderful," Baird said. "I think they brought it today, and so did we. I think today is when the team came together as a whole. They're ready to roll through the season."
Tualatin opened the first inning with four consecutive singles off Westview sophomore lefty Bridgette Boling, the final one by senior Leanna Rosenbaum driving in the game's first run. Westview pulled even in the third inning on a two-out RBI single by junior Jasmine Barela.
The Timberwolves took control with the three-run fifth inning. Senior Rinoa Aiger drove in the first run with a bunt, and with two outs, Guyette rapped a double into the gap in right-center to score two runs.
Batting third in the lineup, Guyette entered the game hitting .684, tied for the team lead with Aiger.
"I'm really happy with the way I'm playing," Guyette said. "I think my performance has shown that I'm good enough to be here and in the spot I am."
Guyette is playing beyond her years, according to Schmitz.
"My freshman year, I was a backup to the older pitcher, so I didn't really play that much, and looking at her at the same age, she's so mature," Schmitz said. "She can place the ball where it needs to be placed."
The Timberwolves have four freshmen and four sophomores on the roster. Freshmen Guyette, Paley Sullivan and Ava Diaz and sophomores Kailyn Engels and Remie Strahm were in the starting lineup Friday.
"We've got a great underclassmen crew," Baird said. "Sadie is just lights-out right now. Love having her on the team."
It was another solid outing by Schmitz, who has struck out 80 in seven games and carried an ERA of 0.66 into Friday. She has returned to action this season for the first time since having surgery in October on her non-throwing wrist (left), which had torn ligaments as well as a torn tendon and muscle.
"I'm really excited to play again, and I'm glad that it's all working out so well," said Schmitz, who committed to play at Monterey Peninsula College, a junior college in California. "I'm having a lot of fun with my girls."
The Timberwolves are counting on Schmitz in the circle. She said she is about a month away from batting in the lineup again.
"This team is so much better than we were last year," Schmitz said. "We have some great, strong underclassmen and I'm so excited to see how far we go."
The Timberwolves see last season as a bump in the road.
"We had to come back strong and prove our name and our school," Guyette said.
Westview – which went 14-5 last season, including a 5-0 win over Tualatin – also is encouraged by the early-season results. Entering Friday's game, Barela (.579, two home runs, 10 RBIs), senior Zoe Zimmer (.526, eight RBIs) and sophomores Sophia Groshong (.588) and Evyn Morriss (.556) were batting over. 500.
The Wildcats will regroup from Friday's loss and get ready to play host to No. 2 Tigard on Monday.
"I don't think we played our best," McKenzie said. "We have a lot of young players, and there was a little bit of nerves out there. And we weren't particularly disciplined with our bats. I thought Tualatin's pitcher pitched a great game."
Hot Lancers
South Umpqua, ranked No. 1 in the OSAAtoday 3A coaches poll, unleashed its offense to stay unbeaten with two wins this week.
The Lancers (10-0) won 14-10 at No. 7 Pleasant Valley on Tuesday. Sophomore Kaydence Norton and homered and drove in four runs and junior Tatum Kelly and freshman Mady Pratt each had three RBIs. Junior Violet Richardson also homered and Raiya Estupinian had three hits and scored three runs.
South Umpqua outlasted visiting Eagle Point 16-12 on Thursday as Richardson had two home runs and four RBIs.
The Lancers have scored a 3A-high 117 runs.
Change of scenery
Senior Torrin Richardson – a 4A honorable mention pitcher last year for Tillamook, where she was a three-year starter -- is making an impact in her first season at 3A Douglas.
Richardson is batting .500 with five doubles, one triple, two home runs and 13 RBIs for the Trojans (4-4). She also has struck out 35 in 32 innings.
Her mother, Joy Richardson, took over as the Douglas coach this season. She was the Cowapa League co-coach of the year at Tillamook last season.
"I am so proud of her resilience in bouncing back after her move from her home town to a new school," Joy Richardson said of Torrin, "and showing that her love of the sport can overcome personal struggles."
Notes: Tigard junior Karen Spadafora and Mountainside senior Addison Kachnik flexed their power during spring break games March 21-22. Spadafora hit .357 with four home runs and 12 RBIs in four games at the Jesuit/Sunset Tournament. For the season, she has six home runs and 16 RBIs. Kachnik went 11 for 12 with three doubles, four home runs and 13 RBIs in four games at the Redmond Spring Break Tournament. … It was a big week at the plate for St. Helens junior shortstop Ellie Austin. She went 4 for 4 and hit for the cycle in an 18-4 win over Valley Catholic on Wednesday and went 2 for 3 in two other wins, 15-12 at South Albany on Tuesday and 7-1 over Hood River Valley on Thursday. She also played error-free in the field. … Central senior catcher Peyton Foreman went 9 for 14 with two doubles, two triples and three RBIs as the Panthers split two games in the North Medford Spring Break Tournament last week. … Astoria freshman Maddie Wilkin threw a no-hitter with 13 strikeouts to lead the co-No. 5 Fishermen to a 10-0, five-inning home win over No. 8 North Marion in a 4A nonleague game Wednesday.