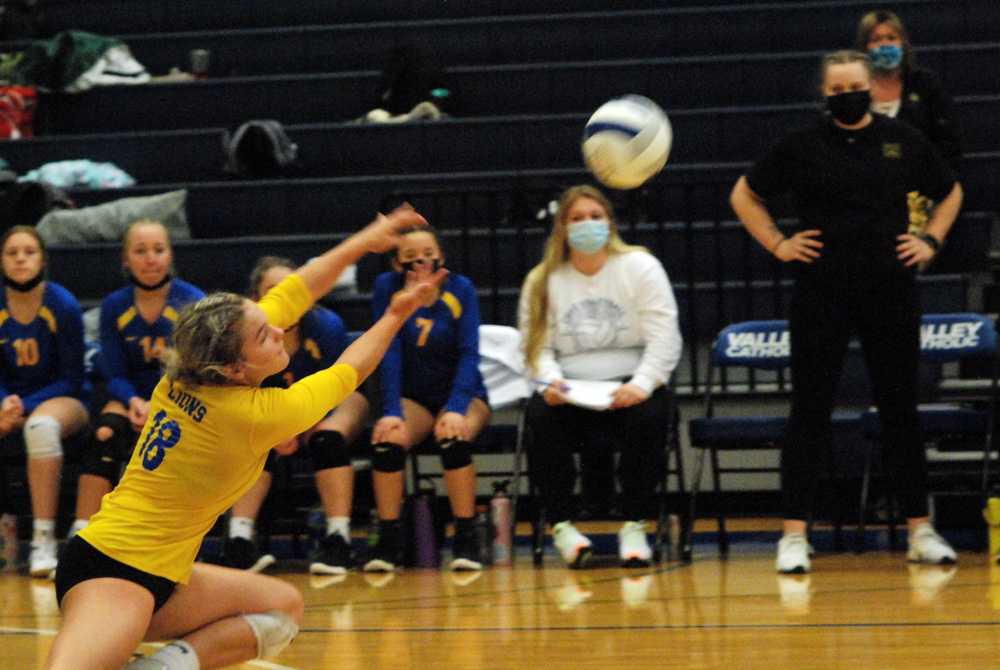 BEAVERTON – Valley Catholic kept its hopes of a 4A volleyball threepeat alive by rallying from a one-set deficit to defeat Cottage Grove in four sets Tuesday night at home, 20-25, 25-18, 25-16, 25-21. The Valiants advance to a Friday semifinal versus Cascade, which swept Sweet Home.
The prescription for Valley Catholic's quarterfinal success was defense, as libero Kylee King and DS Sophia Rewers were both brilliant in anchoring a back row defense that also featured flashes of brilliance from OHs Fran Eisenhardt and Abby Berndt, RS Addie Emerson and setter Katiya Blas-Arellano.
"Our defense was everything tonight," coach Becky Kemper said. "We know we don't have the offensive prowess that we've had in the past, but we have good ball control, players who are smart and play with a lot of heart. We have to rely on our serving, serve-receive and defense."
Cottage Grove, facing Valley Catholic for the first time since losing to the Valiants in five sets in the 2018 state championship final, started the match determined to exact revenge. An ace from Peyton Kidd and kills from Izabelle Senters and Gracie Arnold staked the Lions to a 4-1 lead. Valley Catholic rallied with five straight on the serve of freshman middle JoJo Christiansen and the battle was joined. The teams traded the lead until the late stages, when a Cottage Grove run fueled by Valley Christian mistakes gave the Lions enough of a cushion to relax in the end game. Taylor McKay had the final kill to send Cottage Grove to the second set with the momentum.
The second set was similarly close at first, but Valley Catholic caught fire midway through and never relented. A massive stuff block from Shreya Naidu, which made it 10-8 Valiants, was the spark that helped the Beaverton school build as much as a seven-point lead. Eisenhardt closed the set with a kill that knotted matters at a set apiece.
Cottage Grove played flat in Game 3 and Valley Catholic took advantage to go up two sets to one. Emerson, a springy southpaw, had five huge kills, including the game winner; and King had three aces in a four-point stretch that effectively put the game away.
Cottage Grove came out with renewed energy in the fourth set and a determination to get the ball to Arnold, its 6-1 hammer. The strategy worked for a stretch as the Lions opened up a 17-13 lead. But Valley Catholic did not give in. With King digging and scoring aces and Berndt coming alive up front, the Valiants caught Cottage Grove at 20-20 and went ahead on a dump to the middle from Blas-Arellano. Rewers followed with a DS kill off the net and down. Eisenhardt and Emerson teamed for the final three kills that sealed Valley Catholic's advancement.
Valley Catholic's victory spoiled a brilliant effort from Cottage Grove libero Blakely Herbert. The junior was everywhere on defense and at the heart of the Lions' serve-receive pattern.
Valley Catholic will meet Cascade on Friday in the semifinals. The Valiants won, 2-1, at the Sisters Tournament the only time the teams played in the regular season.
Kemper thinks this team has the right stuff to go all the way, even playing without its amazing junior attacker Naima Foster, who was lost for the season due to an ankle injury in mid-September.
"If you had asked me in September when we lost Naima at Sisters, I would have said that we'd have a good run in league but that would be about it," Kemper explained. "They're rising to the occasion. Anything can happen. Can we win it all? I think we can."
***
Below are recaps from the other quarterfinal matches played tonight. We will add more highlights as we receive them.
6A
Bend 3, Oregon City 0 – Bend won an overtime Game 1, then won the next two games more handily to sweep. "I was proud of the perseverance of the team," coach Kristin Cooper said. "Oregon City is a great defensive team with some hitters that can put away balls. We stayed patient in the rallies and were able to find holes and transition well." Key to victory was ball control. The Lava Bears passed a 2.4 in serve-receive, led by libero Marin Montagne and DS Natalie Reveles. Chloe LeLuge led the offense with 10 kills.
Central Catholic 3, South Salem 2 -- The Saxons rallied from down two sets to force a fifth, but Central Catholic prevailed in a hard-fought battle. Laila Leaks had 50 assists and 13 digs in the losing effort for South Salem. Kayleigh Carpenter chipped in with 22 kills and 12 digs and Brooke Isham added 12 kills and four blocks. For Central Catholic, senior libero Renee Tassin passed a 2.2 with no errors, had 17 digs and was a sniper behind the service line. Junior middle Sofia Cooper had 13 kills and put away balls at critical junctures. Junior S/RS Mia Starr had a big game with 31 assists, 15 digs and four kills. Freshman Mia Hunt also shined, with six kills, five digs and 41 serves passed at a 2.3 rating. "Last night was one of the most intense and incredible volleyball matches I have ever had the privilege of coaching or watching," said Central Catholic head coach Kayla Hambly. "I'm just incredibly proud of this team and how hard we fought last night to get into the final four."
Jesuit 3, Sprague 0 -- The Crusaders won a close first set then blitzed the Olympians over the next two, holding the visitors to 16 points total over those sets in the sweep. Jackie Carle averaged 15 assists per set and Tess Masingale, CeAnna O'Loughlin and Isabel Patterson all reached double figure kill totals for the victors. Harper Buchholz stepped in for injured Hannah Nguyen and was outstanding in the back row as a passer and digger. She also served four aces.
West Linn 3, Sheldon 2 -- The top-ranked Lions escaped, 17-15 in the fifth, thanks to keeping its middles involved. That helped create scoring opportunities on the pins. Four Lions recorded double digit kill totals, led by Addie Hoover, who had 20 and hit .484. Emily Warmenhoven, Rayna Reynolds and Amyah Semau added a combined 45 more. Hoover, playing on the right, delivered the clinching kill off the block.
5A
Crescent Valley 3, Silverton 1 -- The Raiders won a tense affair in which three of the four sets were decided at deuce. Bella Jacobson had 17 kills to lead the offense, while Kara Peterson had 27 digs to lead the defense and added four aces. Setter Kamden Mitchell contributed a double-double, with 23 assists and 13 digs.
Ridgeview 3, Churchill 0 – The Ravens may have swept the match, but all three sets were close. Both teams played great defense and fought hard, but strong Ridgeview serving and aggressive offense kept the Lancers off balance at critical points of the match. Rachel Lester and Hayden Hamilton teamed for 35 assists for the victors. Kylee Rost had 15 digs and two aces. Madie Vaughn added 14 digs, six kills and four aces.
West Albany 3, La Salle Prep 1 – Down 10 in the fourth set, La Salle Prep rallied to tie at 22-22 and threatened to force a Game 5 sprint to 15 points against the top-ranked Bulldogs. La Salle had two set points at the end but could not convert and West Albany closed out the match to win in four. Hailey Heider had 24 kills and 13 digs to lead West Albany, which reached the semis for the first time since 2014. Maddy Hellem had 26 digs and Sydney Harrington finished with 44 assists and 14 digs.
Wilsonville 3, North Bend 0 -- The Wildcats played a complete match -- won the serve and serve-receive battles, set well and hit at a high level -- in dominating a North Bend team on the road that had previously lost only once. Ashli Edmiston had 17 kills and 12 digs to lead the way. Sophia Kleckner added 15 digs and was solid in the passing game and Makenna Wiepert had 29 assists,six digs, three blocks and three aces. "I am very proud of how the team played," said coach Scott Thompson. "The girls embraced the road trip and were very focused from the first serve to the last."
4A
Cascade 3, Sweet Home 0 -- Five Cougars had seven or more kills in Cascade's convincing win. Lucretia Benolken had 12 kills and 10 digs to lead the way. Jadyn Daviscourt added 12 digs and passed a 2.38 in serve-receive. Bella Oliver had four of the team's nine aces.
Sisters 3, Siuslaw 1 – Gracie Vohs delivered her eighth and final block to send the top-ranked Outlaws to the semifinals. Vohs also produced 22 kills and three aces. Bre White and Sudney Myhre teamed for 24 more kills. The match turned on a seven-point serving run in the third set. Knotted at one set apiece, Sisters trailed 17-13 in the third before Maddie Pollard's sparked the Outlaws from the service line. Sisters went on to edge Siuslaw in that set and won the fourth to clinch its advance.
Philomath 3, Baker 0 – The 13th-seeded Warriors pulled off their second straight upset on the road, downing Baker in straight sets. Sage Kramer had 18 kills to lead the way for Philomath. "We won the serve receive and serving game and Baker just couldn't match our blocking and versatility of attackers," noted head coach Denee Newton. "They were very scrappy though and that made for a great match! Philomath is the only team in any classification to make the semifinals that did not finish among the top 10 in their classification's final coaches top 10. "Honestly, I think our experiences playing the toughest teams in the state just really prepared this team," Newton said.
3A
Sutherlin 3, Cascade Christian 1 – Makalyla Murphy and Mallory Turner combined for 30 kills, Tianna Murphy contributed 38 assists and Haley Smoldt had 18 digs in a complete win for the Bulldogs. "Every player did their job well and contributed to the win," noted head coach Kathy Rice.
Burns 3, Willamina 0 -- The top-ranked Hilanders dominated behind 18kills from Kaitlyn Wright, 25 service points from Kaya Dobson and seven blocks from Akylah Kaino.
Catlin Gabel 3, Horizon Christian (Tualatin) 0 – The Eagles registered a surprisingly easy sweep of the Hawks to make the state semifinals for the first time in school history. Catlin Gabel had success by taking Horizon Christian out of system from the service line, tallying 14 aces. Junior Elsa McDermott led all CG attackers with 11 kills, while senior Bianca Haldorsen was clutch in the backrow. She finished with four aces and nine digs.
2A
Grant Union 3, Vernonia 1 – Twenty-two (22) aces helped Grant Union past classy Vernonia at home. A 10-point serving run from freshman Addy Northway in Game 2 helped give the Prospectors great momentum. Senior libero Lauryn Pettyjohn showed up in serve-receive and on defense, allowing the offense to thrive. Page Gerry, Carson Weaver and Grace Taylor teamed for 29 kills. Gerry also had four stuff blocks, including the clincher in Game 4, as GU's block helped slow Vernonia's big outsides.
Salem Academy 3, Lowell 0 – Aly Herber had 20 kills, 10 in a tone-setting first set, as the top-ranked Crusaders swept to victory. Senior libero Annabelle Brawley anchored a stout defense, which also included Bailey Pedersen and Lexi Herber.
Gaston 3, Portland Christian 1 -- Mackenzie Berger had 29 kills, Lexi Fern set well and was a leader and hustler and the Greyhounds served exceptionally in their home win over the Royals. Maya Rosenberg finished with 16 digs and was part of a trio, along with Cayden Henderson and Madi Bentley, that tormented Portland Christian from behind the service line.
1A
St. Paul 3, Echo 0 -- Ainsley Goughnour was outstanding in six rotations in St. Paul's sweep. The senior led a balanced team effort that produced a team win. "We all played solid for every point," noted coach Lesli Hiller, "and even when behind, we played confident and together to come back in the third set and win."
North Douglas 3, Joseph 1 – North Douglas rallied from a set down to win on the road. There were a ton of standouts for the Warriors: Brooklyn Williams recorded 13 kills, 13 assists and nine digs, Samantha MacDowell managed six kills, 11 digs, three blocks and two aces, Halli Vaughn had 13 kills, four aces and three blocks, Brook McHaffie had seven kills and six blocks and Lailah Ward and Asia Ward teamed for 29 digs.
Damascus Christian 3, Rogue Valley Adventist 2 -- League MVP Sierra Hale had 21 kills, Julia Mitchell added 15 kills and Abbigayle Bailey led the Eagles from the service line. Andrea Bogdan and Sara Titchenall stepped up on defense. "Overall it was a tough, grind it out 5-set win in a match between two teams who both deserved to be in Redmond in the final eight," said Damascus Christian coach Emily Russau.