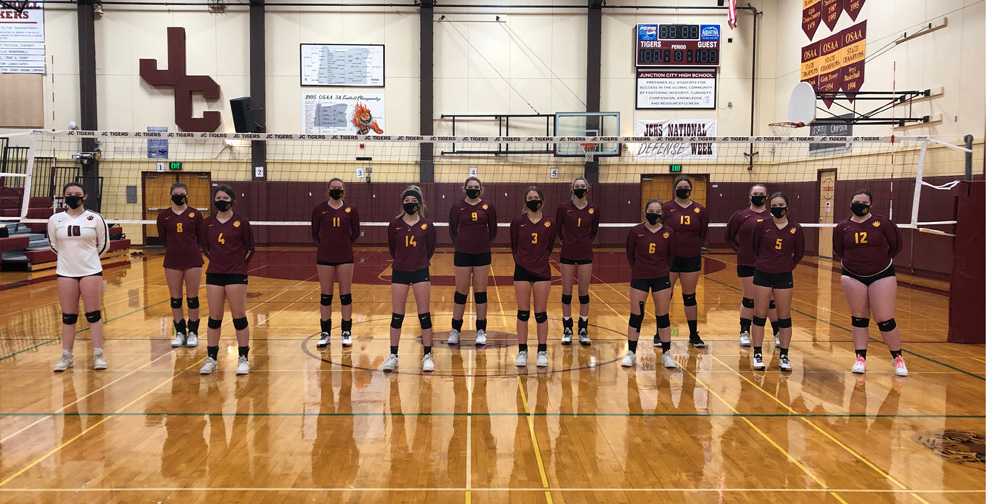 Before the 2019 fall season, when Junction City twice defeated Cottage Grove; it had been five years since the Tigers last defeated their Sky Em League rivals, a string of nine straight losses.
Tuesday at Cottage Grove, Junction City extended its winning streak to three straight matches over the Lions, but not before fighting off two match points in the third set, when Cottage Grove was poised to sweep; and one more in the fifth in the 18-25, 17-25, 30-28, 25-17, 17-15 thriller.
"We struggle with the mental game and that beat us tonight," said Cottage Grove head coach Abby Ladd.
"This team just doesn't give up," Junction City head coach Gary Meininger exclaimed. "We were able to overcome mistakes early in the match and made some lineup changes that countered Cottage Grove's attacks. Their front line was very tall. We had to adjust to hitting around their blocks."
The deciding fifth set was a microcosm of the entire match. Kills from Courtney Silbernagel and Cienna Hartle helped Junction City storm to a fast 4-0 lead in the sprint to 15 points. Cottage Grove could have folded after dropping the previous two sets, but showed mental fortitude by getting a side out from Izabell Senters and then rattling off eight more points on the serve of Matty Ladd.
Coach Ladd was happy with the 9-4 lead but she knew that the momentum could change in a minute.
"Just because we had momentum didn't mean Junction City couldn't take it back," she said. "We knew we had to fight to the end."
Junction City halted Cottage Grove's 9-0 run with a kill from Adessa Wood. The Tigers followed with an ace serve from Silbernagel as part of their own 8-2 run, which featured multiple kills from middle blocker Sophia Francois.
The lead ping ponged back and forth until Cottage Grove found itself with match point at 14-13.
***
Earlier in the match, Cottage Grove overcame a 14-9 Game 3 deficit, and two set points against at 24-22, to extend the play to overtime. Twice in extras during that set, the Lions, who dominated the first two sets against mistake-prone Junction City, were one point away from sweeping, but could not convert. Tied at 28-28, Junction City found the winning formula, on a kill from Ayden King and a Francois block.
***
Staring at defeat once again in the fifth set, Junction City saw Francois come up clutch again with a game-tying solo stuff. Another block, by Hartle a few points later, finally closed out the match.
Junction City improved to 5-0 on the season with the win. Silbernagel (17 kills; 19 digs), Francois (17 kills; 7 blocks) and King (15 kills; 22 digs) led the way for the Tigers, but there were plenty of heroes on this night. Libero Addison Sangermano led the defense with 28 digs and was rock solid in serve-receive. Setter Chloee Kinkade had 29 assists and both Adessa Wood and Annika Davis stepped up at the net to deliver signature moments.
Cottage Grove, which returned all of its starters from a year ago, fell to 1-2 on the season on the scoreboard. Even so, Coach Ladd was satisfied with the team's effort.
"I don't measure 'wins' by the score," she explained. "We walked away a better team than when we walked in."
Still, Ladd had to be thinking about "what might have been."
"I don't know what happened in that third set," she said. "Did we get comfortable or start to feel the pressure of finishing off the match? We became hesitant and stopped communicating. We tend to fight some mental demons. Our biggest enemy is ourselves."
Matty Ladd, who played through an injury suffered in the team's previous match, finished with 13 kills and 13 digs to lead the Lions. Peyton Kidd was terrific from her setter position, recording 34 assists and 11 digs. Libero Taylor McKay had 22 digs and MB Gracie Arnold, a converted outside, had a breakout effort in the middle, with several timely kills and many huge blocks.
The rematch is March 25.