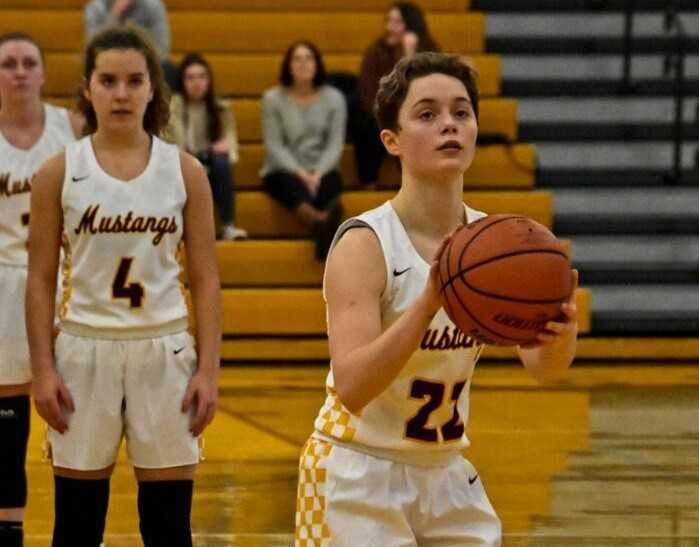 After a sterling freshman basketball season, Milwaukie's Cali Denson has continued her record-breaking ways as a sophomore.
The 5-foot-7 guard – who led the state with 27.1 points per game last season, including a state freshman record 46-point outburst – is averaging 31.0 points this season.
She scored 29 points in the first half of a win at The Dalles on Jan. 11, breaking the previous state record of 28, held by Grant's Cindy Brown since 1982. She also had a 28-point half in a loss at La Salle Prep on Jan. 24, scoring 20 points in the second quarter.
In addition to her scoring, Denson is averaging six assists, four rebounds and four steals per game for the Mustangs (10-11, 5-6 5A Northwest Oregon Conference).
"The first half of the season, she was not playing very confident at all," said Milwaukie coach Michael White, her father. "Although she had a ton of production, she was second-guessing everything
"Right about the first La Salle game, I just saw everything kind of switch with her, and her confidence right now is through the roof. She's definitely playing the best I've seen her play."
Denson, who made 79 three-pointers as a freshman, has connected on 48 of 195 attempts from behind the arc this season (25 percent). She made eight three-pointers against The Dalles.
White said that Denson has made strides on defense, playing the passing lanes in the middle of the team's zone and racking up steals. She also is doing a better job of penetrating and finding her teammates, nearly doubling her assist average from last season.
"She's reading the second line of defense when she's attacking with the ball, seeing past the first defender, knowing she can get past them, and trying to make the help defense react so it sets up her teammates," White said. "That's been huge."
Denson is getting plenty of attention from defenses, often being face-guarded by two players when she doesn't have the ball, but has embraced carrying the heavy load on offense.
"If anything, it kind of wears on her body, but mentally, she loves it," White said. "We're so young. Our older kids, we don't have a ton of experience. Sometimes we get in big games and the lights are too bright, so Cali definitely steps up."
Colleges have Denson on their radar. White said that all of the Pac-12 Conference schools, except for USC and Stanford, have reached out to him about Denson.
Fisher explodes
Hidden Valley's Kaiah Fisher entered the school record book in an 84-39 win at Klamath Union last week.
The 6-1 junior forward put up 37 points and 25 rebounds, new school marks. She made 14 of 27 shots, including 2 of 5 from three-point range, and 7 of 12 free throws. She also had four assists, five steals and two blocks.
Fisher is averaging 17.1 points, 13.2 rebounds, 4.6 steals, 3.1 assists and 2.8 blocks for the Mustangs (20-2, 8-0 Skyline Conference), who are No. 3 in the OSAAtoday 4A coaches poll.
"She has been very unselfish this year, putting her team first," Hidden Valley coach Joel Jessee said. "She makes everyone else better. Her skills have improved with adding a three-pointer to her game and learning how to stay balanced by finishing at the rim through contact."
Fisher is shooting 48.2 percent from the field. After making 1 of 4 three-point attempts last season, she is 12 of 38 from behind the arc this season.
Lions take Sky-Em
Cottage Grove not only survived the transfer of Portland State-bound forward Reilly Kelty to 6A Sheldon this season, the Lions have thrived.
Cottage Grove (18-6, 9-1) won its third 4A Sky-Em League title since 2014 and first outright championship since 2010. The No. 7 Lions will bid for their first playoff win since 2010, when they won the 4A title.
"When they heard that Reilly was going to Sheldon, they moved on," coach Steve Eastburn told The Register-Guard. "They've been very adaptable. They just moved forward and have done the best they can."
The loss of the 6-3 Kelty would leave a gaping hole for most teams, but fortunately for the Lions, they were blessed with lots of size. Three of their starters – junior Matty Ladd, sophomore Gracie Arnold and senior Ema Gardner – stand 6-1.
"It's crazy," Eastburn said. "I'm not complaining about it. I've been other places and we have not had even close to this size. We might have had one 6-1 kid but not three of them. We're trying to take advantage of that."
Ladd, a first-team all-league forward last season, averages 13 points and nine rebounds. Arnold is averaging 13 points and eight rebounds.
After finishing 14-13 last year in their first season under Eastburn – who coached South Eugene to the 6A final in 2009 – the Lions have developed a winning formula.
"The girls are playing well right now," Eastburn said. "They understand the style of basketball that suits our personnel."