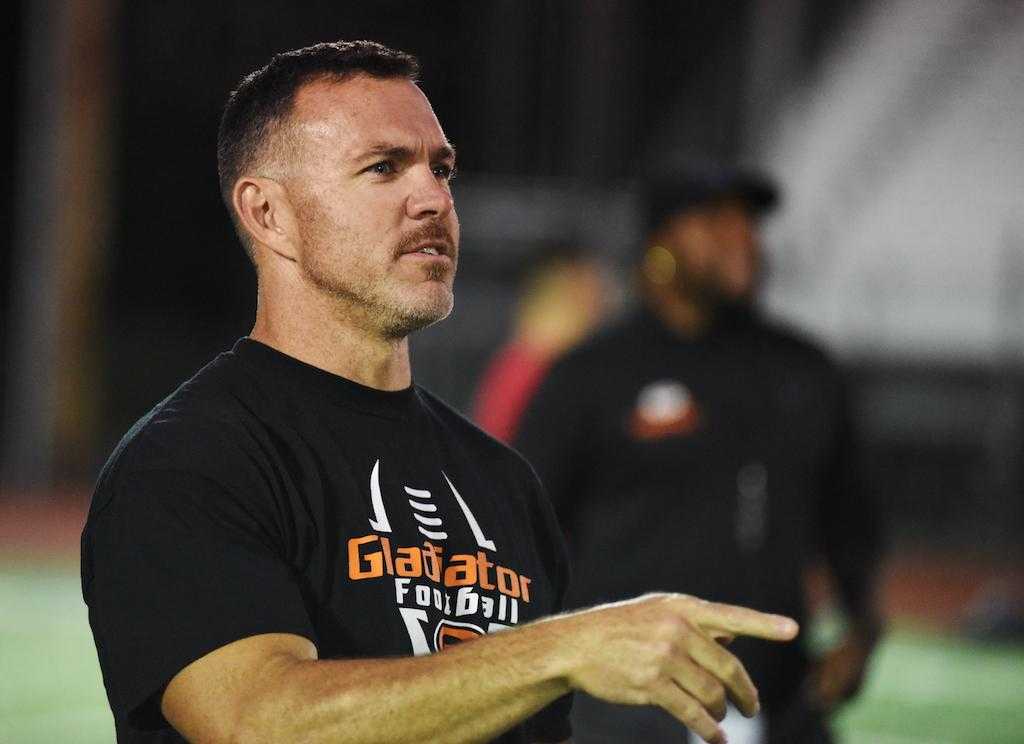 JJ Jedrykowski didn't plan it this way.
Looking back on it, though, his return as Gladstone's football coach after three seasons assisting at Central Catholic seems almost inspired.
"For me it was more of a journey. Kind of a sabbatical, in a way," Jedrykowski said. "What better place to go than Central Catholic to absorb all that information?"
Jedrykowski has deep roots at Gladstone. He assisted in the program for 13 seasons, and when he replaced Jon Wolf as coach in 2014, he led the Gladiators to a 12-0 record and 4A title, their first championship in 36 years.
But after going 4-6 in 2015, Jedrykowski opted to leave in 2016 for a teaching and coaching position at Central Catholic, where his son, Jaxon, entered the Rams' program as a freshman.
"I originally went to Central because my son was convinced that was the route he wanted to go and play 6A football," Jedrykowski said. "After a year of my son being there, he just kind of missed Gladstone."
Jaxon went back to Gladstone in 2017, but JJ remained at Central Catholic. As a JV coach and varsity assistant in 2017, he was able to break away and see a handful of Jaxon's games. He attended all of Jaxon's games last year after reaching an agreement with Central Catholic coach Steve Pyne to coach the Rams' freshman team.
"Steve was very gracious in that regard," Jedrykowski said. "I was planning on doing the same thing this year until everything opened up as it has."
Wayne Harris resigned as Gladstone's coach after leading the team to the Special District 2 title and state semifinal appearance last season, and Jedrykowski jumped at the chance to return. Not only is he reunited with Jaxon, but his daughter, Samantha, will be a freshman at Gladstone.
In another twist, Jedrykowski was able to coax Wolf out of retirement to come back to Gladstone as the offensive line coach. Wolf sat out last season after four seasons as the coach at 5A Milwaukie.
"I didn't think Jon would do it, honestly, because he's retired, but I feel like I needed another head coach that I could talk to and bounce ideas off of," Jedrykowski said. "He's been through it all and seen it all. I reached out to him, and he hesitated a little bit, but as soon as we got the ball rolling, he's back to being a coach full-tilt."
Jedrykowski spent eight seasons (2006-13) as Wolf's defensive coordinator. When he took over for Wolf in 2014, he changed the offense from veer to wing-T.
"I might have tweaked a couple things that helped us out, but essentially it was the culture that Jon had created that I inherited that kind of allowed myself and that staff to win a state championship," Jedrykowski said.
Jedrykowski said he has made a habit out of meeting with Wolf for an hour before practices.
"He's a mentor to me. I learned how to run a program from him," he said of Wolf, who also was head coach at Madison (1989-91) and Putnam (1997-2002).
Gladstone, 8-3 last season, appears to have the pieces to contend again in 4A. The Gladiators have an all-senior offensive line, experienced skill players in senior tailback Mason Scheehean, junior fullback Sabastian Peiffer and senior receiver/wingback Jaxon Jedrykowski, as well as senior quarterback Hudson Meyer, who started as a sophomore and was the backup last season.
After three years of observing Central Catholic's wide-open spread offense, Jedrykowski will get back to running the wing-T.
"It's not the most glorious offense, especially coming from 6A, but for a small school in 4A, it's a system offense," he said. "The kids and the coaching staff know it well, so I don't want to come in and muck up the gears.
"I'll take some really cool stuff and concepts from Central Catholic, not a ton of them, but just enough to be effective at the small-school level."
Jedrykowski will teach special education at Gladstone.