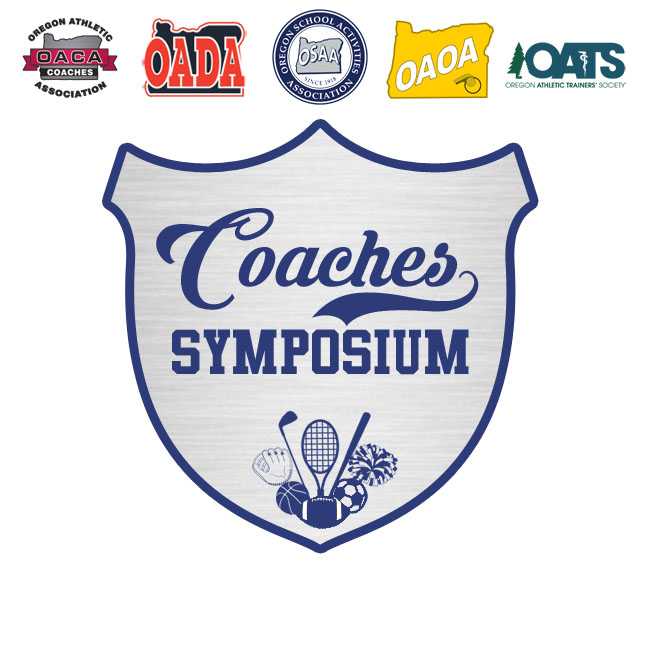 Speakers will address topics of interest to coaches, athletic directors and trainers in the second annual Coaches Symposium on Aug. 17 at Wilsonville High School.
The conference is a combined effort by the OSAA, Oregon Athletic Coaches Association, Oregon Athletic Directors Association, Oregon Athletic Officials Association and Oregon Athletic Trainers Society.
Topics will include legal issues, character education, mental health, social media, positive team culture, sports medicine and nutrition, sportsmanship, parent communication and equality, diversity and inclusion.
Elliott Hopkins, NFHS Director of Sports & Educational Services, and Diana Cutaia, founder of Coaching Peace, are scheduled as keynote speakers.
Registration is available on the OACA website. The fee is $10 and includes a box lunch and a pass to the Nike Employee Store for the day of the symposium.
Registration procedure:
1. Go to website: http://www.oregoncoach.org/clinics-and-camps/
2. List name(s) and school; click on "Pay Now"
3. Adjust quantity if registration is for more than one; click "Continue"
4. You can pay either with Pay Pal account or click on "Pay with Debit or Credit Card"
Please note: You must pre-register by noon on Aug. 13 to receive the pass to the Nike Employee Store.
For more information, contact Rob Younger or Chris Knudsen at the OACA office at 541-928-2700 or by email at [email protected] or [email protected].
Symposium schedule, Aug. 17:
8:00 – 8:55 Registration/Check-in - Main Entry Area
8:55 – 9:00 Introductions/Welcome - Main Gym
9:00 – 9:50 - Elliot Hopkins, Director of Sports, Sanctioning and Student Services
"Equity, Diversity & Inclusion – All of Us Together"
10:00 – 10:45 - Breakout Session #1
a. Samantha Silvia, Positive Coaching Alliance – "Maximizing Mistakes as Growth Opportunities"
b. Elliot Hopkins, NFHS Director – "Welcome to the Team (A Hazing Prevention Story)"
c. Haley Percell, OSBA Director of Legal Services – "Social Media Do's & Don't's"
d. Parker Sczepanik, Lines for Life – "YouthLine: Mental Health 101"
e. Kris Welch, OSAA Assistant Director – "Dealing With & Communicating with Parents"
f. Kacey McCallister, World Wheelchair Sports – "Para-Athletes: Getting Athletes Involved In HS Athletics"
11:00 – 11:45 Breakout Session #2
a. Samantha Silvia, Positive Coaching Alliance – "Maximizing Mistakes as Growth Opportunities"
b. Elliot Hopkins, NFHS Director – "Welcome to the Team (A Hazing Prevention Story)"
c. Haley Percell, OSBA Director of Legal Services – "Social Media Do's & Don't's"
d. Parker Sczepanik, Lines for Life – "YouthLine: Mental Health 101"
e. Kris Welch, OSAA Assistant Director – "Dealing With & Communicating with Parents"
f. Kacey McCallister, World Wheelchair Sports – "Para-Athletes: Getting Athletes Involved In HS Athletics"
11:45 – 12:30 Lunch on site
12:30 – 1:15 Breakout Session #3
a. Kim Hoyt, Garrett Hemann Robertson Law Firm – "Risk Management: Abuse Prevention and Reporting"
b. Tom Bendt, Aloha HS Athletic Director – "The Power of Self-Reflection on Servant Leadership"
c. Ryan Johnston, 3-Dimensional Coaching – "Creating A Culture Of Significance"
d. Jack Folliard / Debi Hanson, OAOA Directors – "Our Most Difficult and Inconsistent Calls"
e. Dr. Michael Koester & Sam Johnson, Clinical Associate Professor, OSU – "Sports Medicine Hot Topics"
1:30 – 2:15 Breakout Session #4
a. Kim Hoyt, Garrett Hemann Robertson Law Firm – "Risk Management: Abuse Prevention and Reporting"
b. Tom Bendt, Aloha HS Athletic Director – "The Power of Self-Reflection on Servant Leadership"
c. Ryan Johnston, 3-Dimensional Coaching – "Creating A Culture Of Significance"
d. KT Emerson, OSAA Assistant Director – "Trauma Informed Teaching"
e. Marc Norcross, Associate Professor, OSU – "ACL Prevention Programs"
2:30 – 3:15 Diana Cutaia, Founder, Coaching Peace Auditorium
"Cultivating Positive Team Culture"
3:15 Nike Employee Store Visitation Information