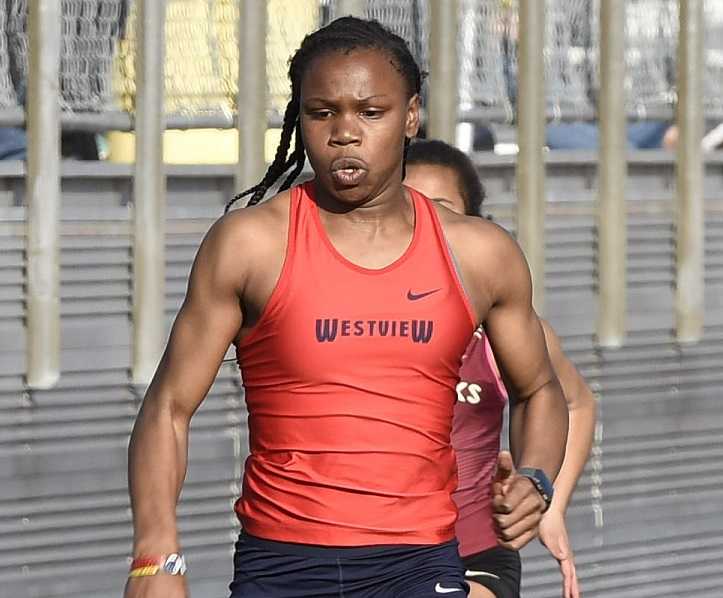 Westview junior Colleen Uzoekwe has shown that she can do almost anything in track and field, so it's natural that she sees her future in the heptathlon.
Uzoekwe is the state leader this spring in the long jump, with a school-record mark of 18-11.75 at the Chehalem Field and Track Classic on April 5. She is the state leader in the high jump, with a school-record tying 5-feet-8 on April 3 in a dual meet with Sunset.
She is also ranked third in the 200 meters (25.67) and fifth in the 100 (12.45).
"I eat it, sleep it," Uzoekwe said of track and field. "It's something I've been doing for a while and it's a second home."
Uzoekwe got her start in the sixth grade when her parents signed her up for the Meadow Park Middle School team -- as a birthday present.
She performed well in middle school and entered Westview with a couple of goals -- clear five feet in the high jump, and break 13 seconds in the 100 meters.
Uzoekwe accomplished both goals her freshman year.
As a sophomore, she placed third in the 6A high jump competition and made the finals in the 200 meters, where she was eighth.
But her dedication picked up at the end of last summer. She spent hours in the weight room and began training for her junior season.
"I'm a determined person who likes to go for things that I want," Uzoekwe said. "I hate losing. I try to make a goal and then push for it."
What she wants now is to learn the seven events of the hepathlon, with the hopes of competing in college.
She hopes to put time into mastering the throws and hurdles this summer.
"She's very strong and she focused quite a bit in the weight room last fall," Westview sprints and high jump coach Vernell Warren said. "She's reaping the benefits of that."
Uzoekwe hasn't competed in a heptathlon yet, but she'd like to explore it in her senior year.
The all-time state record in the heptathlon, on the books for more than 20 years, is 5,104 points by Gladstone's Ellannee Richardson, who went on to compete for Washington State.
Uzoekwe's marks in the 200 meters, high jump and long jump -- three of the heptathlon events -- already indicate that she could be an elite multi-event performer.
For the meantime, she is looking forward to the meets on Westview's calendar. She'll have a lane in the elite girls 100 meters at the Nike Jesuit Twilight Relays in early May, and she'll try to score as many points as possible for the Wildcats at the Metro league district meet and 6A state championships.
She still has plenty of time to grow into the sport and explore the remaining events.
She has made dramatic improvements over the past month and her dedication to track and field keeps getting stronger.
"I can't imagine my life without it," she said.