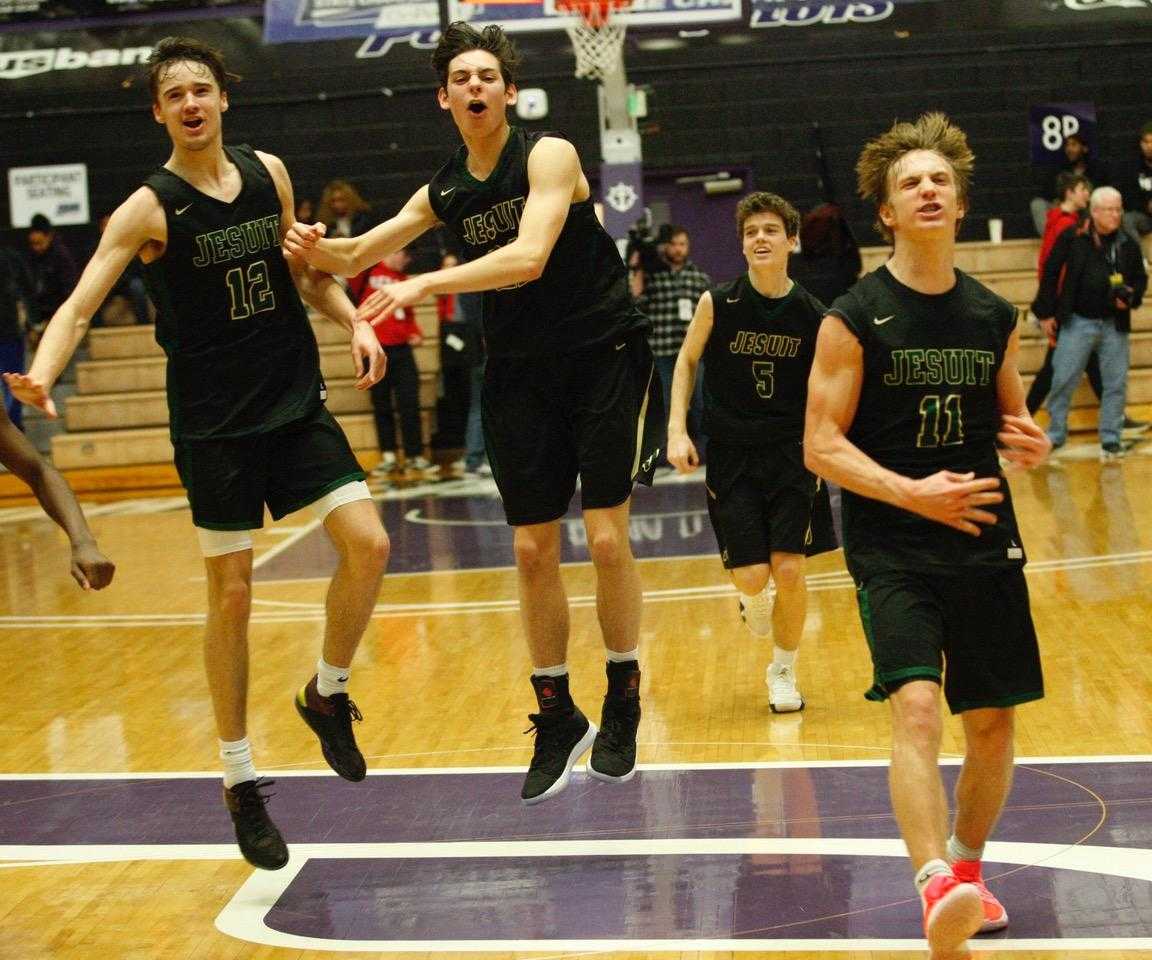 PORTLAND -- Before the season tipped off, Jesuit's boys basketball team was a mystery to longtime coach Gene Potter.
The six-time state-champion coach wasn't sure what he saw from the Crusaders in preseason practices, but it certainly didn't look like a title contender.
"You look around the gym and it's like, 'I don't know, I'm not seeing it,'" Potter said.
Somehow, though, Jesuit developed a winning chemistry, and it never was more evident than Friday when the Crusaders took down No. 1 seed Lake Oswego 52-40 in the semifinals of the OSAA / OnPoint Community Credit Union 6A tournament at the Chiles Center.
Despite trailing by 13 points in the first half, No. 4 seed Jesuit (22-6) fought its way back into the game, took its first lead early in the fourth quarter and pulled away late to earn a spot in Saturday's championship game against No. 3 Jefferson. It will be the Crusaders' first finals appearance since 2015.
"I love my guys. They play hard, they compete, they play for one another," Potter said. "But there's no Dunleavy, Wiltjer, Holt – list the names – in the gym with us on a daily basis. So we had to be better than the sum of our parts all year. And I think we're showing that we are."
Senior guard Aiden Williams made five three-pointers and scored 20 points and senior wing Justin Bieker added 14 points – all in the second half – for the Crusaders, who beat the Lakers (23-5) for the second time in three meetings this season.
"This is big. I'm so proud of my teammates and everything we've overcome this year," Williams said. "We're just resilient, honestly. We just stuck to each other. It's the tightest group I've ever been a part of. I can't believe it. It's heart."
Jesuit made the quarterfinals last year, losing to Jefferson, but had to overhaul its roster. Did the Crusaders believe that reaching the finals this year was realistic?
"We thought so. We knew other people didn't think so," Bieker said. "I'd say it's kind of a miracle. I mean, we'd run through walls for each other. It's a true brotherhood on our team, between the coaches, players, everyone. There's so much love between each other, it's unbelievable. I'm sure you can tell on the court."
Things didn't start out so well for the Crusaders against Lake Oswego, however. Lakers senior forward Brandon Roberts scored six points to help stake his team to a 10-0 lead with 1:40 left in the first quarter.
Jesuit finally got on the board on a jumper by Williams with 1:18 to go in the quarter, and the Crusaders stabilized from there. Williams scored eight points in the first half to keep his team within 22-13 at the break.
Bieker came alive with eight points in the third quarter, pulling Jesuit within 27-26 on a putback. The Crusaders went on a 9-0 run bridging the third and fourth quarters – getting a three-pointer from junior Matthew Levis and two triples from Williams – to lead 35-31.
"We adjusted at halftime," Bieker said. "We weren't the aggressors, and that's one thing that's important for us. For us to play our game, we need to be the aggressors, and we need to be the ones attacking, playing harder, controlling all the 50-50 balls.
"We weren't doing that. They were doing that to us. At halftime, coach had the talk with us and basically just said, 'We're not going out unless we leave everything on the floor.' And that's what we did."
Lake Oswego battled back to tie at 37-37 on a steal and three-point play by sophomore point guard Wayne McKinney with 3:54 left, but Jesuit got a reverse layup from Bieker to take the lead for good at 39-37 with 3:02 on the clock.
The Crusaders stifled the Lakers on one end and made 13 of 14 free throws in the last three minutes to pull away. Senior guard Will Sheaffer was 8 for 8 from the line during that stretch.
"Defensively in the first half, I didn't think we were terrible," Potter said. "Just offensively we were miserable. So in the second half we said, 'Hey, let's go to our two horses a little bit and see what happens.' Aiden got it going, and the team play took over a little bit."
Williams made 5 of 12 three-point attempts, many of them from well beyond the arc. He has 78 three-pointers this season.
"When I got one to fall, the basket started looking bigger," Williams said.
The Lakers struggled to keep track of Williams.
"We just lost him," Lake Oswego coach Marshall Cho said. "It's harder on that half of the floor where they're away from us. But they did a great job of moving him around, and we lost sight of him."
It was a crushing loss for the Lakers, who dominated the first part of the game but couldn't sustain it. Senior guard Josh Angle and senior post Fred Harding finished with 10 points each for Lake Oswego, which hasn't played in the final since 2012.
"We always talk about, in these settings, early leads don't last," Cho said. "You've got to be able to continue to play at a higher level. We got the lead, and we got away from some of the stuff we were doing. Hopefully this is a lesson that they'll be able to learn and grow from."
Jesuit will go for its first title since winning four in a row from 2009 to 2012 when it meets Jefferson. The teams opened the season Nov. 30 at Jefferson, with the Democrats prevailing 79-75.
The Crusaders would like to give their coach his seventh championship.
"He's a legend. He's been doing this for so long," Bieker said of Potter. "The legacy that comes from putting on that Jesuit uniform, with the amount of championships he's won, just what's passed down from each year, it's pretty special."