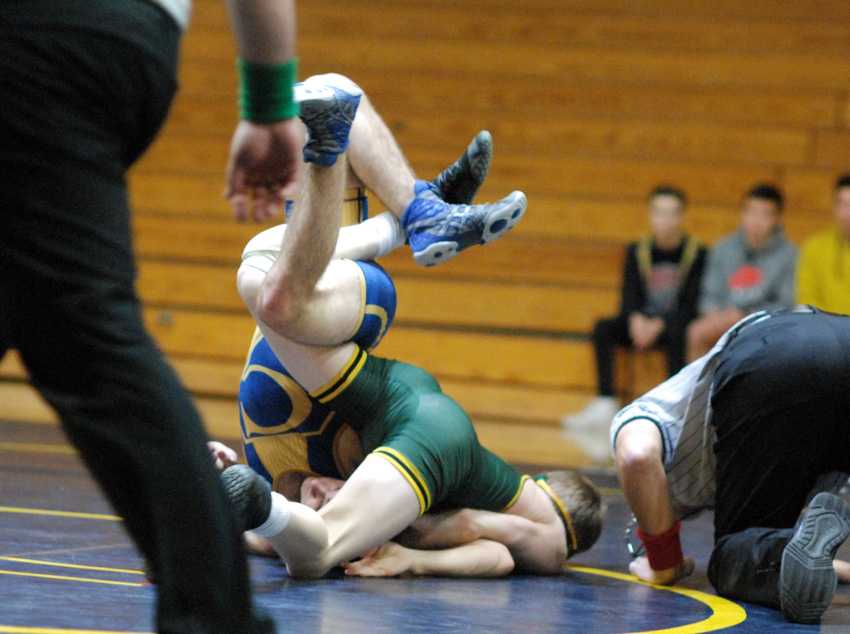 West Linn turned around matches at 145 and 182 pounds to win a dual meet on the road at Canby, 47-27, on Thursday night. The Lions, No. 5 in the most recent OSAAtoday 6A coaches poll, improved to 2-0 in the Three Rivers League and 5-0 overall.
West Linn won eight of the 14 matches in the dual: one by forfeit, one on a technical fall at 113 by Ricky Bell and the other six by pin. When sophomore Cael Brunson won by first-round pin at 152 pounds, West Linn held a robust 35-9 advantage in the match. But Canby won four of the last six matches, including a first-round pin from senior Stephen Rue at 220, to make the final result much closer.
Indeed, in the final analysis, the outcome of the dual hinged on the matches at 145 and 182. In the 145-pound class, West Linn junior Jack Wall and Canby junior K'den McMullin were knotted at 6-6 headed into the third period. McMullin had choice and opted to be on the bottom, thinking that an escape or reversal might be enough to get the win. Midway through the period, however, Wall put McMullin on his back long enough to get the dramatic and unexpected pin.
"I knew he was tired so I was going to ride him out and hopefully go to overtime and take him down there," Wall explained. "He just kind of flopped on his back. I don't really know what I did."
At 182 pounds, Canby senior Michael Clark held a 2-0 lead and was in seeming control of his match over West Linn sophomore Cade Miller heading into the second period when Miller executed a stunning reversal that culminated in a pinning move.
"I just kept getting up to my feet and he was returning me to the mat," said Miller. "I just wanted to get up to my feet and get away but [the reversal] was there and I hit it as hard as I could and then squeezed and squeezed."
Miller's win clinched victory for West Linn, which added one final pin at 192 from two-time reigning state champion Sean Harman.
"I was pumped," said Miller. "I was happy to get a win for my team."
Of Canby's six wins, three came by fall, including a first-round pin from sophomore Caden Millar at 132 and a second-round pin from sophomore Kaden Boyd at 160.
Rue, the defending District champion at 220, won quickly in his return to the mat after being sidelined early in the season by an injury sustained during football.
"We were grappling a little bit," he explained. "I got put in a headlock, popped my head out and did a lateral job and that was that."