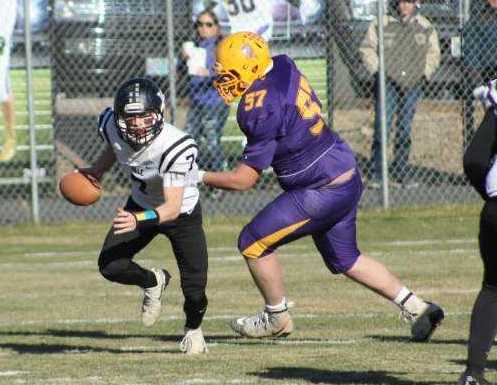 With five new starters on the offensive line and a first-year quarterback, Vale's football team figured it would take some time to establish an identity this season.
Unfortunately for the Vikings, due to injuries, it has taken a little longer than they anticipated.
"When one guy gets back, it seems like one person goes out," coach Jeff Aldred said.
But things could be breaking just right for No. 5 Vale (7-4) as it prepares to take on No. 1 Rainier (11-0) in 3A semifinal Saturday at Hermiston High School. The Vikings are as healthy as they have been since Week 2, and they are expecting the return of starting tailback Keegan Mizuta.
The 6-foot, 185-pound junior has missed six games while recovering from a torn quadriceps. He participated in a full practice for the first time Tuesday and should be full-go for Saturday.
"That'll be a big pickup for us," Aldred said. "It would definitely be a big boost for our depth. It could be a good boost to our confidence."
The Vikings are coming off an impressive 36-14 quarterfinal win at No. 4 Burns, a team that beat them 26-6 in an Eastern Oregon League game two weeks earlier.
In the win, Vale junior quarterback Colton Kesey completed 17 of 23 passes for 231 yards and five touchdowns, three to senior Tanner Hamilton (10 catches, 151 yards), and the defense smothered a Burns offense that had picked it apart in the first meeting.
"We really adjusted our defensive gameplan against them," Aldred said. "We sent pressure from every direction, and I think that might have confused them a little bit. … We saw that Burns game as an opportunity for redemption, and our kids really took to that message."
Now Vale – champion in 2014 and 2015 -- has a chance to reach the final for the third time in five years. But it won't be easy against an undefeated Rainier team that features do-everything senior quarterback Joey Tripp, who ran for 258 yards in an 18-7 quarterfinal win over Clatskanie.
"They go as he goes, there's no doubt," Aldred said.
Vale opened the season 2-3, losing to three Idaho schools that went on to make the playoffs. The Vikings lost 55-22 to Homedale (11-0), which will play in the Idaho 3A final Saturday.
"We knew going in that it was going to be a pretty hard schedule," Aldred said.
The Vikings regrouped and were in position to win the Eastern Oregon League outright with a home win over Burns in the regular-season finale, but their offense sputtered on a drizzly night, scoring a season-low six points. As a result, they finished tied for first place with Burns and Nyssa at 3-1.
"The Burns game, honestly, is still a little bit of a mystery to me," Aldred said. "We had come off a couple of good wins, and we thought we had righted the ship. Burns just came in barrels blazing. They couldn't miss."
Vale's depth at the skill positions has been tested with injuries to Mizuta, junior tight end/receiver Kade Haueter (concussion) and junior receiver Jared Fulwyler (sports hernia). Fullback Matt McBride has filled in at tailback and senior Clay Siddoway has lined up at every skill spot except quarterback.
"It took a few weeks to kind of get everybody in some newer roles," Aldred said. "We have some good versatility on our roster."
Holding it all together has been Kesey (5-9, 170). A dual threat, he has thrown for 2,051 yards and 25 touchdowns and rushed for 307 yards.
"He's a super versatile athlete," Aldred said. "The one thing that makes him very effective is he not only can extend the play with his feet, but he keeps his eyes downfield. And our receivers have really come along with that, just extending the play."
Kesey has developed excellent chemistry with Hamilton, who has 53 catches for 788 yards and 12 touchdowns. The receiving corps – which also includes Haueter, Fulwyler and Siddoway – has become the team's strongest unit.
"In my time at Vale, and talking to people who have been around the program longer than I have, I'm not sure Vale's ever had four wide receivers that can catch the ball like these kids can," Aldred said. "They catch everything.'