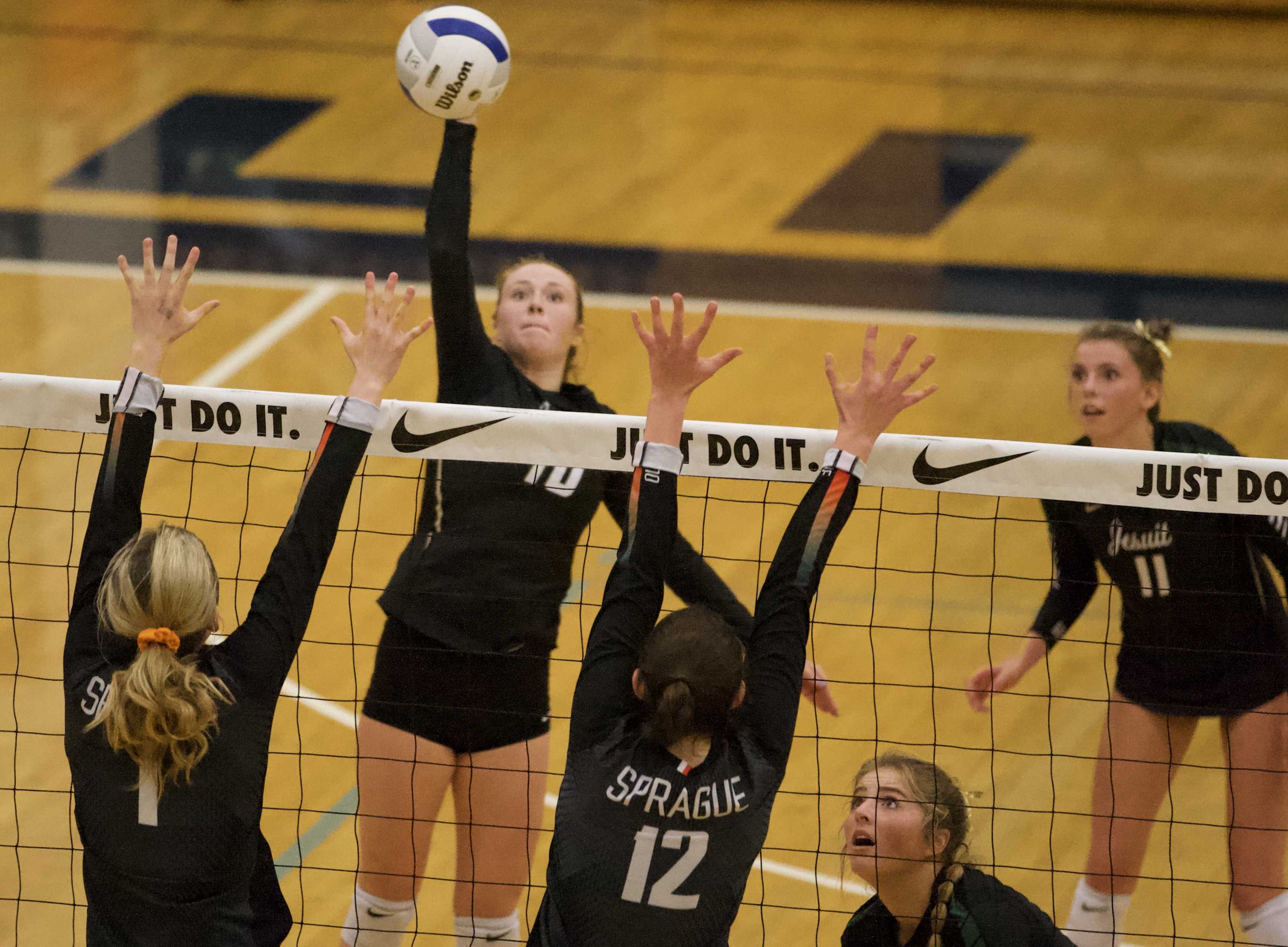 HILLSBORO -- There was a fight for the OSAA/OnPoint Community Credit Union 6A volleyball championship at Liberty High School Saturday night. Again.
But there was never a doubt. Jesuit finished repaving the entire state once again with a straight-set victory over spunky Sprague of Salem, 25-13, 25-11, 27-25.
It was the sixth state championship for the Crusaders — all under Coach Teresa Zimmerlee — and ended one of the more impressive runs in the school's volleyball history.
Like this:
The Crusaders finished 29-4, with a big, red asterisk in the loss column. All four of those losses were in September tournament play out of state.
After the last loss, a 1-2 expiration on Sept. 22 to Xavier Prep of Arizona, the Crusaders not only won 15 straight matches, they won 42 straight sets. Against Oregon competition, they were 71-1 in sets. The only lost set was to — who else? — rival Central Catholic way back on Sept. 8.
That's special.
"We try to play to as high a level (of excellence) as we can play," Zimmerlee said. "We try to improve our game — when we play outside school, when we go on to college, all the time.
"This was a pretty determined team. After last year (when the Crusaders lost both matches), they were very competitive. What I like is that they play for each other. It really helps when you're not worried about who gets the kills and who gets the statistics.
"We peaked at the right time here."
Sprague didn't win the tournament, but probably set a tournament record for feistiness with two big Friday wins.
Feistiness isn't good enough against this Jesuit team.
The Olympians were competitive only twice in the three sets. They hung with the Crusaders through a 5-5 tie in the first set, let that get away, then collapsed when Jesuit outside hitter machined out eight consecutive serves to finish the set.
Jesuit scored 14 of the last 18 points of the second set, and probably started wondering where to put the trophy back at school. Most teams who have been hammered in the first two sets against Jesuit this year have expired quietly in the third.
Not the Olympians. They fell behind the Crusaders 20-16, but Sprague got the side out, then Morgan Doll served three straight winners for a 20-20 tie.
"We told ourselves that we can't make it easy for them," said Sprague coach Anne Olsen. "There was a lot of pride going there, and it would have been easy to give up. But we really love each other."
The Olympians fought off two match points for a 24-24 tie, then got a 25-25 tie on Rose Booth's serve into the net.
But Lizzie Stegemoller dropped a bomb from above on the left side, and when Brooke Olson tipped one over a Sprague block to the floor, it was over.
"We just told ourselves to mentally keep playing," said Booth, the only unanimous all-tournament pick. "We wanted to play our game, to be calm and steady, to keep pushing back.
"They fought really hard."
Booth, who is headed for Loyola Marymount next year, isn't terribly concerned about where this Jesuit team fits in with the pantheon of other Jesuit teams.
"We just try to be the best we can be," she said, "and not compare ourselves with anybody else."
She isn't in a position to compare her team to other Jesuit teams anyhow. Crusader assistant coach Elizabeth Brenner, however, is. She was on the 2008 championship team and saw four great Crusader teams. She thinks this team might be the fastest of them all.
"We have a very fast offense," she said, "which a lot of teams had issues with. We speeded up our offense (early in the Metro League season), for that reason. The faster we go, their blocks can't get there in time. And we've got the athletes to make it happen."
Booth was superb against the Olympians. She had 16 kills and only three errors. Overall, the Crusaders had 43 kills to just 23 for Sprague, and only 14 errors compared to 25 for the Olympians.
All-tournament player Bridgette Smith had 13 kills for the Olympians.