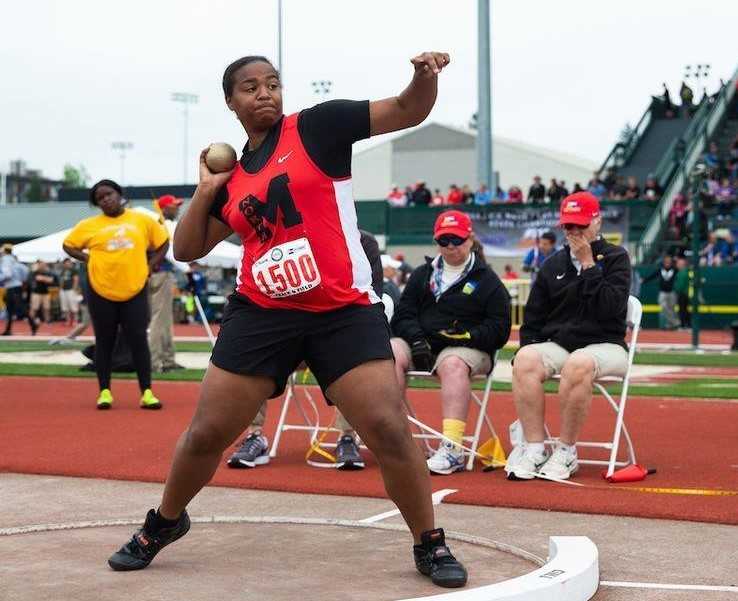 One of the top high school throwers in the nation in 2019, North Medford senior Jaida Ross entered the 2020 track season with a singular focus.
She improved her explosive energy by rejoining the basketball team. She pored over her notes and videos from attending the prestigious Iron Wood Thrower Camp last summer. She gave up spring soccer for the first time.
And she surrounded herself with reminders of her goal in the shot this season.
"My goal was 52. I wanted it so bad," said Ross, who threw a school-record 48 feet, 5 inches last year, the No. 7 mark in the nation. "I had a bunch of random numbers in my room with '52' just so I could look at it."
Now, with the coronavirus crisis wiping out her senior season, Ross will have to wait a while for all that preparation to show dividends.
"She put all the pieces together," North Medford coach Pieter Voskes said. "She had a promising first three weeks where this could be a special season, to build on the success she's already had. It's been tough for her."
The 5-foot-10 Ross won 6A shot titles as a freshman and junior and was looking to add championships in the shot and discus this year. With four individual titles, she would have passed 2015 graduate Halley Folsom (three) for the most ever by a North Medford girl.
The lost season is disappointing not only on a competitive level, but also personally for Ross, who wanted to savor her senior year before starting her college career at Oregon.
"The biggest thing is just missing out on my last year with my coaches, and knowing it's my last year with my coaches," said Ross, who worked closely with throwing coach Aaron Williams. "I started growing with them, so it's the kind of thing that I wanted to end with them knowingly."
Voskes first began coaching Ross in seventh-grade basketball.
"For me, it's emotional because I've had six years to watch her grow up," Voskes said. "A lot of this track stuff came out of our conversations in basketball practice as a seventh-grader. It's been great to watch her pave her own way and have college paid for."
Ross threw the shot 43-7 ¾ as a freshman and 42-4 ¼ as a sophomore before making a big jump last season. She became a highly coveted recruit, taking official visits to Oregon, Arizona, UCLA and Iowa before deciding on the Ducks.
The decision was difficult for Ross, a 4.0 student who has attended Logos Public Charter School as a junior and senior. She said it came down to Oregon and Arizona, which she visited first and last, respectively.
"Right after my last visit, Oregon was like, 'OK, we need an answer. Where would you like to go?'" Ross said. "I was like, 'I don't even know.' It was very difficult because everyone kept telling me, 'Go with your gut,' and my gut was telling me nothing. It was like, be logical, and make a list. So I made a list, did my pros and cons, and Oregon was the one.
"My family tried so hard not to sway my decision, but they wanted me home."
Still, going to Oregon means that she will be separated from her twin sister, Jazzlynn, who competed in soccer, basketball and track for North Medford. Jazzlynn considered Northwest Christian in Eugene but decided on Grand Canyon University in Phoenix, Ariz., where she will not participate in athletics.
Jaida played soccer at North Medford for three seasons but opted to sit out as a senior. She returned to basketball, which she hadn't played since she was a freshman, and joined Jazzlynn on the team. She said basketball is "more relatable" to throwing than soccer.
"I felt like it fit a thrower's body better because it's a more explosive sport," she said.
Voskes said playing basketball appeared to make a difference for Ross.
"She looked smoother. She looked more aggressive," Voskes said. "There was just a little bit more pop than I thought she had as a junior. And just from an attitude standpoint, I thought it primed the pump for her going into the season."
Jaida decided to forgo spring soccer for the first time to put all of her energy into track. In the past, spring soccer cut into her practice time for throwing.
"It was just another thing on my mind when I could've been focused on track," Ross said. "So this year I stopped playing for a bunch of reasons, but one of them was for track and being able to completely focus on one thing."
It also would have allowed her to invest more time in the discus. She placed third in the event at state the last two years, recording personal bests of 141-7 as a sophomore and a school-record 147-8 ½ as a junior.
"I really wanted to hit 150, 160 this year," she said.
The season was filled with promise for Ross. The way things were shaping up, she could have made a run at the state shot record of 52-7, set by Tigard's Stephanie Horton in 2005.
"The first benchmark was the 50-foot throw," Voskes said. "The second was to finish the season as the No. 1 thrower in the nation. She had a vision of winning not only the shot, but I think she was bound and determined to win a state title in the discus."
To keep from accumulating rust during the break, Ross has been practicing standing throws in her backyard. If things get back to normal in the summer, her plan is to "get to Eugene as fast as possible."
"I know that coaches are trying to do summer high school meets, and I definitely want to do that if it's possible," she said. "What's at the top of my list is getting into the facilities at Oregon and start training because I don't want to fall behind there."