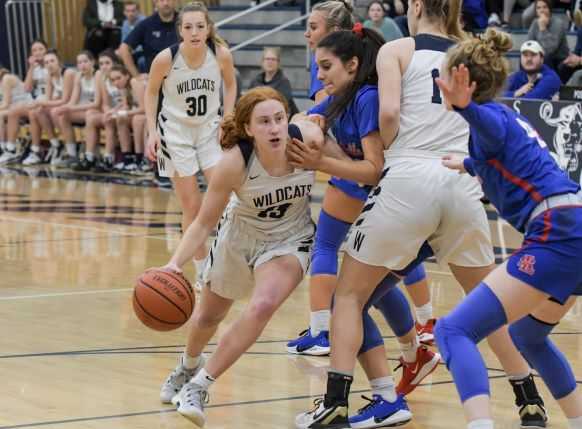 WILSONVILLE – One year after blowing a 12-point, fourth-quarter lead in a home loss to La Salle Prep, the Wilsonville Wildcats flipped the script Tuesday night.
No. 2 Wilsonville used a whirlwind 18-0 run in the fourth quarter to overcome a 13-point deficit and stun the top-ranked and reigning 5A champion Falcons 52-47 in a Northwest Oregon Conference girls basketball showdown.
Junior guard Sydney Burns was the catalyst, scoring 12 of her team-high 20 points during the surge as the Wildcats (12-2, 3-0) delighted their home crowd, which was bolstered by Wilsonville's youth basketball night.
"I could just feel everything getting louder," Burns said. "I couldn't hear my teammates. We had to get closer together. To be honest, the whole game, I didn't even know about the score. It got louder, so I kind of knew something big was happening."
Junior post Emilia Bishop said last year's home loss to La Salle Prep – which forced the Wildcats to share the conference title with the Falcons – was on their minds.
"That's really what lit our fire," Bishop said. "We blew a 12-point lead, and this time it was them. We were able to tap into the desire and show what we have. Tonight was really our opportunity to kind of get the yardstick out and be like, 'OK, this is where we are, but this is where we need to be next time.'"
La Salle Prep (11-3, 2-1) took a 7-1 lead and was in control for much of the game. Junior point guard Addi Wedin hit a three-pointer at the third-quarter buzzer, and senior guard Emily Niebergall scored on back-to-back drives to start the fourth quarter to open a 44-31 lead with 6:27 left.
That's when Wilsonville's press changed everything.
"We started to get tight, played back on our heels when they started pressing us," La Salle Prep coach Kelli Wedin said. "You can't play back on your heels against a good defensive team. We were just out of rhythm."
The Falcons, who had committed 11 turnovers through three quarters, suddenly couldn't get the ball up the court against the swarming Wildcats, committing 10 turnovers in the fourth quarter.
"We've been working at it for a while," Wildcats coach Justin Duke said of the press. "It really showed up at the right time. We've got a fast group. We've got that pressing group that we knew we could put out there when we needed to. We didn't know it would work that well."
After a putback by Bishop, Burns scored the next 12 points. She started off by turning two steals into layups and finished her personal run with back-to-back three-point plays. The second one – off a steal by sophomore Grace Gatto – gave the Wildcats their first lead at 45-44 with 1:52 left.
"They shut me down on D in the first half. I wasn't getting the shots I wanted," said Burns, who had two points at halftime. "They knew how to play me. In the second half, I just tried to play without any regrets, and tried to just go for it."
Duke said Burns "was probably not as assertive as we needed her to be early on. Trying to get a feel for the game."
The crowd became euphoric when Burns chased down a loose ball and fed senior wing Renee Lee, who buried a three-pointer from the corner to make it 48-44 with 1:37 to go. After a charging call on Addi Wedin, sophomore Karina Borgen added a free throw for a 49-44 lead with 1:05 remaining.
"It doesn't matter if it's a 20-point lead, a 13-point lead or a two-point lead, you gets the threes and twos going, and get some stops on defense, it's not that big of a lead," Bishop said. "That's something Coach Duke has really worked to make us realize."
Up until the fourth quarter, La Salle Prep had controlled the pace.
"We're not used to playing that slow," Duke said. "But once we got to a pace where we were comfortable, it kind of rolled from there."
Lee made five three-pointers and finished with 15 points for Wilsonville, which also got 14 points from Bishop. Niebergall led the Falcons with 18 points.
Addi Wedin, who entered averaging 17.8 points, picked up her third foul with 1:43 left in the first quarter and did not return until the third quarter. She scored all eight of her points in the second half.
"I didn't even know she had three fouls on her in the first quarter," Kelli Wedin said. "It was kind of a funky start from the beginning.
"It is what it is. We probably learned a lot more from that loss than we've learned from anything all year. We've got to move on and get better. It's OK. This isn't the one we want."
The Wildcats were thrilled to put on a show for their youth basketball program. They posed for pictures with youth players after the game and even signed autographs.
"It's amazing. We never get this big of a crowd," Bishop said.
Wilsonville-La Salle Prep is quickly becoming one of the state's best rivalries. Last season, the Wildcats won at La Salle Prep to end the Falcons' 83-game conference winning streak. But La Salle Prep came back to win on Wilsonville's floor and got the final word by beating the Wildcats in the state semifinals.
"We have so much history with them," Burns said. "They're such a great team, they always get the best out of us. They force us to make changes."
Duke said that the Falcons have been "the standard for a long time, and they continue to be. They're the state champions. We got them the first game we played them last year, so we're not going to rest. We know this will probably motivate them even more."