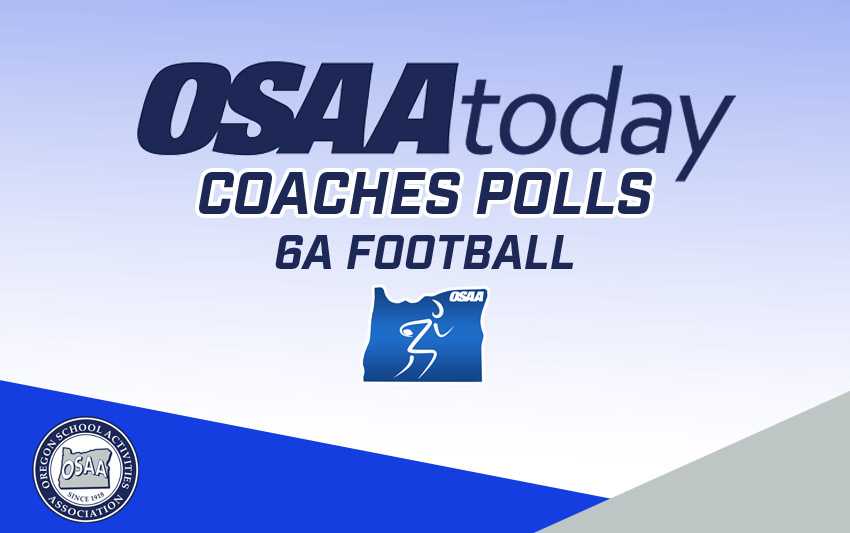 Oct. 29 Statewide 6A Football Coaches Poll
OSAAtoday presents its weekly 6A Football Coaches Poll. Thanks to all the coaches who took the time and had the expertise to contribute their opinions to this endeavor.
Look for the 6A football poll every Tuesday during the fall season.
If you are a varsity 6A football coach and would like to vote, please contact John Tawa at [email protected].
Please note: these polls are for generating interest and discussion only and have no impact on the OSAA's RPI and Colley ratings that form the basis of the OSAA's rankings for playoff purposes.
1. Tigard (15) [1] 8-0 177
2. Tualatin (3) [5] 7-1 145
3. West Linn [3] 5-3 120
4. Lake Oswego [2] 6-2 119
5. Jesuit [4] 6-2 114
6. Central Catholic [6] 6-2 95
7. Beaverton [7] 7-1 71
8. Sherwood [8] 6-2 47
9. Aloha [9] 7-1 40
10. Sheldon [10] 4-4 18
First-place votes in parentheses
Last ranking in brackets
Record listed is what's posted on www.osaa.org.
Others receiving significant votes: North Medford (11); Clackamas (8)
Notes: Aloha rallied from a 26-14 halftime deficit with three consecutive touchdowns and held on to defeat North Medford 35-33. Timmy Dennis Jr. threw four touchdown passes for Aloha. … Griffin Line completed 24 of 35 passes for 426 yards and two touchdowns as Sheldon blitzed Roseburg 44-14. … Kainoa Sayre rushed for 131 yards and three touchdowns to lift Tualatin over Lake Oswego 34-8. … Eight different players scored for Sherwood in a 56-7 rout of Liberty …. Clackamas took advantage of four turnovers to subdue David Douglas 56-30. Clackamas' Austin Atkeson threw three touchdown passes, two to Richard Kennewell, who had five catches for 116 yards. Jermaine Robinson had three touchdown catches in defeat. … Beaverton led 42-0 at half in a 49-14 win over Southridge. Cody Davidson caught 11 passes for 225 yards and four touchdowns for the Beavers. … Kade Wisher rushed for 304 yards and three touchdowns as Jesuit defeated Sunset 49-26. Campbell Brandt had his ninth interception and returned a punt for a score for the Crusaders. … Josh Burns rushed for 171 yards and three touchdowns and caught a scoring pass to propel Tigard past West Linn 42-21. … Cade Knighton threw touchdown passes to Silas Starr and Jordan King in Central Catholic's 53-14 win over Barlow.