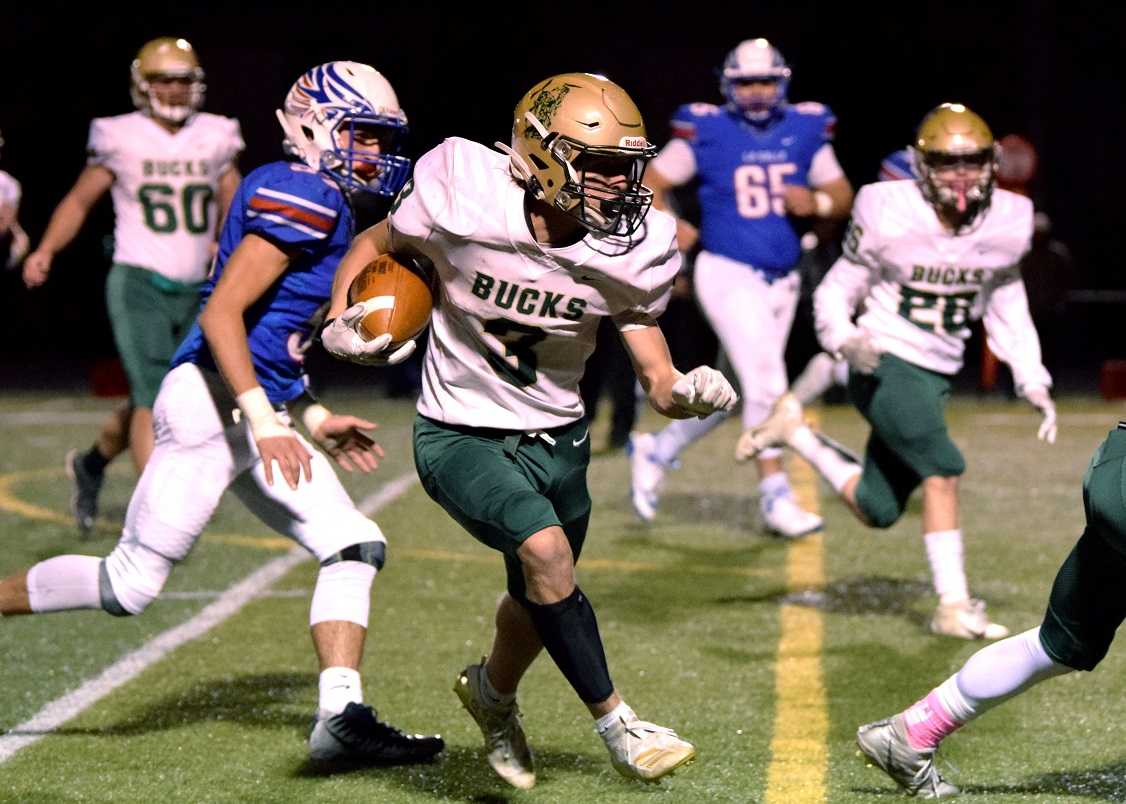 MILWAUKIE – Pendleton's football team is far from a finished product after undergoing a dramatic overhaul from last year, when it reached the semifinals for the first time since 1977.
But after the sixth-ranked Buckaroos drummed host La Salle Prep 34-0 on Thursday night – their fifth consecutive win – they are feeling like a much better team than the one that opened the season with a 22-point loss to 4A power La Grande.
"Oh, much better. I'd like a rematch there," said junior defensive end Isaac Urbina, who had three of Pendleton's six sacks Thursday. "We'd put up a much better fight."
By beating La Salle Prep (2-3, 2-1), the Buckaroos (5-1, 4-0) put themselves in prime position to repeat as the outright East division champion of the Northwest Oregon Conference. All that remains is a division game next week at home against Parkrose before the NWOC title game Nov. 1.
"I feel great about it," Pendleton coach Erik Davis said. "We came in super inexperienced after losing 17 seniors. They were tremendous kids – six of them went on to play college football – so those are hard kids to replace. We lost to La Grande early in the year, but I'd play them again right now, with our confidence. I think our kids are just starting to grow up and into themselves as a varsity team."
Junior defensive end Blake Swanson, who had one of the team's three interceptions, can see the team gelling.
"I think with all the kids we lost, we kind of recognized that we needed new kids to step up and be leaders in the program," Swanson said. "I think we've done that pretty well, step up, and put us back where we were last year."
Urbina said the Buckaroos were "a little bit iffy" early in the season, "but now people are starting to step up and say, 'Hey, we're team leaders, we're going to bring this team to victory. And that's what they're doing. We're bringing the team up."
On a chilly, windy night at La Salle Prep, the Buckaroos made their share of mistakes, turning the ball over five times, four on fumbles. But the defense more than made up for it by holding the Falcons to 150 total yards while also forcing five turnovers.
Swanson and seniors Kason Broncheau and Travis McGee had interceptions and Broncheau and junior Zaanan Bane had fumble recoveries. Besides Urbina's three sacks, senior Wilbert Salazar had two and senior Nat Hunsaker added another.
"That's probably our best defensive performance of the year," Pendleton senior quarterback Cooper Roberts said.
The Buckaroos took advantage of two La Salle Prep shanked punts to lead 14-0 at half. They drove 18 yards for their first touchdown, a three-yard pass from senior quarterback Tanner Sweek to sophomore Kyle Liscom. They drove 35 yards for their second score, an 11-yard run by Bane.
Broncheau intercepted a deep pass in the third quarter, leading to an 87-yard touchdown drive that ended on a 20-yard run by Liscom, making it 20-0.
Sweek threw a 40-yard touchdown pass to Roberts for a 26-0 lead, and after Bane recovered a muff on the ensuing kickoff, Bane scored on a five-yard run. Sweek ran in the two-point conversion, and it was 34-0 with 2:01 left in the third quarter.
Pendleton finished with 436 total yards. The Buckaroos rushed for 293, getting 90 yards on 19 carries from Bane and 90 yards on seven carries from Sweek. At quarterback, Sweek (8 for 13, 99 yards, two touchdowns) and Roberts (3 for 9, 44 yards, one interception) continued to share the duties, alternating by quarter.
"It's been working out," Urbina said of the switching quarterbacks. "It gives each of them a break between quarters. It keeps them fresh. I think it's a big part of our success. We try to mix it up. They're both really fast and have really good arms."
Davis -- the nephew of former Portland State coach Mouse Davis, a run-and-shoot guru – said the offense is evolving with its new cast.
"We had tremendous team speed last year, and some very veteran players," he said. "But we're long, we're pretty athletic, and we're trying to come into our own right now, kind of find an identity.
"We threw the ball quite a bit last year. We're trying to create more of a run game. Way more balanced. … The way we're running the football, it makes it easy to call a game."
La Salle Prep -- which lost at Pendleton 62-14 last year, a game in which it trailed 48-14 at half – was encouraged by how it battled throughout the first half.
"Our kids played their hearts out in the first half, especially defensively," Falcons coach Aaron Hazel said. "We just had too many mistakes. In the first half, we had some opportunities to score, and we'd have a negative play. We'd get a chunk, then have a negative play. That killed us."
It hurt La Salle Prep that senior running back JuJuan Lane missed his second consecutive game after being injured in an auto accident. Junior James Menor (13 carries, 18 yards) and sophomore Brody Crowley (12 carries, 14 yards) had little room to run.
"It hurts a lot depth-wise," Hazel said of Lane's absence. "Just his tough, downhill running, especially against a team like this, he would help us a lot."