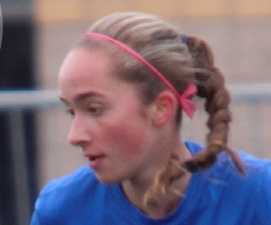 Catlin Gabel was on an emotional high after its 2-0 win at rival Oregon Episcopal in a key Special District 1 girls soccer match Friday.
The Eagles were eliminated from the state playoffs by the Aardvarks the last five seasons – the last four in the state final – so serving up a measure of payback was gratifying.
But considering Catlin Gabel also won both regular-season matches against OES last season, and fell in the final, Eagles coach Chris Dorough said he would have preferred a more muted celebration after the game.
"I think we gave them a little bit of fuel," said Dorough, whose team plays host to OES in a rematch Friday. "We talked about this is going to be one of three matches against them, we think. As a high school kid, you're excited to win on your rival's field, but we've been there before.
"It definitely felt good. We've had a lot more success at their place than we have at our place or neutral sites. We tend to play pretty well at OES."
Catlin Gabel (5-1-2), ranked No. 1 in the OSAAtoday 3A/2A/1A coaches poll, settled down after a frantic first 10 minutes and controlled play for the rest of the first half against No. 2 Oregon Episcopal (4-1-1).
"We put them under a lot of pressure," Dorough said.
The Eagles got on the board in the 15th minute when junior Sophie Wand booted a free kick from the top of the box off the goalkeeper's hands and into the upper corner of the goal. They made it 2-0 in the 32nd minute when sophomore Kendrick Dahlin headed in a corner kick by senior Ann Louise Naito.
Catlin Gabel stuck with its strategy in the second half and closed out the Aardvarks, who managed just four shots on goal for the match. Eagles freshman goalkeeper Macy Fry turned away Oregon Episcopal's best chance when she lunged to knock a shot off the crossbar in the second half.
The game is the only league match the teams will play against each other. Friday's game is a nonleague contest.
"This one kind of mattered a little bit more," Dorough said. "We wanted to basically play them straight up in Game 1 of the series and kind of see where we're at, so we knew what we needed to work on going forward."
Dorough praised the development of his defense, which has allowed five goals through eight matches.
"Our back line has been the strongest part of our team this year," he said. "They're definitely learning how to play together."
Freshman Grace Mueller and junior Thea Traw have excelled at center back and juniors Sophia Spry and Sydney Shaw have been solid at outside back. Mueller has been "outstanding," according to Dorough.
"She's come in and really calmed us down, which is kind of funny to say about a freshman," Dorough said. "She's so tactically smart at a young age, and she reads the game so well."
Three freshmen -- Mueller, Fry and midfielder McKenzie Compton – filled the only starting spots that opened from last season.
Wand, who led the team in scoring in 2018, and senior Caroline Cook are tied for the team lead in goals with six. Naito and senior Annika Holliday have five goals each.
The Eagles lost to 6A St. Mary's Academy 1-0 in their second game and 4A Marist Catholic 1-1 in their third game. They also tied 5A Scappoose 1-1 on Sept. 23.
"Last year, we weren't as tested in the preseason, and when things didn't go well in the final early, we just didn't know how to respond," Dorough said. "This year, we were given some adversity early, and just tried to work through those issues."
Photos of state championship events are available online from Northwest Sports Photography at 4nsp.com