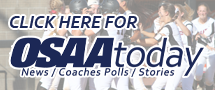 Baseball AD and Coach Information

Baseball Plan Book
(Updated 2/19/2019)
»
Baseball Plan Book
Contains the season dates, NFHS rule changes, OSAA baseball rules and policies, state championship information and qualifications, OSAA general policies
Reminders / Memos
» Updated Board Policy - Practice Model
Includes Q&As clarifying the practice model that went into effect August 2014

» 2019 "Rule of Two" for Pitchers and Catchers
Defines changes in the Practice Limitation Rule as it relates to pitchers and catchers

» 2019 Baseball Reminders Memo
Outlines reminders all AD's and coaches should review prior to the season

» NFHS Press Release
Starting in 2019 baseball season all baseballs are required to have the NOCSAE stamp. In 2020 all catcher's chest protectors must have the NOCSAE stamp.


2019 State Rules Interpreter Bulletins
Updates/reminders for officials sent throughout the season
»
SRI Bulletin #1 - Feb. 20
Maps/Directions
» All Classes @ Volcanoes Stadium (Keizer)

Lodging/Visitor Information
Headquarter Hotel
Quality Suites - Keizer
» Phone: 503.390.4733
»
Salem Convention and Visitors Bureau
Listing of Baseball Turf Fields
» Baseball Turf Fields
Includes list of fields and contact information

Pitch Smart Resources
» Pitch Smart Website
USA Baseball and MLB team up to help young players reduce arm injuries by providing a comprehensive resource for safe pitching practices. Includes a series of practical, age-appropriate guidelines to help parents, players and coaches avoid overuse injuries and foster long, healthy careers for youth pitchers.

» Pitch Smart Course on NFHSLearn.com
This FREE course will provide an overview of the Pitch Smart guidelines and concepts, and highlight additional resources available through the program.


» Pitch Count Policy
Contains the Pitch Count Policy, with the new varsity requirement deadline for reporting pitches
»
Pitch Count - Contests
Sample chart schools may use to track pitch counts by the contest
» Individual Pitch Count - Running Total
Sample charts schools may use to track pitch counts by the pitcher for the whole season