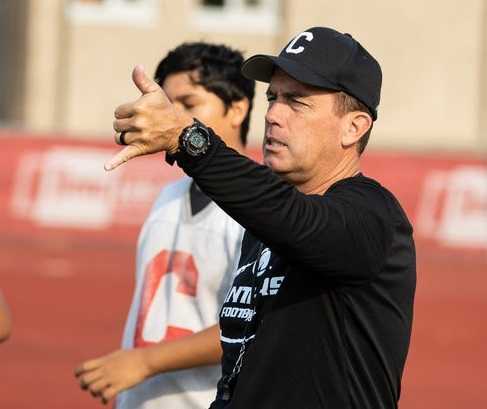 Shane Hedrick figured he would be away from football -- at least for a while -- when he resigned in April as the coach at 5A Central, where he went 142-69 in 19 seasons.
Considering he also stepped down as Central's athletic director last year, he expected to have some time on his hands.
That was before he got a phone call last month from Jerry Buczynski, the athletic director at Willamina, a 3A school about 30 miles away. Buczynski was looking for a head football coach and decided to take a wild shot at Hedrick.
"He said, 'Would you ever consider coming to Willamina?' And he goes, 'I'm totally prepared for you to tell me to shut up and hang up,'" Hedrick said. "I said, 'Well, gosh, I hadn't really thought about it. Give me the weekend and let me put some thought into it.'"
One conversation led to another, and the job became more appealing to Hedrick. He was impressed on a tour of Willamina's facilities and began discussing other details about a possible move.
On July 2, Hedrick – a 1982 Central graduate who coached the Panthers to the playoffs 15 times, including five semifinal appearances – decided to become the Bulldogs' head coach.
"It's been a shock to some people," Hedrick said. "I get it. I'm excited about the challenge. I'm excited about just being able to reinvent myself. I have anywhere from four to 10 years to go, and I feel like I've got lots of coaching energy."
Hedrick said it's not a case of him having second thoughts about resigning at Central.
"This is really what I'd rather be doing," he said. "I've had people say, 'Why did you step down to 3A?' For me, I look at it as a step up. I've coached at all levels. Kids are kids. For me personally, it's a movement up. I'm not looking to jump and move up. I like the challenges that are there."
Hedrick said that leaving Central – where his son, Grant, was an all-state quarterback before going on to a college career at Boise State – "was an incredibly hard thing to do."
"I told my wife that in my life, outside of death, leaving Central after what I was able to do there, is the hardest thing I've ever gone through," Hedrick said. "I wish it didn't come to it, but it did."
Hedrick, 55, was invested in Central not only professionally and emotionally, but financially. With 27 years in the system, leaving for another school could have proved costly. Willamina made the move equitable for him, though, along with giving him the opportunity to teach full-time for the first time since 2004.
"I could teach in an area I really have passion for," said Hedrick, who will teach history and economics.
Willamina finished 5-5 last season, losing in the first round of the 3A playoffs, and went 16-13 in its three seasons under coach Dan Oswald. The Bulldogs play in rugged Special District 1, which includes reigning state champion Rainier, semifinalist Amity, quarterfinalist Clatskanie and traditional power Dayton.
"Those are some well-established programs," Hedrick said. "That might be the one thing to talk me out of it. Rainier's just been a juggernaut.
"We've got to create an environment that's fun for kids and we've got to be competitive in everything we do. I know that's one thing that won't be a surprise to kids from Willamina. They know how to work. I've been through town early in the morning, and the coffee drinkers are ready to go at 5 a.m."
It will be the third high school head coaching job for Hedrick. He went 13-24 in four seasons at South Albany (1994-97) and had two stints at Central (1999-2002, 2004-2018). He also assisted college programs at Willamette (1998) and Western Oregon (2003).
"This is a perfect challenge right now in my life," Hedrick said. "I can start fresh. I'm looking forward to finding a different way to motivate kids. I'm fired up about that."
Central has hired Jeff Centoni to succeed Hedrick.