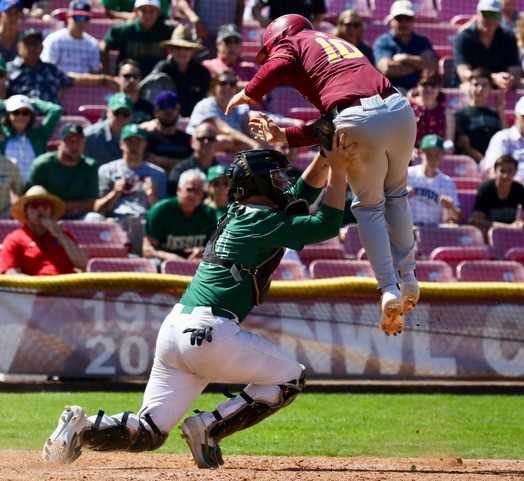 KEIZER — It took almost 13 innings, three hours, 26 minutes, 331 pitches, a ward full of owes and enough suspense to make drama majors of everybody in Volcanoes Stadium on Saturday afternoon, before one giant finally fell to the other.
It came on the 332nd pitch, when Jesuit third baseman Kevin Blair smacked a solid single through a gaping hold in the right side of the Central Catholic infield. Crusader teammate Will Spitznagel practically danced in from third base with the winning run in a 2-1 Crusader victory.
And thus did the No. 1-ranked Crusaders finish a harrowing forced playoff march in which three of their five wins were by a single run — two of them in extra innings. Jesuit indeed earned the trophy for the OSAA/OnPoint Community Credit Union 6A championship that came with it.
Blair ran away from his pursuing teammates as fast as he had run to first base, but they all caught up with him in left field and buried him under a pile of green shirts.
Fans from the state's two biggest Catholic schools cheered their teams — and the other team while they were at it. That's a statement, considering the fact that the two athletic powerhouses haven't always been on the best of terms.
Here's what they all saw: 15th-seeded Central (21-11), which has been the surprise of playoffs by knocking off the No. 2 seed (Century) and the No. 3 seed (Clackamas), came within an out of knocking off No. 1 Saturday. They saw the Rams (21-11) score a fourth-inning run off Jesuit star Mick Abel and make it hold up until Blair outran the back end of a potential double play to allow Spitznagel to score the tying run.
They saw tough little Central reliever Clayton Reich pitch 8 2/3 industrious innings, shutting the Crusaders down pitch after pitch.
And a whole lot more. It was left to the two coaches to put the beauty of the contest in larger meter.
"I don't have the words to describe this," said Jesuit coach Colin Griffin after the immediate insanity died down. "The way both teams just … didn't … quit. We both had a chance to win it .Central Catholic played through all the playoffs like that.
"We both played such great defense."
Central's Brian Grant described it in terms of an out-of-body experience.
"It got slightly surreal out there at times," he said. "There were times when I was saying 'Wow, is this really happening?' This is a dog fight and neither team is giving an inch.
"I've gotta step back and just kind of enjoy it."
He almost enjoyed an improbable state championship. Starter Dylan MacLean, for four innings, then Reich kept the powerful Jesuit bats from taking possession of the game. The Crusaders wound up with 13 hits, as opposed to just four for the Rams, but the two Central pitchers came up with the critical out every time.
The Rams broke through in the fourth inning, when center fielder Christian Cooney was hit by a pitch. He waited a batter before stealing second base, then fled home on Patrick Muskat's sharp single.
It almost held up. In the bottom of the seventh, Spitznagel smashed a single to left field. Kellar McCarthy singled to right field, and when Jackson Elder bobble the ball just a little, Spitznagel made it to third. With only one out, it was the Crusaders' best opportunity of the game.
They didn't waste it. Blair rolled a grounder to the right side; Atticus Kayser relayed to shortstop Thomas Ferroggaiaro for the force out at second, but Blair beat the throw to first while Spitznagel flew in to tie the game.
It stayed like that inning after inning after inning. Promising innings died from timely pitching, defense, and a steady wind that kept fly balls in the park.
Finally, the Crusaders (26-5) broke through in the 13th. Reliever John Trausch, Jesuit's third pitcher of the game, singled to right. His pinch runner, Mason Masterson, made it to second when Spitznagel took a chance with a two-strike bunt that suggested as a single.
Griffin gave Spitznagel the signal.
"We had to get a guy to second base," the coach said. "I was willing to take the chance to get that accomplished."
An infield out moved both runners up, and Central brought its infield in to guard the plate. It worked when McCarthy hit a one-hopper directly to Ferroggiaro, who gunned Masterson down at the plate.
But Spitznagel made it to third on the play. That's where he was when Blair came up again.
"When I got to the plate," Blair said, "I wanted my chance to walk off. Everybody else had their chances — I wanted mine.
"I was looking for my fastball, and looking at that four-hole. I wanted to pepper a grounder right through there."
And so he did. Spitznagel watched it from third base.
"The only thing in mind was what Kevin was going to do," he said. "He's the most underrated player in the state, and we had all the confidence in him.
"I was just off with the crack of the bat. I knew it was going through.
"What a great game this was. They didn't have an easy way, we didn't have an easy way. These were two great teams going at it."