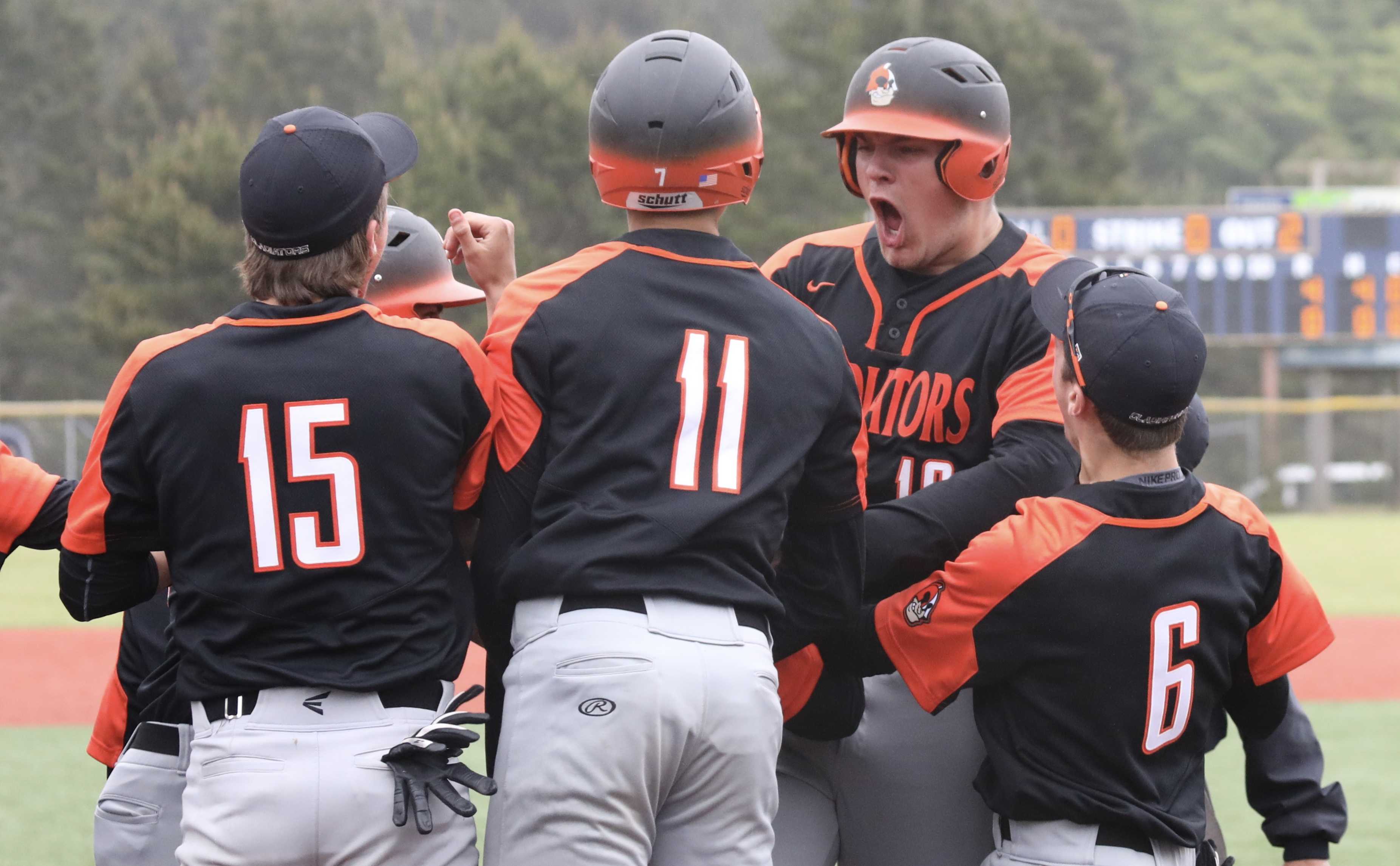 NEWPORT — If Gladstone is trying to lay low and sneak up on teams on this year's 4A baseball championships, the Gladiators blew their cover to smithereens Wednesday evening with an 8-2 opening-round win over Newport at Frank Wade Field.
The defending state champions rode Jackson Simmons' three-run, first-inning home run and four-RBI game to a relatively easy conquest of the Oregon West champion Cubs. The Glads, 18-9, lashed Newport pitching for 10 hits, ran the bases like bank thieves and generally abused the home team at will.
And this wasn't against cheap cheese, either. Gladstone faced one of the best pitchers it will face all year in Newport's splendid big guy, Jacob Dobmeier — the same Jacob Dobmeier who will be taking his 90-mile-per-hour heaters to UC San Diego in the fall.
The Glads got eight of their 10 hits and six of their eight runs off the big fella.
This is the same Gladstone team that started out the season 2-7 and had coach Casey Webster pretty concerned about where the club was headed. It's probably also the reason the Gladiators are ranked only eighth and seeded ninth in the playoffs.
"We weren't playing well at all," Webster said. "That was a lack of leadership from some of our seniors — until they figured out it wasn't just about them.
"I like us now."
He should. Gladstone has won 16 of its last 18 games, with both losses coming to Tri-Valley champion North Marion.
Still, a road game against somebody like Dobmeier was a little daunting — until the first inning.
That's when the Gladiators struck for four runs. They got the first run — and, more importantly, chased away the butterflies — when J.P. Peterson fisted a two-out single to right field to score Matthew Kuhn from second base.
That brought up Simmons, the 6-foot-3 first baseman who hadn't hit a home run all year. It didn't look as if he would do it this time, either, when he took two bazooka balls from Dobmeier for an 0-2 count.
"I was just trying to protect then," Simmons said. "Especially against him. He's a great pitcher.
"I was trying to find a baseball. I know he's got good velocity, and that if he got it in my area it was going to travel. He put it in my sweet spot. It really traveled."
The ball sailed over the right-center field fence. It's only 307 feet to that spot, but it also cleared a 15-foot fence by a good margin.
In the third-base coaching box, Webster was grateful.
"What did I think?" he said, repeating the question. "I was thinking it's about time. He's as big as a house, you know. But he really squared that one off."
The Gladstone dugout behind him went nuts. Especially pitcher Austin Conner, who had a 4-0 lead before he threw his first pitch of the game.
"That changes everything," the senior right-hander said. "Everyone's mood was up. We were having run. The adrenaline was really pumping.
"That's when it all sparked."
Conner was up to defending the lead. He didn't overpower the Cubs — at a thin 5-11, he really can't — so he spotted his modest fastballs expertly and spread five hits around over his six innings. The only mistake he made was in the fifth inning, when he got one too far over the plate to Ryan Torres and the Newport left fielder juiced it over the right field fence for a two-run homer. It's only 299 feet down that line, but the damage was done.
The rest of the time, Conner was just fine. He struck out five Cubs, including a biggie when he fanned Tyler Biddinger with the bases loaded in the bottom of the sixth. Then he got Torres on a routine fly ball to end Newport's final threat.
"Against the bigger guys like Jacob I just wanted to keep it away from them," he said. "I tried not to bring anything inside to them. I made that one mistake — that's something I need to work on."
As far as hitting against Dobmeier, Webster advised his batsmen to play it smart.
"He throws hard, so I told them to be ready for a fastball," the coach said. "He's a big kid, and big kids like to throw the fastball. I just told them to be ready for it."
They were. The rest of Gladstone's hits were singles, but they were the product of patient contact hitting. Matthew Lehrbach and Jake Gehrke smacked three singles each. Simmons got his second hit in the two-run Gladstone sixth, when he botched two bunt attempts, then roped a laser beam into left field for his fourth RBI of the day.
The Gladiators now advance to the second round at 5 p.m. on Friday at second-ranked and top-seeded Banks. The Gladiators have split two games with the Braves.
The No. 7 Cubs finish the season at 19-6.