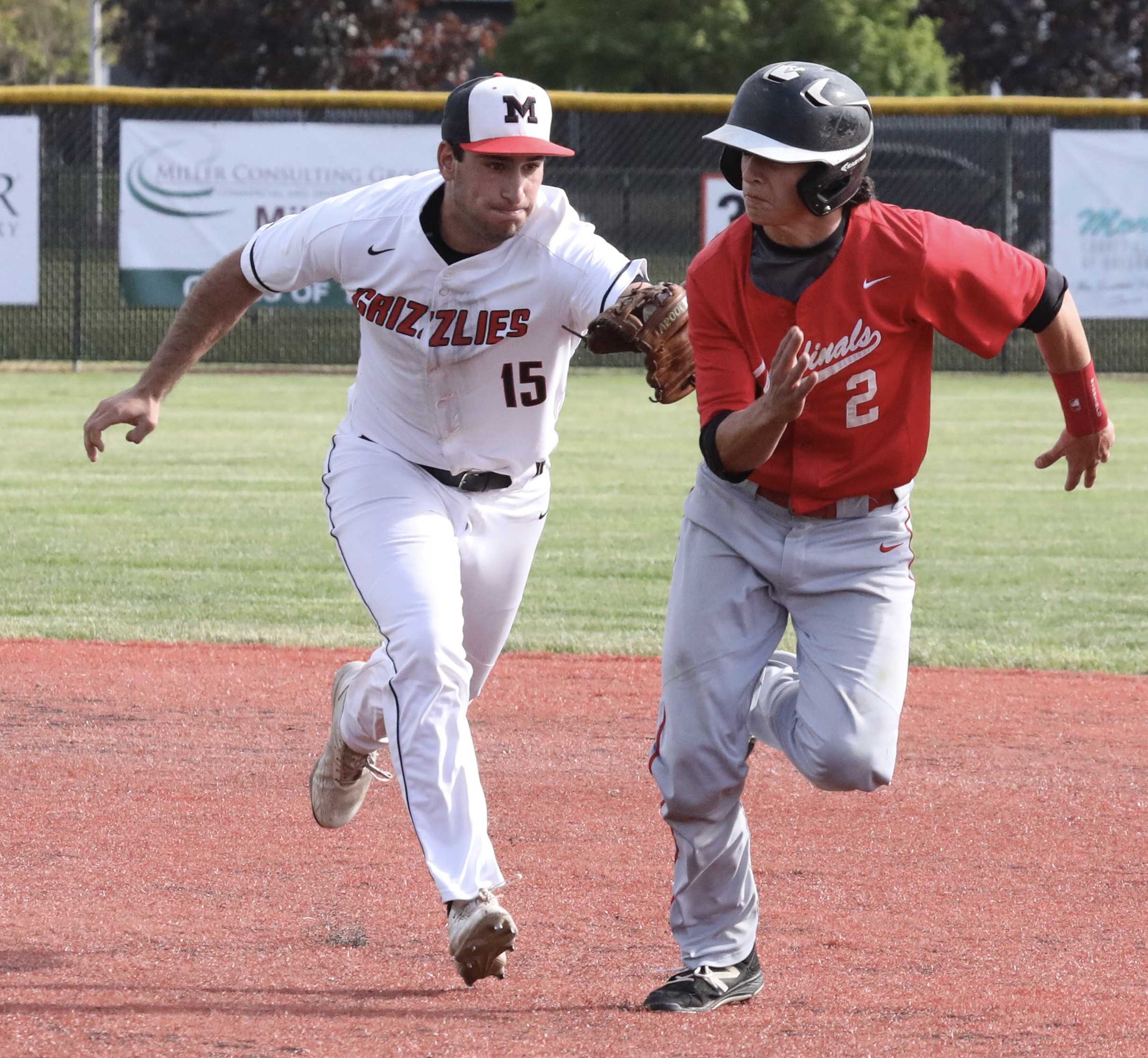 McMINNVILLE — McMinnville didn't win any beauty contests with Monday's 4-3 victory over Lincoln in the opening round of the 6A baseball playoffs, but the Grizzlies aren't interested in cosmetics anyhow.
A win, the sixth-ranked Bears reason, is a win. Especially at this stage of the year, when a loss is the end of a season.
Mac had to scratch back from a 3-1 deficit against the inspired Cardinals with a single run in the fourth inning and two more in the fifth for the win. It sends the Grizzlies (22-6) to Beaverton on Wednesday for a second-round game against the Beavers, who gasped past North Medford 1-0 on Monday.
McMinnville had eight hits against Lincoln starter Mikey Reilly and reliever Brant Campanian, but only three of them left the infield. One was on a bunt and four were in the infield and came from the Grizzlies' most abundant asset: Team speed.
"We don't slug people away," Mac coach Todd Peterson said. "You can tell by our scores. We don't get seven, eight runs a game, but that's kind of how we are.
"This wasn't the cleanest game of baseball we've ever played. But I'm really proud of our guys for staying with the mentality of the game. We had probably our worst inning of the season when they got that momentum.
"It would have been easy to lose it right there, but we didn't. That's a testament to our senior group."
Peterson was talking about the McMinnville second inning, when they were nursing a shaky 1-0 lead. Leadoff hitter Kyran Hoskinson, a splendid freshman shortstop, walked on a 3-2 count and moved up to second on a single to right field by A.J. Dix.
It was a perfect McMinnville inning. They've been manufacturing runs all year with their adept handling of situations like that.
But they didn't count on Lincoln junior catcher Jake Leitgeb and his shoulder-mounted rocket launcher. With Brantley Seehawer all ready to bunt the two runners into scoring position, Leitgeb gunned Hoskinson down at second base, then two pitches later caught Dix leaning the wrong way and shot him down, too.
Seehawer went down swinging and the Cardinals were suddenly sky-high with momentum.
They used it for two runs and the lead in the third. Spencer Goldman lashed a stinging double down the left field line, moved up on Leitgeb's bunt, then scored when Ian Wilson dropped Campanian's fly ball to right. Campanian got to third on the error and scored on Nick Ostmo's deep sacrifice fly.
The Cards added another in the fourth on Presley Cable's double to deep left field and Goldman's single to the same side.
The Bears were in a fix, but it didn't take them much time to get the ship righted. In the bottom of the same inning, Hoskinson smacked a single up the middle to score Martin Lopez-Garcia.
McMinnville small earned the winning runs in the fifth the Mac way: Wilson legged out an infield single to deep shortstop, then moved up when Reilly fumbled Colton Smith's bunt.
Kevin Sullivan's sacrifice bunt moved the runners up, then the Bear legs came into play. Colton Crawford hit a tricky spinner to shortstop and ran it out to score Wilson. A walk loaded the bases, then Reilly got the second out with a critical strikeout.
It was back to Hoskinson. The rookie hit a shopper toward shortstop that was slow enough for Lincoln third baseman Myles Parkel to knock down. Parkel scrambled to his knees and fired to first, but Hoskinson beat it by a half-step. Smith scored the eventual winning run.
"I knew I hit a slow chopper," Hoskinson said, "so I thought I had a chance to beat it out. I didn't see anything, I just ran.
"I was kind of relieved when when I made it."
The Cardinals (18-9) got the dangerous Goldman to third base with two out in the seventh inning, but Crawford came in as a relief pitcher and got Ostmo to fly out in foul territory to end the game.
The Bears aren't making a big deal out of one glaring fact about the end of their regular season: They lost their last two league games to Sherwood to give the Pacific Conference championship to No. 2 Century by a single game.
"We won the games we won," said senior catcher Sullivan, "and we lost the games we lost. You can play the what-if game all you want. But we take pride in thinking we're always the best team on the field."
But still, the win over Lincoln, when McMinnville had to have it, "was a breath of fresh air."