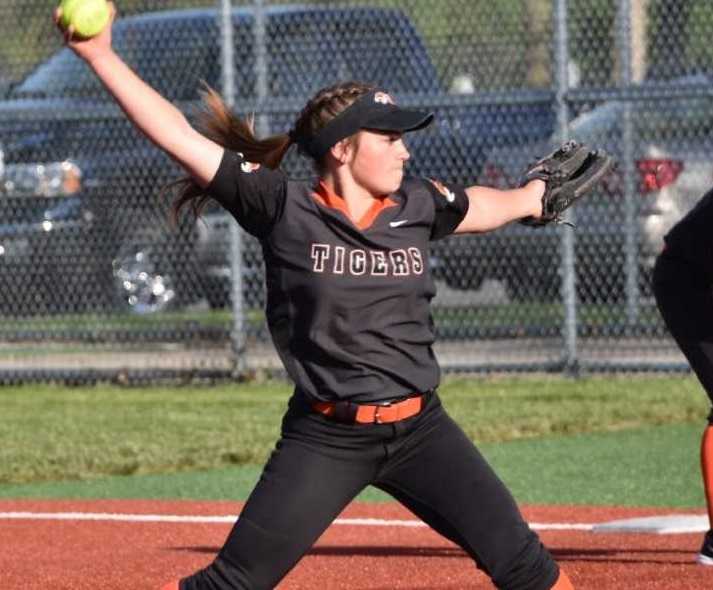 SCIO –Yamhill-Carlton's softball team knew that moving from the 4A Oregon West Conference to the power-packed 3A PacWest Conference would be a challenge this season.
But with the regular season winding down, the Tigers have put themselves in a contending position.
Yamhill-Carlton won at Scio 7-4 on Tuesday for its fourth consecutive victory, pulling the Tigers (11-13, 4-2) into a second-place tie with Blanchet Catholic (10-9, 4-2), one game behind reigning state champion Dayton (14-4, 6-1).
Considering they finish their league schedule with games at Blanchet Catholic on Wednesday and Dayton on Friday, the Tigers have a realistic shot at a top-two seed in the conference playoffs, which would come with an important perk: home-field advantage.
Yamhill-Carlton had another strong all-around game to beat Scio (11-6, 3-5), a team also battling for playoff positioning. Junior catcher Lisie Luttrell drove in three runs and freshman pitcher Kati Slater tossed a complete game with eight strikeouts to lead the Tigers.
"Oh, it's very important. That's how you win games is if the defense and the offense are combined," Slater said. "You just can't have one or the other, you got to have both, and tonight we had both. This is like a goal of ours to win out season, and we've accomplished it tonight."
Yamhill-Carlton scored three runs in the top of the seventh inning to break a 4-4 tie. The big blow was a one-out, two-run double by junior Kennedy Ogden to make it 6-4.
"It was super crazy, I was excited and that's what it was. I was stoked," Ogden said of the hit.
Scio came back from a 4-1 deficit with three runs in the fifth inning, getting RBI singles from sophomore Meagan Mikolas and freshman Erica Simmons.
"Seeing our team bounce back and be able to get our head back in the game was really awesome," Mikolas said.
Senior pitcher Kasidee Parazoo had eight strikeouts for the Loggers. Scio, which went unbeaten in the PacWest the last four seasons, has lots of work to do to claim one of the conference's three state playoff berths.
"These next two days we're going to work our butts off and get all the things that we've messed up and try to lock down on those," Mikolas said.