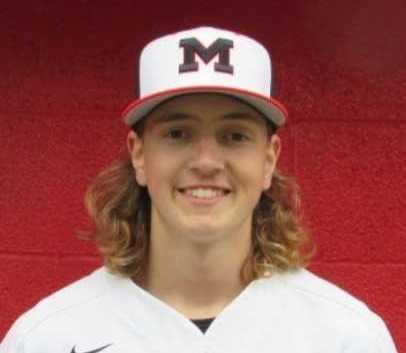 A month before the season, McMinnville's baseball team wasn't sure if Caden Slaughter would be able to pitch.
The Grizzlies were hopeful that the senior would be ready after missing most of his junior season from a broken left leg he suffered in a game. But Slaughter had a setback when he started feeling pain in his left knee.
"By the middle of February, it wasn't looking too good," McMinnville coach Todd Peterson said of Slaughter, an all-conference pitcher as a sophomore.
But not only has Slaughter answered the call on the mound, he has been one of the state's most dominant pitchers so far this season, helping the Grizzlies get off to an 11-1 start.
In five starts, the 6-foot-2, 170-pound right-hander is 4-0 with a 0.48 ERA, striking out 30 and walking six in 28 2/3 innings. He pitched complete games in both Pacific Conference starts, beating Newberg 3-0 and Glencoe 3-1. In the latter, he came within one out of a no-hitter.
"He's been incredible for us so far," Peterson said. "Seeing what he's been able to do has been awesome. It's a testament to his work ethic."
Slaughter, a key contributor to McMinnville's conference title team in 2017, was 2-0 in his first three starts last season before suffering a gruesome injury against Ridgeview in a spring break tournament at Crater.
Playing first base, Slaughter pursued a popup bunt in foul territory along with catcher Kevin Sullivan. They didn't see each other, though, and Sullivan dove into Slaughter's left leg, breaking it in two places.
"They're like best friends," Peterson said. "Terrible for Caden, and it was really tough on Kevin."
Slaughter underwent major surgery in which his leg was repaired with rods and screws. Within days, though, he was back at a McMinnville game, sitting with his teammates.
"He was there for everything," Peterson said. "He worked his butt off to get back."
Slaughter began throwing in the fall and threw some bullpen sessions in late October. He started to regain his mobility in the winter and appeared on track to start the season until the knee pain surfaced in January.
He worked through it, though, and started McMinnville's second game of the season. Facing South Eugene, he pitched six innings to lead the Grizzlies to a 2-1 win.
"He's kind of taken off from there," Peterson said. "Each week he seems to physically get better. He's running now. We even let him hit the other night, and he got a couple hits.
"Everyone on our team respects him so much for what he's gone through and what he's overcome. It's been a great rallying point for all of our guys."
A glance at other players who are off to fast starts this season:
Churchill sophomore first baseman Carson Lydon not only is batting .488 with 10 doubles, one triple, one home run, 15 RBIs and 15 runs, he's also 4-0 on the mound and has not allowed an earned run. The Lancers have a 0.89 ERA, led by sophomores Lydon and Cho Tofte (3-0, 0.00 ERA) and senior Beau Burnett (4-0, 0.52 ERA). Senior Richie Estrella is hitting .400 with 16 RBIs for Churchill. … Tualatin senior shortstop Kyle Dernedde, who has signed with Oregon State, is batting .514 with four doubles, three triples, 10 RBIs and 11 runs. The leadoff hitter, he has drawn eight walks and stolen nine bases. …
Another Oregon State signee, South Salem senior pitcher Ryan Brown, has dominated on the mound. In his first 14 innings, Brown fanned 22 and allowed one earned run. He also hit a grand slam in the first game of a doubleheader against Summit on Friday. ... Brown is among several Saxons on a roll early, including senior first baseman Kaiden Doten (.529, seven doubles, one home run, 12 RBIs), sophomore catcher/third baseman Danny Alvarado (.448, three home runs, 12 RBIs) and senior pitcher Noah Ferguson (2-0, 0.86 ERA, 24 1/3 innings, 26 strikeouts). …
Central Catholic senior outfielder Christian Cooney, who has signed with Portland, is batting .533 with four doubles, two triples, one home run and nine RBIs, slugging at .900. Rams junior pitcher Dylan MacLean is 3-1 with a 0.74 ERA, fanning 38 in 24 1/3 innings. Opponents are hitting .138 against MacLean. … Reedsport junior Dallas McGill has been tearing it up on the mound and at the plate. With a fastball that reaches the high 80s, McGill (4-0, 0.28 ERA) has struck out 44 and allowed five hits in 25 innings. He also is batting .435 with two triples and three home runs, slugging 1.043. …
Sophomore infielder Sam Vidlak has been coming through in the clutch for Hidden Valley, hitting .501 with 19 hits in 11 games. He also is fielding at .969. … Lincoln senior outfielder Nick Ostmo, signed with Montana for football, has been swinging a big bat. He is hitting .375 with four doubles, three home runs and 10 RBIs. He hit a walk-off, three-run double in a 5-4 win over Columbia River. Cardinals senior pitcher Ivan Elsener (3-0, 2.20 ERA) also has excelled. …
Amity junior third baseman Russel Brown is batting .421 with four doubles, a triple and nine RBIs. … Senior catcher Jake Whisman has sparked Cascade from the leadoff spot, hitting .500 and going 10 for 10 on stolen bases. … Southridge senior first baseman Zach Hald is batting .433 with two doubles, three home runs and 11 RBIs. … Junior Sam Stuhr has been a bright spot for Madison. He has a 1.37 ERA and 29 strikeouts in 20 1/3 innings. He also leads the team with a .345 batting average and has been steady at shortstop. …
Central senior Ruben Cedillo is hitting .471 with four doubles, four triples, two home runs (including a grand slam) and 14 RBIs. He also is 2-1 with a 2.10 ERA. …Senior Decker Stedman has been outstanding for Thurston. He is batting .514 with three doubles, three home runs and 14 RBIs, scoring 22 runs and going 11 for 12 on stolen bases. On the mound, he is 3-0 with 35 strikeouts in 17 2/3 innings. … Centennial junior Kyle Fitzgerald has 15 stolen bases and has scored 18 of the team's 60 runs. He is hitting .474 with three doubles, three triples and one home run. He is 3-1 on the mound, fanning 27 in 21 innings.