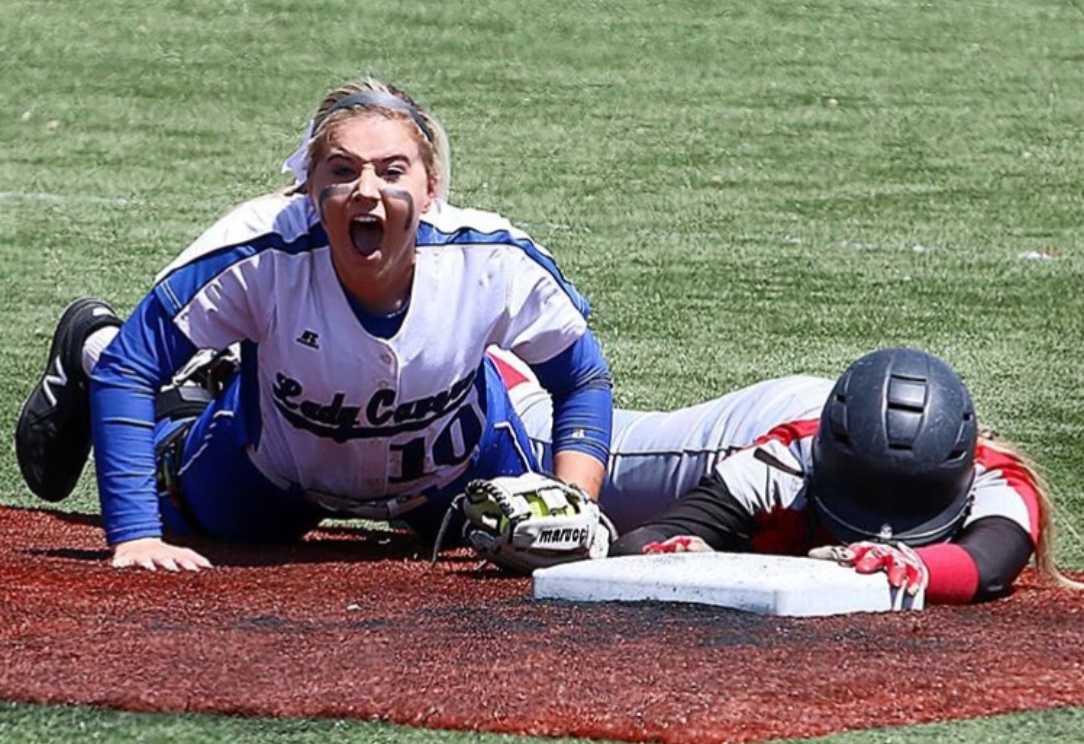 If one thing seems like a given in 6A softball in recent seasons, it's that Grants Pass will be a factor come playoff time.
The Lady Cavers have won 12 playoff games in the last five seasons, making the final eight each year and reaching the semifinals in 2015 and 2016.
So even though Grants Pass has some holes to fill this season, the team has a quiet confidence that it will come together in time to make another postseason run. The Lady Cavers (3-0) are No. 7 in this week's OSAAtoday 6A coaches poll.
"I don't necessarily think this group is any better than last year's group or the year before, but what it boils down to is how we start playing come playoff time, and how well our team gels together," coach Donnie Bellum said. "As long as our kids can keep playing together and getting along, and playing for each other, I think our ceiling is pretty high."
Grants Pass lost five starters from last season, but among the returners is one of the state's top players in Oregon State-bound senior shortstop Grace Gaither. Last year, she hit better than .400 and was a force on defense.
"The thing that makes Grace stand out from other kids we've had is just her knowledge of the game," Bellum said. "Just being able to play in that gray area, where you get outside that black and white, sometimes kids have a little trouble with that. Her knowledge of the game and being able to adapt to situations is the thing I've noticed most about her being different."
Grants Pass graduated its starting pitcher in Alyssa Etheridge, but welcomes back junior pitcher Skylar Padgett, who missed most of last season with a knee injury. As a freshman, Padgett pitched the team into the semifinals.
"It definitely helps us," Bellum said. "It's going to be good to have her back, for sure."
Other returning starters include junior first baseman Devin Ireland, junior left fielder Kylie Rucker and senior right fielder Hailey Yount. Senior Marissa Eilenberger, who played third base last season, has transferred to Crater.
The pitching rotation is unsettled. Padgett, Ireland and sophomore Emily Rund are in the mix.
"We haven't figured that out yet," Bellum said. "It's something we're working on. We hope to have it figured out shortly."
The immediate schedule is challenging for Grants Pass, which won at No. 4 McMinnville 14-7 on Friday. The Lady Cavers play Monday and Tuesday in the North Medford Spring Break Invite, where it will face Central and Dallas, teams ranked No. 3 and No. 2, respectively, in the 5A coaches poll. And they are home to play 6A No. 2 Barlow on Wednesday
"Notoriously, we've been kind of a slow-starting group," Bellum said. "My ultimate goal is to improve each week to where you get to the playoff window and you're playing your best. Over the last four, five, six years, we've kind of been doing that."
Columbians get payback: Rainier won at Dayton 7-2 on Thursday in the latest chapter of arguably the state's best softball rivalry.
The Columbians and Pirates have met in five of the last six 3A finals, including last season, when Dayton ended Rainier's two-year reign.
The third-ranked Columbians (2-0) got payback this time, though. Sophomore Reese Schimmel went 3 for 4 with a double and a home run and senior Taleah King pitched a five-hitter with five strikeouts against the top-ranked Pirates (3-2).
Rainier scored on an error in the first inning to lead 1-0 and broke open the game with a three-run fourth inning as junior Paige Kellar and senior Rylee O'Brien had singles and Schimmel followed with a double.
Other than Schimmel, senior Allie O'Cain had two hits, including a triple, and Kellar and O'Brien had two hits each as Rainier collected 13 hits off Dayton sophomore Maddie Fluke.
It was the second loss this week for the Pirates, who fell at No. 5 South Umpqua 8-1 on Monday.
Speciale day: Jesuit coach Jim Speciale passed a milestone when his team rallied for a 9-8 home win over Clackamas on Monday.
It was the 400th win for Speciale at Jesuit. With wins over McNary and Glencoe this week, he now is 402-199-1 in 24 seasons with the Crusaders. He won state titles in 2006 and 2016.
Counting his 35-50 record in six seasons at Lincoln (1990-95), Speciale is 437-249-1 in his career. He is No. 8 on the state's all-time wins list, closing in on Larry Binney (471-103-1) at No. 7.