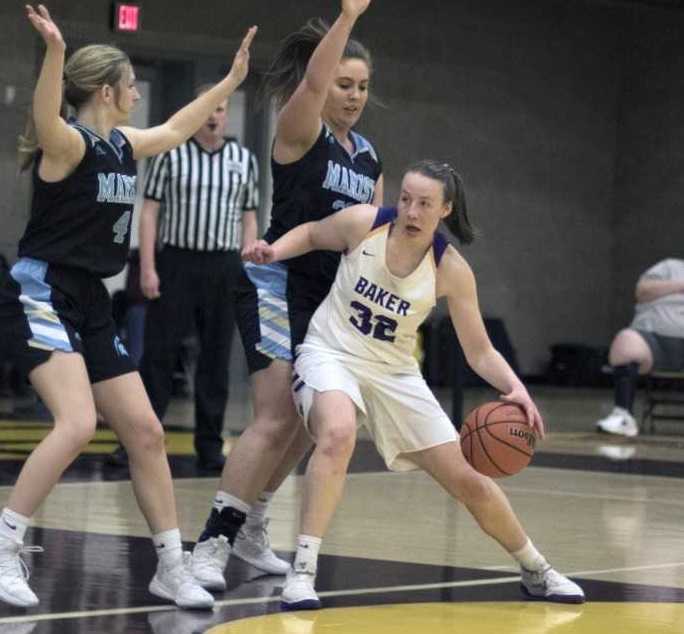 FOREST GROVE -- The third time was the charm for the Baker Bulldogs.
After bowing out in the quarterfinals the last two years, Baker won its first state crown Saturday by defeating Marist Catholic 51-48 in the final of the OSAA / OnPoint Community Credit Union 4A girls basketball tournament at Pacific University.
"This has been a process. For the team, for the program, and for the community," Baker coach Mat Sand said. "It was a process for them to learn how to be a unit and how to be a team."
Baker earned the No. 2 seed by going 24-1 in the regular season, its only loss coming against 3A Burns. The Bulldogs completed their season undefeated against 4A opponents, but it didn't come easy in the state tournament.
Baker trailed early in each of their three tournament games and was forced to piece together comebacks each time. The Bulldogs withstood their offensive droughts with strong defense and rebounding. Those efforts often started with senior post Rose Gwillim, who scored 11 points and added seven rebounds and three assists in the championship win.
"The way that we play defense really helps our offense start," said junior guard Sydney Younger, who finished with 11 points, six rebounds and two steals.
Younger paused and considered the Bulldogs' first half performance before adding, "It was a little stagnant, though."
Baker hit only 8 of 25 shots in the first half. The Bulldogs managed to dig out of their early slump by going on a 10-0 run to end the half, complete with a buzzer-beating three-pointer from Younger to go into the break.
"Basketball is a momentum game, and for us to get that rolling again, I think it helped a lot," Younger said.
Marist Catholic entered Saturday's contest very comfortable with the championship atmosphere, having won the 5A title just last season. Senior guard Madison Ficek provided the spark for the Spartans on Saturday, scoring 17 points and hitting a trio of three pointers.
The second half saw a near-even showdown for the full 16 minutes, with both teams trading basket for basket and netting 28 points each. The biggest difference came at the free throw line.
Baker converted 16 of 22 attempts at the line, while Marist went 4 of 8.
"Free throws and rebounds are what win games. Especially when it's close like this," Sand said.
Baker junior guard Jayme Ramos scored a team-high 14 points. Ramos and Younger each made all four of their free throw attempts in the game.
In a fitting ending to such a close standoff, Marist Catholic nearly managed to tie the game in the waning seconds. Ficek received a handoff with under 10 seconds left in the game, dribbled to her right and put up a deep three-pointer that looked to be heading in. But the ball bounced off the back of the rim and out, and the Bulldogs survived yet again.